Mach22 | Sweet Talk Intervention
by Alexandra Mrozowska
– Columnist —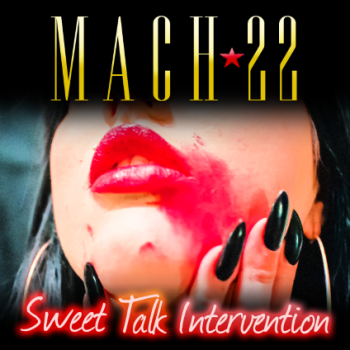 With their musical résumés content-rich (and their family connections influential – one of the band's two guitarists, Sebastian LaBar, is the son of Cinderella's Jeff LaBar ), a Philadelphia-based act Mach22 has just released their debut album Sweet Talk Intervention. Moreover, they've done it independently from any big labels. And although it's risky to judge a book – or an album – by its cover, the front of the album is "so totally '80s," isn't it? A female face with lipstick smudged all over, these black claw nails… yes, we've seen it all before. Luckily for one's listening pleasure, the musical content of Sweet Talk Intervention can be dubbed a breath of fresh air in comparison with the clichéd visual side of things.
The opening guitar sound that kick-starts this mean rock 'n' roll machine is raw, powerful and resonant – undoubtedly, a good omen! And as you'll discover soon – the further into the album, the better it gets. For a good start, there's "Constant Denier" with its sleazy, modern riff, a great old school guitar solo against slightly punk-ish verses and slovenly style of singing. Mach22 are clearly one of these bands who may borrow a thing or two from the contemporary rock sound aesthetics, but nevertheless draw much more inspiration from the classics of the genre, as it doesn't take a particularly skilled ear to sense a clear Guns 'N' Roses influence in this track.
Also the follow-up to this, "Go Ahead", is a raw hard rock piece again much in vein of the Appetite For Destruction album (plus contemporary production). In "Don't You Give Me," AC/DC's straightforward simplicity is further enhanced with some Zeppelin-esque overtones. And if it wasn't for the well-crafted vocal harmonies and melodic choruses, the song would certainly remind one of contemporary AC/DC-infused bands such as Airbourne. For the demanding guitar lovers there's some guitar wizardry which constitute the last seconds of the track, too.
"I'm Just a Man" is fast-paced and aggressive song driven by the great work of rhythm section, pumping bass line exposed and punchy. As for the next track, the facts are that "Stone Rose" is a ballad-esque kind of thing indeed and there are even some dramatic wailing guitar tones to it, but don't expect the sugary sweet choruses and synchronic dropping to one's knees – it's simply not that kind of band who'd go for a clichéd tearjerker. The guitar sound in "Backslider" makes one think that's probably how Zeppelin would have sounded if it was founded today, again the inspiration being quite obvious.
Even more modern are the next two songs, "Made To Love" and "Radio," aggressive and edgy rockers influenced with funk rock sound, especially in terms of vocals (think Extreme, Red Hot Chili Peppers and further). Slow-ish, lumbering verses of "One Trick Pony," the next to last track, are contrasted with straight-in-your-face choruses, its follow-up being "Nevermind," a feisty and dynamic final piece.
The strength of this album lies both in its variety and the skillful balance between the old and the new – the classic and the contemporary. Sweet Talk Intervention is late '80s hard rock sound with a modern twist and this, along with fine musicianship, makes Mach22 one of the more interesting debuts of the year. Recommended.
Genre: Hard Rock
Band:
Lamont Caldwell – vocals
Sebastian LaBar – guitar
Ted Merrill – guitar
Jaron Gulino – bass
Damian MonteCarlo – drums
Tracklist:
1. Constant Denier
2. Go Ahead
3. Dont You Give Me
4. I'm Just a Man
5. Stone Rose
6. Backslider
7. Made To Love
8. Radio
9. One Trick Pony
10. Nevermind
Label: Independent
Website: http://www.mach22music.com – https://www.facebook.com/mach22
Hardrock Haven rating: 7/10