Madman's Lullaby | Unhinged
by Justin Gaines
– Senior Columnist/News Editor —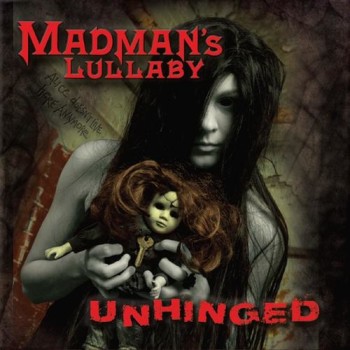 Originally self-released last year (and now given a proper CD release by the Kivel label), Unhinged is the third album from Bay Area hard rockers Madman's Lullaby. They're a relatively recent band, but their sound is anything but, drawing on the heavier, bluesier side of the '80s "hair metal" sound. Think Lynch Mob and Badlands, though not quite in that same league.
This thing hits like a sledgehammer. Forget subtlety; you're getting thick, crunching guitar riffs, catchy but heavy rhythms, very powerful vocals and some seriously angry lyrics. It's still that old school party rock at heart, only a heavier, nastier brand of party rock. Vocalist Dave Friday brings a dark soulfulness to these songs, and when he's done bludgeoning us with riffs, guitarist Mr. Brett delivers some wicked solos. The lyrics get a bit over the top at times with the whole angry/revenge love themes, but that's not a deal-breaker by any means.
Unhinged as a whole is a pretty dynamic album, but it does have some standout tracks, including "Everything's Wasted," "Gasoline" and "How Can I." At the end of the album, Madman's Lullaby switches gears for a pair of slower songs. Not ballads by any means; more like a laid-back Tesla-type blues songs. "Alice Doesn't Live Here Anymore" definitely has that vibe, but that song's subject matter is anything but laid-back. And "That One Thing" ends things on a relaxed note. So much so that you wish the band had spaced those two out a bit so they'd break up the routine.
Madman's Lullaby isn't blazing any new trails here, but that's kind of the point. Unhinged is an album for people who still spin their Lynch Mob, Badlands, Tora Tora and Tesla CDs on a regular basis. If that's how you roll, you've probably just found your new favorite album for driving late at night or drinking with the boys (preferably not both at the same time).
Genre: Hard Rock
Lineup:
Dave Friday (v)
Mr. Brett (g)
Mike Tersigni (b)
Eric Arbizu (d) (v)
Track Listing:
1. What If
2. Everything's Wasted
3. Time To Time
4. Gasoline
5. Gimme Shelter
6. How Can I
7. You Never Mattered
8. Standards So High
9. Out Go Your Lights
10. Alice Doesn't Live Here Anymore
11. That One Thing
Label: Kivel Records
Website: https://www.facebook.com/MadmansLullabyRocks
Hardrock Haven Rating: 7/10