by Steve Patrick
– Senior Columnist —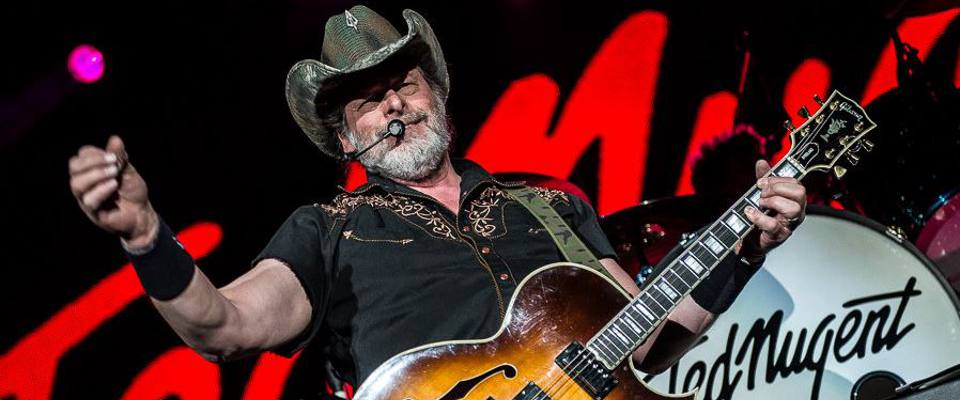 Nowadays it seems that Ted Nugent gets more attention for what he does off the concert stage, whether it be hunting or debating politics. Thankfully, the Motor City Madman has returned with evidence of what he does best with the upcoming release of his brand new studio record Shutup&Jam due out July 8th on Frontiers Records.
Shutup&Jam markes the first Nugent album to feature his longstanding touring lineup of Greg Smith (bass), Mick Brown (drums), and longtime sideman Derek St. Holmes. The first single from the record, "She's Gone", features guest vocals from Sammy Hagar who is a lifelong friend of Nugent's.
Nugent took some time to speak with Hardrock Haven about Shutup&Jam and his upcoming U.S. summer tour. The guitar legend had a lot on his mind, delving into topics like his double knee surgery, how his critics only fuel him, why Sebastian Bach didn't mesh on the Supergroup VH1 show, the last gun he acquired, and how he celebrates the 4th of July while on tour:
::: Listen to the interview :::
Visit Ted online: http://www.tednugent.com/
[Photo credit: Chris A.]
Interview Transcript: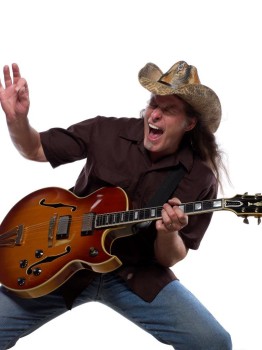 HRH: Hello.
TN: Hey Steve, Ted Nugent calling.
HRH: Hello Mr. Nugent, how are you doing today?
TN: I'm doing so good it's stupid. How about yourself?
HRH: Doing just fine.
TN: Have you heard Shutup&Jam yet?
HRH: I have!
TN: Well then your life must be almost as good as mine!
HRH: (laughs) Well, it's been seven years since Love Grenade. Why the gap between studio records?
TN: Oh I'm a busy man. There's a lot of deer need killing around here. I don't know. I mean, I'm such a lucky guy. I've been able to make my own decisions for my own life for the last fifty years…or sixty … well maybe not sixty. (laughs) Even though I think I was making my own decisions at the tender age of eight.
I'm stoned on my music. I'm intoxicated by my joyful calendar between the tours, and the hunting, and the charity work, and the family time, and just my lifestyle living on a ranch in Texas and back when I lived on my ranch in Michigan. It's the epitome of individual independence, self-sufficiency, hands-on, earthly celebration and we tour every summer like complete animals. And I just was not driven to capture my ongoing musical creations until this last winter.
Just whimsical … and I don't really apologize because I think what Shutup&Jam represents is the volcano ready to blow. (laughs) It can only take so much magma. (laughs) And because I came off the greatest tour of my life…well I was going to say the greatest tour of my life in 2013, but every year is the greatest tour of my life. I mean, 2012, 2011, 2010, 2009, 2008 … are you fucking kidding me? What we accomplish on the road is just indescribable excitement and inebriated fun. I mean inebriated on the music because if you got drunk or stoned and tried to play my music you'd hurt yourself and then I'd fire you and kick your ass.
My point being is that by the time we wrap up the tour I can't wait to start hunting and I hunt every day. I hunt every morning and every afternoon. When I was approaching the end of 2013 tour, my legs were so bad from two destroyed knees that I knew I had to go in and have both knees replaced which is not fun. I play guitar every day, so what you hear on Shutup&Jam, for whatever reason with a seven year drought … it wasn't really a drought. You're hearing songs like "I Still Believe" that was written five or six years ago. "Never Stop Believing" was written five or six years ago. "Do-rags and a .45" was a lick I played with my band in 2007. It wasn't a song, but it was a lick and all my songs come from a pattern like all of our favorite songs.
I call it the "paperback writer writing style" where you start with a killer groove or maybe…a "Pretty Woman" by Roy Orbison. You start with a great guitar lick and the great guitar lick inspires lyrical cadence. And the lyrical cadence…if it's sexy and you'll start singing about sexy stuff and if it's really hard-driving and "Stranglehold"-like you'll sing about independence and standing up for what you believe in…or maybe more romance, I don't know. So it's all organic, it's all raw, irreverent, uninhibited, no rules, no parameters, no guidelines. It just happens every day and we decided I couldn't wait any longer, so we decided to go into the studio and there you have it!
And whatever that system was…I don't think I'll ever repeat it, but if I ever sit back for a second, which I never do…I would say, "Man, whatever I did on Shutup&Jam … that's what I should probably do next time." Except Steve, I've already written more than a new album. I've got a whole new album ready to go and sometime after this Shutup&Jam tour I'm going to try to capture it for 2015 or at least 2016 because the new songs are just stone cold motherfuckers.
HRH: Looking forward to them! You mentioned some of the songs on Shutup&Jam have been around for a while. I know "I Still Believe" and "I Love My BBQ" were both released as free downloads on your website a few years back…
TN: That's right! There's a perfect example! That was years ago. In fact, maybe they were released a few years ago, but they were written a long, long time ago.
HRH: Were the versions on the album re-recorded from what was released on the website?
TN: Absolutely. We went in … especially with Johnny Badanjek, the unbelievable god on drums from Detroit … the original Mitch Ryder & the Detroit Wheels thundergod. It's always been my dream to have Johnny play on some of my songs. He played on "I Still Believe" and he played on "She's Gone" with Sammy Hagar. So there were a lot of dreams and fantasies that I demanded I bring to fruition on this record and I knew that that song ("I Still Believe") since it references Detroit, which is such a powerful force in my musical creativity on everything I learned from Detroit and everything Detroit represents musically attitude-wise, I knew I needed Johnny Badanjek to be on that with me.
And so we re-recorded everything…even "I Love My BBQ." Jon Kutz played on that … a drummer from Waco, TX who teaches music history. Just through word of mouth I discovered Jon and he just blew my mind doing some demos a couple times and so I hired him for the whole record. I did have Mick Brown come in and play on two songs … "Johnny B. Goode Forever" … did you hear "Johnny B. Goode Forever"?
HRH: I did not, no.
TN: Okay, because that'll be the bonus track I think on the Europe release. And then there's an acoustic "Never Stop Believing" on the Japanese release, so you've still got to hear "Johnny B. Goode Forever" and the acoustic "Never Stop Believing." And Mick also played on "Screaming Eagles" on the record. So yeah, it was a jam session. Just a big old musical party and barbeque and it was time to do it since both of my legs were inoperable. The pain was so overwhelming every day following the February 26th double knee replacement horror that I went in and completely forgot about the pain making this music. How cool is that?
HRH: Very cool. Hopefully it doesn't take a surgery like that to get the next record, but glad you're doing well now.
TN: Yeah, I'd better plan something. Maybe I'll have my hysterectomy next year. (laughs)
HRH: You mentioned Sammy Hagar guests on the song "She's Gone." How long have you known Sammy and how did he end up on the record?
TN: Montrose opened up for us as early as '74, '75. Just one of the greatest rhythm and blues rock bands that ever lived. I ended up using Denny Carmassi on my Spirit of the Wild record. That was always a dream to have that unbelievable drummer propel my music. But I'll never forget when Montrose opened for us, Sammy, and Ronnie (Montrose), and Denny were all on the side of the stage watching every lick, every song because we all come from the same Chuck Berry, Muddy Waters, Howlin' Wolf rhythm and blues rock 'n roll inspiration.
So we all had that musical communication that we all celebrated together and we became best friends back then. I've jammed with Sammy and Sammy's jammed with me dozens of times over the years at some of the biggest concerts in the world … the big Texas Jams … 100,000 people here, 100,000 there … and we've always shared a musical enthusiasm for the bluesy, grinding, R&B-tinted music.
I was at Sammy's 60th birthday in Cabo Wabo. Got up and played "Stranglehold" and a couple songs with him. We've always had that mutual admiration society thing going on and I just demanded that he sang on this record.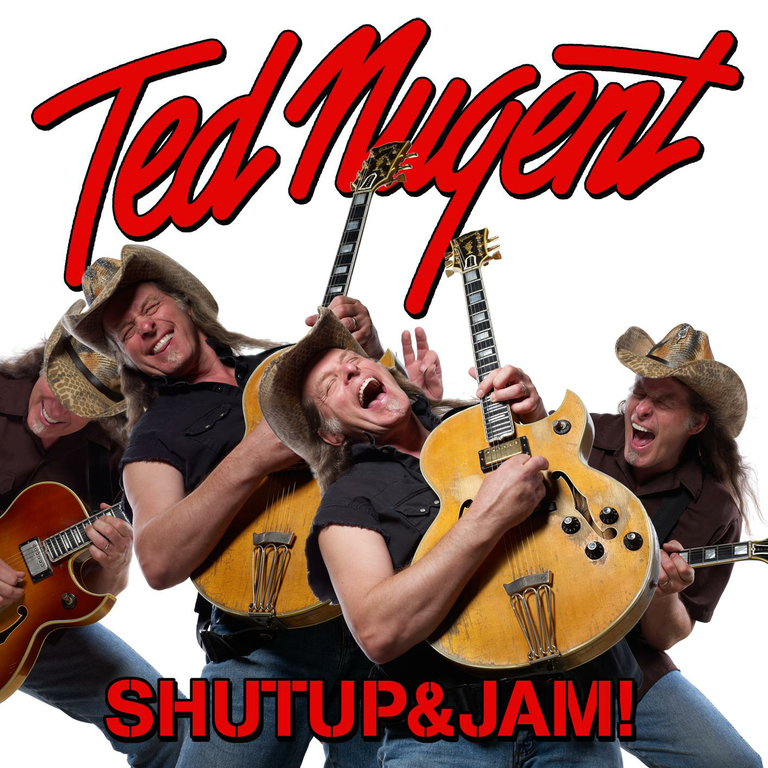 HRH: Well it definitely turned out great.
TN: Yeah, I love it. What a great jam! What a great, classic, rhythm and blues masterpiece!
HRH: Do you ever scare yourself when you play something like "Throttledown" on the new record … that is, are you ever surprised that you can still play like that at 65?
TN: No, I don't because I'm so alive every day and the stuff I do every day…you know, teenagers would hurt themselves. Even with two bad legs I've already killed a squirrel with my Labradors … the happiest Labradors on the planet I might add, Steve…and I still run around. I still plant trees, work on my food plots, run the tractor and grade the driveway, set my traps, fix water crossings. I'm still real active. I play my guitar every day. I have the most dangerous wife in the world. She does this Zoomba stuff and I sometimes glance at her…(laughs) and then respond accordingly. No, I'm a lucky guy. Clean and sober for 65.6 years and I'm a lucky, lucky man. I mean, the people I surround myself with are so inspiration. They're so motivational and they're so dynamic and positive. You really can't stop that positive force when everything and everyone around you is so positive.
And I've got to mention also Steve, maybe even more influential than the positive people, are the fucking haters. (laughs) On my Facebook you have all this positive, positive … we had 12 million hits one day and there was like 11,999,994 positive hits. There were like 6 people that wanted to kill me because I eat pheasants. (laughs) You gotta be fucking kidding me. It's so inspiring that you can piss off subhuman mongrels like that. I mean, you gotta literally be from Planet Mutt to hate someone for eating venison…like we should shut down barbeques planet wide because Harvey the LSD Experimenter is upset that an innocent herbivore bit the dust. (laughs) This is more fun than Richard Pryor's afro catching on fire! So, the negatives are even more inspiring because they're so fucking funny!
And there's no substance to them. They all hate me…they all hate me for the wrong reasons. I suppose there's a few you could hate me for, but it ain't because I eat pheasants! (laughs) I mean, right now the Huffington Post and MoveOn.org are trying to get all my gigs cancelled claiming that I'm a pedophile because of a song called "Jailbait." I have to remind people that the Stones never fought people in the street and that they don't really have sympathy for the devil. And that Metallica never did, nor did they want to, kill them all! It's fucking music!
HRH: Aerosmith has a song called "Jailbait." Why don't they go after them?
TN: That's my point! That's my point! And Sam Kinison never butt fucked his girlfriend with a Volkswagen Beetle. It was a comedy act! (laughs) But to even have to explain this is so funny.
HRH: Well you've mentioned that you've got a lot of detractors …
TN: No I don't, I have a handful of lunatic fringe, LSD consumers. (laughs)
HRH: (laughs) I agree, they're on the fringe absolutely, but it seems like on this album you've kind of taken a stance to move away from politics …
TN: Oh I'm not so sure of that. You might want to read the lyrics to "Semper Fi." (laughs)
HRH: That's fair, but I'm talking about track 1 where you say, "Enough of that political stuff / The right / The left / The good / The bad / It all gets boring and old" …
TN: Yeah, well that's when it comes time to just get along. Again, I would offer Paul McCartney a wild hog scent-free tofu salad at my barbeque. I don't really care what you eat Paul, whatever you want I can get for you. But when it comes to making music, I suggest you shut the fuck up and jam.
And the same thing with my buddy Tom Morello. He's a great friend of mine. On the surface you would think we don't agree on anything, but unfortunately for his politic fraud … and I mean that with all due love and respect, Tom … he conducts his life just like I do. He gets up early, puts his heart and soul into everything he can be. He's in the asset column for his family, his neighborhood, his community, his nation, and his fellow man and he produces. Well, that's an entrepreneur … that's a capitalist. And the only way you can help needy people, even according to Bono, is to make as much money as possible so that you have extra money that you can give to people who need help. Hello?!
So, when it comes right down to it, I don't care what you want for dinner. If you don't want to own a gun, don't. If you don't believe in meat, great. I'll make you a veggie burger. Whatever you fucking want. Just shut the fuck up and jam.
HRH: Well we talked about "I Still Believe" and I was one of those folks that downloaded the original version from your website. Originally there was a line that said, "We've had our ups and downs / Mostly downs with Obama". That's been re-tweaked on the album version…
TN: Yeah, I changed that to "What comes around goes around" … as a heartfelt gesture towards the apolitical. (laughs) Even then, those lyrics say in essence the same thing. Both phrases say the same thing, but I thought it would be more timeless because the music will be timeless and Obama will go the way of the dodo bird, I pray to God. Philosophically speaking, of course. I don't want him hurt. I don't want him dead, but I want his policies to go the way of the dodo bird. Glad I clarified that, Steve. (laughs)
I thought it was a gesture of civility and timelessness. Twenty years from now, I think the song "I Still Believe" will still be a rocking son of a bitch and Obama will have gone down in history as intentionally dismantling the ultimate quality of life ever experienced by mankind and that hopefully America will learn the lessons that everybody in Europe taught me…or reminded me. I didn't need them to teach it to me, Obama taught it to me, although I learned it a long time before Obama was born … that the rest of the world is aghast that Americans are so sleepy, and so disconnected, and disengaged that they allowed a Barack Obama to get in here and bring such corruption, abuse of power, and criminality to the U.S. government … as he tries to turn us into those places that wish they were more like us. Now, according to Obama, we need to be more like them. That's disaster.
HRH: Absolutely.
TN: Absolutely.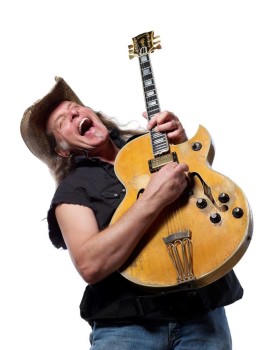 HRH: Couldn't agree more. You mentioned that you never felt the need to document this lineup on the road, but this is the first album featuring Greg Smith, Mick Brown, and Derek St. Holmes together. Are they excited about finally capturing that live energy on a record?
TN: Absolutely! In fact, we were a little bit let down. Derek's scheduling just wouldn't coincide with the recording because I wanted him to sing other songs. Though, when the final vote was in, from everybody…from Sammy Hagar, and Johnny Badanjek, and Jon Kutz, and Mick Brown, and even Derek, and Greg, and certainly Michael Lutz … they all agreed that the songs I sang, I should have sang.
Anyhow, yeah, but to have the Grease-ome Threesome, the Nigerian Rebels, Ted Nugent and the Subhuman Mongrels (laughs) on this record is just an indescribable joy from a musical standpoint. Plus, even though they are superior beings musically, they are also superior beings gentlemen-wise. They are just a joy to work with. There's no prima donnas. They put their heart and soul into everything they do. They're fun to be around. They're adequately goofy to deserve me. Their positive energy and spirit is what everyone dreams they could have in their lives and I have it every day Steve, so I genuflect at the altar of the American dream. It amazes me.
HRH: I was a big fan of the brief VH1 show Supergroup where you shared a house with Evan Seinfeld, Scott Ian, Jason Bonham and Sebastian Bach. Will we ever hear all the Damnocracy recordings?
TN: That would be great, but I doubt it. You could tell there was a little ying and yang going on there. Scott Ian and certainly Jason and … they were just great musicians. We shared real rhythm and blues. But old Sebastian … he needs to learn an awful lot about that soulfulness and I mean that with all due respect because he's incredibly gifted and he has a wonderful work ethic and a wonderful excitability and enthusiasm for killer music. But I don't think what we created is really worth unleashing. (laughs)
I think it would probably be better if it was in a non-TV environment because the TV production always disregards honesty. (laughs) They disregard spontaneity and a real world. You know, reality TV is really a hysterical term because "reality TV" is always not real TV. From Duck Dynasty to the Kardashians … although I'm afraid the Kardashians might be, which is tragic. But that being said, the answer is an unlikely no, although I admire the collaborative effort with all those guys.
HRH: One part of that show that I really enjoyed was when you shared the stage with Joe Bonamassa.
TN: Yeah!
HRH: Did that happen as naturally as it appeared on the show?
TN: Nope it was as spontaneous as … in fact, I got a lot of resistance when I recommended it. Um, I heard that Joe was going to be in town and I think he had actually contacted my office and there's a mutual admiration there for the guitar gods before us that he emulates and genuflects at their altar, as do I, and he knows I do. So, it was a natural desire for us to get together and spontaneously combust on the things that inspired us musically. So I insisted … we got our ass together and we just wandered in there. I don't even think we contacted Joe's people or the bar. I think we just (laughs) … we just decided to show up.
HRH: What was the last firearm you acquired?
TN: Geez, I've got so many and I get them so often! I got a box of these wonderful POF (Patriot Ordinance Factory) ARs in both .223 and .308. Frank (DeSomma) over there at POF in Phoenix … he makes a wonderful, wonderful close quarter combat, and a sniper, AR. He sent three of those for my son Rocco … actually four, son Rocco, son Toby, and my wife Shemane and I. So, I'm a lucky, lucky guy in that department too I must say.
HRH: Last question for you Ted, obviously you'll be out on tour during the holiday, but how do you celebrate the 4th of July offstage?
Well, first of all, make it perfectly clear that every day is Independence Day at the Nugent ranch. (laughs) We celebrate every day…rugged individualism and ultimate self-sufficiency and independence in a really proletarian pragmatic way. We barbeque every day. We shoot our guns…maybe not every day, but 5, 6 days a week often. We do that all the time. Shemane and I are going to be filming here soon in a few minutes after I get off the phone with you for a Ted Nugent Spirit of the Wild episode…some of Uncle Ted's favorite gun stuff. We're going to shoot our bows and carve up…we're gonna quarter up a beautiful ram that I shot the other night, and we're going to teach people where the ultimate sacred flesh comes from and how to show reverential care in handling it…and grilling it. We live to do that every day. Oh and when I'm on the road I'm a little bit limited because I've only got about a dozen guns on the road with me. (laughs)
HRH: (laughs) Only a dozen.
TN: I had to reduce it to a manageable dozen (laughs) But we do go to the shooting ranges often on the road and of course everybody's got some killer barbeque for Uncle Ted. I mean, the office phone and computers just constantly blow up with wonderful, wonderful, kind, and much, much appreciated invitations for barbequing, and for fishing, and for hunting, shooting, training, and just outrageous invitations.
But I think we can all agree that the greatest philosopher of all time was Dirty Harry when he said, "A good man needs to know his limitations." And when I'm on the road I really have to manage my time because I could blow up just attempting to pursue a small fraction of these wonderful invitations and I really have to rest. I do media every day I tour and the travel itself is a bit testing, so I don't get to do much gregarious activity when I'm on the road, but I do enough barbequing and enough hanging out and training with enough law enforcement and military to keep me bright-eyed and bushy-tailed and to make sure my guitar solos every night breath fire.
HRH: Well you're doing a hell of a job!
TN: Yeah, I think so! In the spirit and energy department, those are flames coming out of my ass, yes indeed. So shut the fuck up and bring the marshmallows.
HRH: Ted, you're a prince and a scholar. Thanks again for your time!
TN: Alright Steve, thanks for the support! Godspeed.
[Photo credits: Jenny Risher]