by Alexandra Mrozowska
– Columnist —
It's been five years since some of us pumped our fists to "Deal With The Devil" and dealt with the "Stone Cold Killer" … as well as walked down memory lane when, during the very same gig, the classic Winger tearjerker "Miles Away" started with the well-known line, "So this is love, or so you tell me …" The American quartet are not to rest on their laurels, though – and finally, after these five long years, the follow-up to Karma has seen the light of day. The new Winger album, titled Better Days Comin', was released a few months ago via Frontiers records.
Although busy with the band currently on the road, frontman Kip Winger shared a few concise thoughts on Better Days Comin', giving Hardrock Haven readers a sneak peek into the process of making the album and Winger's current plans.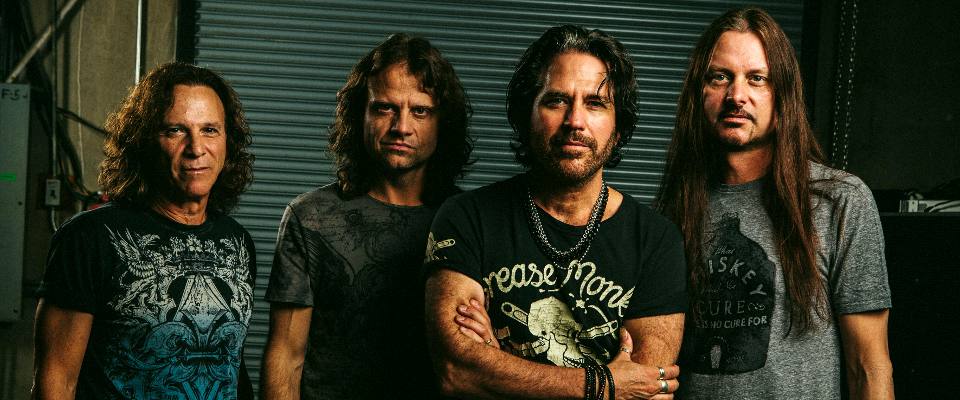 Hardrock Haven: It took the band five years to complete a follow-up to 2009 Karma. I believe the band members were engaged in various side activities throughout this period – can you tell us more about what kept you busy?
Kip Winger: We all have various outside projects. Reb has Whitesnake, Rod teaches at Berkley, I have my solo and classical projects, John has Starship … on this record we got together when everyone was available.
Hardrock Haven: Can you take us through your personal highlights of Better Days Comin'?
Kip Winger: Highlights to a record are different for everyone. So I leave that up to the listeners. The highlights for me are writing and recording with such fantastic musicians. They can play anything I throw at them.
Hardrock Haven: Many reviewers define Better Days Comin' as a cross between IV and Karma with some melodic undertones of the early Winger. How would you describe it music-wise?
Kip Winger: Exactly that. It turned out to be a collection of every aspect of what we do.
Hardrock Haven: Where did the idea of the title come from?
Kip Winger: It was just the name of a song. And a friend suggested it made a good title. After a while it stuck.
Hardrock Haven: How did the songwriting process look and did it evolve throughout the years?
Kip Winger: It's always been the same, Reb and I sit down with a drum machine and knock out riffs. We're a riff-oriented band. We start with that and then add sections and melody. Lyrics always come last. We've never changed the formula.
Hardrock Haven: So far, three official videos were released: "Rat Race," "Midnight Driver Of A Love Machine" and "Tin Soldiers." What are the reasons behind such choices?
Kip Winger: Basically those are the first ones finished, we're still finishing "Queen Babylon" as well. We knew these were the ones to release first, the order didn't matter so much to me. Any of these three would have been fine.
Hardrock Haven: Is the elaborate guitar outro to the final track "Out Of This World" a deliberate reference to one of your biggest ballads "Headed For A Heartbreak"?
Kip Winger: Well, it's sort of a tradition to always out a song with a long guitar solo at the end of our records. "Witness on Karma" and now this. I like to showcase the players in the band as much as possible. I think the "Out Of This World" solo is one of Reb's best.
Hardrock Haven: Why did "Another Beautiful Day" remain only a bonus track?
Kip Winger: Record company decision, And I'm not a big fan of records with more than ten songs on them. I'm from the '70s when albums only had eight songs on them but ALL the songs were great!
Hardrock Haven:I believe Better Days Comin' is available in a standard (CD) and deluxe (CD+DVD) edition. Will you follow the current trend and release the album also on vinyl?
Kip Winger: Good question … I believe this and Karma are available on vinyl. I never listen to vinyl but I think it very cool that people still do.
Hardrock Haven: With a dozen U.S. and U.K. tour dates already announced, can we expect more dates and venues to be announced soon for the fall/winter?
Kip Winger: We're in the process of building our touring schedule through the end of the year. Hopefully we'll be able to go back to Europe and do a more extensive tour in the fall .
Hardrock Haven: What is Winger up to at the moment? Any particular plans?
Kip Winger: Right now we're just doing live shows. Working out the kinks in the new songs, figuring out what works and what doesn't. It's always a blast to be on the road with Winger, we have a lot of laughs.
Hardrock Haven: Thank you for the interview? Is there anything you'd like to add in the end?
Kip Winger: Thanks for the support!
Visit Winger online: http://www.wingertheband.com/