Faithsedge | The Answer Of Insanity
by Joe Mis
– Senior Columnist —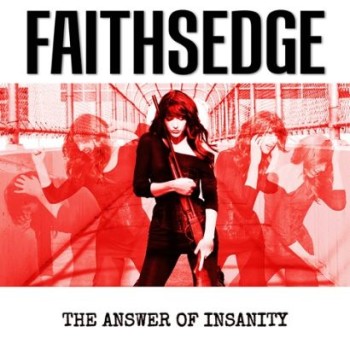 The Answer Of Insanity marks the triumphant return of Faithsedge to the metal scene. This near super-group brings a harder and heavier approach music on their sophomore release – and to put it simply, they rock – without losing the strong sense of melody demonstrated on their self-titled 2011 debut.
Led by California's Giancarlo Floridia (vocals, guitars), Faithsedge brings back guitar master Alex De Rosso (Dokken, Vertigo, Shadows Fade), producer and bassist Fabrizio Grossi (Steve Lukather/Alice Cooper), and versatile drummer Tony Morra (Rebecca St James, Van Zant). This solid core is only boosted by the presence of two of rock's finest on keys – Eric Ragno (Trixter) and Alessandro Del Vecchio (Hardline, Silent Force, Edge Of Forever). Musically they continue to blend old school hard rock and metal with touches of progressive rock and metal, and the tight, passionate songwriting that was the keystone of their debut is even stronger and more obvious now.
"Now I Know The Truth" opens the album in truly kick-ass fashion, displaying the band's new take-no-prisoners attitude with thick guitar hooks, booming bass and intensely powerful vocals. A big dose of old-school hard rock spins "Revolve My World," a track that fully allows drummer Tony Morra to pull out all the stops and may be in the arena rocker range thanks to the great gang vocals on the chorus. Fabrizio Grossi's rumbling bass takes the center stage on "The Way I Have To Let You Go," a tune with hints of alternative and progressive rock blended over superb guitar work. "Are We Gonna Stand?" is a mid-tempo heavy rocker with a great bass and drum groove. It allows vocalist Floridia to step down a notch and put everything into his voice, singing obviously from the heart – but De Rosso's guitar solo is massive enough that it overshadows the rest. The band changes tone and tempo on the near power ballad "Comes Crashing Down." This piece features fantastic coordination between bass and drums, and amazing bluesy guitar solo, and an all-out vocal performance.
"Saving Anything" is rollicking commercial rocker with a great chorus, rapid fire bass, and superb guitars throughout. "Pray For This" is another mid-tempo number, one that leaves nothing on the table and is easily the strongest track on the release. Well done keys, rolling bass, amazing guitars, precise drums, and powerful vocals and lyrics combine to make this a true highlight. Mid-90s hair metal makes an appearance on "Until Your Home," but the bittersweet, biting lyrics are the winners here – probably Floridia's best vocal delivery to date. Hard rocking rhythm lines driven by grinding guitars and lively drums on "When I Lost You" make the track memorable, and undoubtedly "Destroy You" is the darkest and heaviest song on the CD. "Vengeance" wraps the album in style, closing with a heavy and pounding tone highlighted by manic drums and thrashy guitars.
Overall The Answer Of Insanity is a very solid album, one the band can be proud of, free from any trace of the sophomore jinx. Strong melodies, fiery and passionate lyrics, and enthusiastic, spot-on performances make this a truly fine release. Couple these elements with a strong mix and good engineering and you have a superior album all around. While the tone and lyrics are distinctly edgier and darker than Faithsedge, the strong melodies remain – so in effect The Answer Of Insanity is the other side of life's coin, showing that both dark and light are part of everyone's existence. The Answer Of Insanity should appeal to just about every melodic metal / rock fan. Highly recommended!
Genre: Melodic Metal
Band:
Giancarlo Floridia (vocals, guitars)
Alex De Rosso (guitars)
Fabrizio Grossi (bass)
Tony Morra (drums)
Eric Ragno (keyboards)
Alessandro Del Vecchio (keyboards)
Track Listing:
1. Now I Know The Truth
2. Revolve My World
3. The Way I Have To Let You Go
4. Are We Gonna Stand?
5. Comes Crashing Down
6. Saving Anything
7. Pray For This
8. Until Your Home
9. When I Lost You
10. Destroy You
11. Vengeance
Label: t.b.a.
Website: http://faithsedgemusic.com/
Hardrock Haven rating: 9/10