by Alexandra Mrozowska
– Columnist —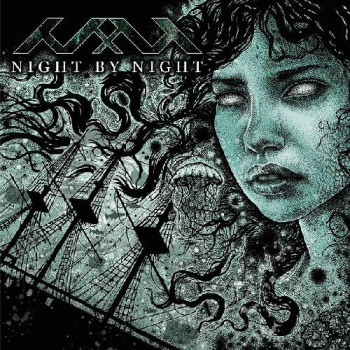 With enthusiastic reviews from the renowned UK music magazines – from Kerrang! and Classic Rock to Fireworks – and names such as Voodoo Six or Sisters of Mercy featured in résumé of the respective band members, Night By Night are a band you can't simply miss. Their debut album NxN, produced by Romesh Dodangoda (Motörhead, Funeral For A Friend, Bullet For My Valentine) is set to be released on July 11 in Europe (with the exception of the UK, where it's July 14 when it hits the record stores) and on July 15 in the US and Canada. Embellished with enthralling cover artwork, the album gives an answer to a question why this British quintet is claimed to have pioneered "the new wave of hard rock," as the critics are eager to put it. And also, a question of a marriage of convenience between the '80s-infused melodies and contemporary rock style being an awful misalliance – or not.
The first track "Time To Escape" leaves no illusion. If it's about putting a crunchy, modern-sounding riff and pumping bass line against Leppard-ish, massive vocal harmonies and melodic, '80s style chorus, Night By Night definitely put their money where their mouth is. "Holding Onto Holding On" goes by the same scheme – the perfect balance between almost poppy melody and throbbing, aggressive riff. With its '80s-trademark opening group chant, "Can't Walk Away" could have been as well recorded (and released) twenty five years ago, but served now, it remains nevertheless fresh and by no means dated.
Mellower mid-tempo "Everywhere Tonight" lacks certain festiveness of its predecessors and remains somewhat a filler. And yet, this feeling of slight disappointment doesn't last long – luckily for those "about to rock," there's a reward in a lumbering, heavy guitar riff of "Siren" as well as in the fast-paced, well-crafted hard rock piece "A Thousand Lies". Next are "It's Not Faith" with distinct Leppard-esque influences and dynamic, modern rock-infused "The Moment". With the two final tracks, "If Only" enriched with a great lead guitar work and the interesting changes of pace in "Never Die Again", Night By Night prove again it's possible to pique the interest of both contemporary rock fans and '80s melodic rock aficionados at the same time.
NxN is the album both a Def Leppard and an Alter Bridge fan can discuss while drinking a beer together and which could possibly end up among the record collections of both. It's this balance of traditional hard rock roots versus modern, up-to-date sound that is the best thing about this record indeed. While preserving the old formulas of big hooks and huge choruses, the band shows it's all about here and now for them rather than dusting off the old sounds of the '80s era. And although Night By Night's debut album isn't flawless, and a song or two might have actually been more of a miss than a hit – overall it turns out to be a solid and very fresh record altogether. Let's hope bands like this one will show quite a few youngsters out there that playing dynamic, modern riffs doesn't have to involve depriving a song of its melody. And if such approach is the future of the genre, we can take it easy and place the dreadful "rock is dead" t-shirt in the back of our closets. It's not the time yet.
Genre: Hard Rock, Melodic Hard Rock
Band:
Henry Rundell – Lead Vocals
Tom Daniel – Guitars
Ben Christo – Guitars, Vocals
Jonny Thornton – Bass, Vocals
Damien Diablo – Drums
Track List:
1. Time To Escape
2. Holding Onto Holding On
3. Can't Walk Away
4. Everywhere Tonight
5. Siren
6. A Thousand Lies
7. It's Not Faith
8. The Moment
9. If Only
10. Never Die Again
Label: Sun Hill Production/Cargo Records
Website:
https://www.facebook.com/NightByNightUK
http://nxnofficial.com
Hardrock Haven rating: 7/10