Skid Row | Rise Of The Damnation Army – United World Rebellion: Chapter Two
by Deb Rao
– Senior Columnist —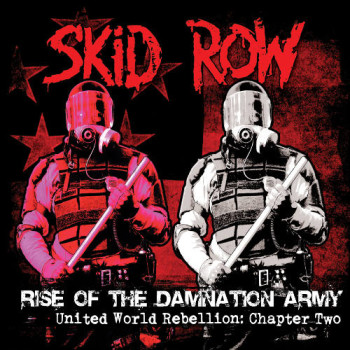 Skid Row return to the mix with a vengeance with their heart pulverizing new seven song EP Rise Of The Damnation Army – United World Rebellion: Chapter Two. The EP is slated for an Aug. 5 release via Megaforce Records.
Skid Row returned to the music scene in 2000 opening for Kiss. Their penchant and love for performing is prevalent in their live concert setting. With the resurrection of Skid Row featuring new singer Johnny Solinger the band released two CD's including Thickskin in 2003 and Revolutions Per Mind. It seemed that during that time period Skid Row era the band was looking for that new identity. It wasn't the '80s anymore. Music had gone in a different direction. But now in 2014 Skid Row fans rejoice! The band has returned to their successful writing formula that launched the band into their heyday glory days with Rise Of The Damnation Army.
It was really a good idea to release only seven songs. They are to the point and not to long or too short. The energy of the new music speaks volumes. The band whiplashes into what they do best with precise heavy metal execution. Opening track "We Are The Damned" takes no prisoners with its heavy metal assault. This song could very well be the very new 2014 "Youth Gone Wild" anthem. "Give It To The Gun" starts out with a killer bass hook from Rachel Bolan.
The band even embarks on a beautiful ballad on "Catch Your Fall." Vocalist Johnny Solinger sings his heart out. "Damnation Army" is killer reminiscent of old school Skid Row. The song "Sheer Heart Attack" taps into the bands Ramones vibe. The guitar playing of Snake Sabo and Scotti Hill is ferocious. The band recaptures the intensity of the old school days with a new modern profound heavy metal sound.
Skid Row digs deep into their past and perhaps releases the most exciting music since their debut. The songs are heavy hitting, reminiscent of "Slave To The Grind" and "Youth Gone Wild." The musicianship of the band is excellent. Singer Johnny Solinger takes charge. Rise Of The Damnation Army – United World Rebellion: Chapter Two opens up a new chapter for Skid Row that is exhilarating and very promising.
Genre: Heavy Metal
Band: Johnny Solinger – Singer
Rachel Bolan –Bass
Scotti Hill – Guitar
Snake Sabo – Guitar
Rob Hammersmith – Drums
Track Listing:
01. We Are The Damned
02. Give It The Gun
03. Catch Your Fall
04. Damnation Army
05. Zero Day
Bonus tracks:
06. Sheer Heart Attack (QUEEN cover)
07. Rats In The Cellar (AEROSMITH cover)
Label: Megaforce Records
Website: www.facebook.com/officialskidrow
Hardrock Haven Rating 9/10