220 Volt | Walking In Starlight
by Alexandra Mrozowska
– Columnist —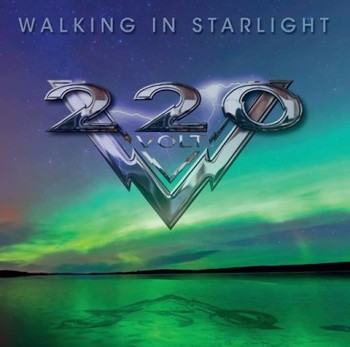 A long, long time ago… that's how a fairy tale about the Swedish band which never joined the first league of fame dominated by their peers Mötley Crüe and Bon Jovi, but which certainly had their share of success back in the '80s, should start. And although it could have ended at the point of the group being swept by grunge/alternative wave of the early '90s, it seems 220 Volt are eager to write at least one more chapter of the story. Seventeen years after the release of Lethal Illusion, which most probably ended up lost in the mists of time, the Swedes come back with Walking In Starlight due to be released this September via AOR Heaven.
First seconds into "Walking In Starlight," you may start wondering if the new incarnation of 220 Volt shed their AOR/melodic rock skin so as to pupate into more ambitious, progressive-infused act? But, as it eventually turns out, the opener's no drastic change from the band's glory days. The eponymous track of their new album is perhaps more sublime piece than their quondam '80s hit "The Harder They Come" and certainly bears traces of being conceived in 2014, but still remains hard rock sound-wise. And, as it may be safely said, a little bit of keyboard wizardry doesn't do any harm to anyone, too.
However, in the next tracks – from "System Overload" to "Alive" – the band openly flirts with modern-day melodic metal, leaving no doubt about the '80s being over once and for all. Be it the influence of the band's new singer Anders Enberg (ex-Therion, ex-Lions Share) or just the sign of the times, the tracks are feisty, the riffs – muscular and aggressive, and the production up-to-date to the utmost. Just listen to the tight rhythm section and Accept-esque shredding gallop in "Blind" – it seems you have to be quite careful with labeling this outfit "AOR" now.
Of course, even the heavier 220 Volt is not deprived of melody – as in "Alive" or the keyboard-laden "Broken Promises." Closer to the band's earlier style are "Stranded" and "The Waiting," significantly more mellow mid-tempos with hooky choruses that should satisfy every listener craving for catchy melodies and '80s-infused wailing guitar sound. The band gravitates towards heavier side of things again in tracks such as "Get Me Out," driven by interesting, twisted guitar riff – the chorus far from being memorable, though – or fast-paced power metal piece "Through The Wastelands," its furious riffs put against powerful choruses. The latter shows yet another face of many 220 Volt has now – those who thought they're just another '80s hair band were terribly wrong, it seems.
Speaking of the '80s, there are some traces of the well-crafted melodies favored in this decade in the next tracks on the album – the keyboard-driven hard rock piece "Burning Heart" and its follow-up "Take A Good Look," a bluesy, feisty track with killer chorus. The latter, with its slight Americana flavor, could have been a lost outtake of any of the recent Skynyrd recordings, its combination of contemporary heaviness and classic melody being equally convincing. "One Good Reason" continues in similarly blues-meets-rock, but even feistier manner, while the final "Guiding Light" follows the adage that goes as follows – no good rock album can do without a ballad. At least, a ballad as good as this one – apart from any lyrical sentiments and soaring vocals, the perfect duel between wailing guitars and string section should tug at every music lover's heartstrings.
The main feature of Walking In The Starlight is the surprising variety of styles and genres the band draws from, be it melodic hard rock similar to their early efforts, contemporary straight-in-your-face metal or some light shades of blues. It's perhaps due to the longtime absence of the band or their musical growth and eagerness to explore the unknown territories; anyway, it's always up to the listener to decide in which of those styles 220 Volt appears to be the most convincing. And although certain tracks are crafted for those who listened to Eye To Eye and Young And Wild until both eventually worn out, listeners oriented more on modern-day rock and metal should also get familiar with the album. It's an interesting compilation of different genres – "to each, his own" kind of thing – marking a return of a band that doesn't have anything to prove, but is welcome to drop in at the studio way more often than once in seventeen years. Recommended.
Genre: Hard Rock
Band:
Anders Engberg – vocals
Thomas Drevin – guitars
Mats Karlsson – guitars
Peter Hermansson – drums
Track List:
1. Walking In Starlight
2. System Overload
3. Broken Promises
4. Alive
5. Blind
6. Stranded
7. Get Me Out
8. The Waiting
9. Through The Wastelands
10. Burning Heart
11. Take A Good Look
12. One Good Reason
13. Guiding Light
Label: AOR Heaven
Website:
http://www.220volt.se
https://www.facebook.com/220VoltOfficial
Hardrock Haven rating: 7/10