by Alexandra Mrozowska
– Senior Columnist —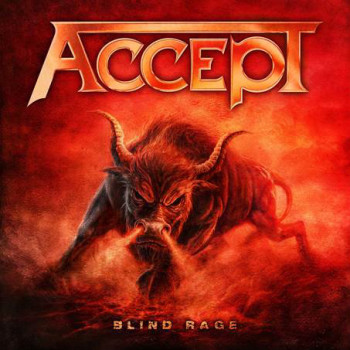 Although most of us are familiar with the Teutonic thrash metal term describing the particularity of the German thrash metal scene, its counterpart related to heavy metal genre should be in equal use. There is, and always was, something distinctively different about the German metal bands – namely, the aspects of heaviness, majesty and pace of their sound. As for Accept, they're perhaps the most genuine representatives to the scene, a literal "metal heart" of the German heavy metal – although also this legendary band had their ups and downs. Yet, all this being in the past, now Accept returns stronger than ever with what is their fourteenth studio album, the third one recorded with their current singer Mark Tornillo. Blind Rage is the title of the release, out in August via Nuclear Blast.
The scarlet-colored album cover reveals a picture of an enraged bull ready to attack – and, it turns out, it perfectly completes the furious metal assault of the first track "Stampede" with its muscular riffs and Tornillo's gruff vocals. Perhaps the highlight of the track is the guitar solo crafted in the best Accept tradition, with distant echoes of neoclassic arrangements which everyone who ever headbanged to "Metal Heart" should be more than familiar with. "Dying Breed" continues in the same feisty manner, Tornillo doing his best Udo-esque impression against the background of a pounding rhythm section and mad guitar duels between Hoffmann and Frank.
Slightly more melodic "Dark Side Of My Heart" opens with a raw riff somewhat devoid of the Teutonic metal majesty and one that may remind you of the typical NWOBHM sound. In its entirety, the song – as many other on this album – bears some resemblance to the classic Accept albums. "Fall Of The Empire" is a shift from the '80s influences metal the group has previously embarked on and towards modern-day sound; a majestic, lumbering piece with atmospheric chanted background vocals against Mark Tornillo's raspy voice taking the lead.
Next is the explosive, fast-paced riff of "Trail Of Tears" that doesn't let one forget it was Wolf Hoffmann who pioneered such furious licks years before Helloween and Gamma Ray sound helped to coin the term "Power Metal." And certainly, many young representatives of the current metal scene can only wish and hope they'll ever sound as powerful as this.
Even the most powerful incarnation of heavy metal was, however, not always about pace and fury – and its pioneers know it well, it seems, delivering a melodic mid-tempo "Wanna Be Free" preceded with a charming, mellow acoustic intro. The track's relatively subtle melody is in a vivid, yet interesting, contrast with the massive background chants that fill the chorus – and a proof that even more benign face of Accept is still as convincing as their fueled-by-fury trademark sound.
Its follow-up is "200 Years" – as rough and gritty as metal can only get, laden with some heavy, but tasteful guitar licks. "Bloodbath Mastermind" is no slowdown to its predecessor, despite mellow and perhaps misleading intro. And if up to this point – even after the two previous Accept albums – you were not entirely sure about Tornillo's ability to rip his throat off, the track conclusively proves he's a sterling screamer.
"From The Ashes We Rise" starts in a somewhat bluesy manner and the echoes of blues are to be heard further in this lumbering, ballad-esque piece. Next is the majestic, guitar-laden epic "The Curse" and fast-paced gallop of "Final Journey" enriched again with a neoclassical-infused solo; undoubtedly, both of the closing tracks finish Blind Rage on a very high note.
Although even a mediocre album from the German giants Accept wouldn't have shattered their iconic status, Blind Rage is one of these records the only downside of is that they end at some point. Surely, one can discuss the band resorting to the best of their tricks – all staples and trademarks, all things considered classic Accept – but isn't that the whole point of being a legend in the metal scene that doesn't have to prove much and can only confirm their status? With their new album, the Germans give their fans exactly what they want to get, a muscular, meaty metal deliciousness spiced up with modern production, but rooted deeply in the sound of Balls To The Wall and Metal Heart. It's heavy metal at its purest and very best – you can't help but keep on headbanging. Highly recommended.
Genre: Heavy Metal
Band:
Mark Tornillo – lead vocals
Wolf Hoffmann – guitar
Herman Frank – guitar
Peter Baltes – bass guitar
Stefan Schwarzmann – drums
Track List:
1. Stampede
2. Dying Breed
3. Dark Side Of My Heart
4. Fall Of The Empire
5. Trail Of Tears
6. Wanna Be Free
7. 200 Years
8. Bloodbath Mastermind
9. From The Ashes We Rise
10. The Curse
11. Final Journey
Label: Nuclear Blast Records
Website: www.acceptworldwide.com/
Hardrock Haven rating: 9/10