Framing Hanley | The Sum Of Who We Are
by Matt Karpe
– Senior Columnist —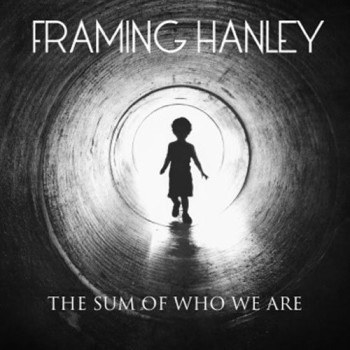 It was after the release of their debut record that Framing Hanley really made their breakthrough. When they released the deluxe version, there was a cover song included that was both risky and extremely courageous to even consider tackling. "Lollipop" was a hip-hop song; released by Lil' Wayne, yet this bright young rock band made it their own, there on gaining a wider fan base.
2010 saw the sophomore release A Promise To Burn, and until now it seemed like the quintet tipped for a bright future had seemingly faded into obscurity.
Now in 2014, Framing Hanley have found a new record label, and after a kickstarter campaign in which they asked fans for help in raising $40,000 to record the album, The Sum Of Who We Are has found the band revitalized.
Generally, the contributors will feel it was money well spent because apart from the odd filler track, this album is the strongest Framing Hanley release to date.
"Criminal" is a good hard rocker that was made for the radio airwaves. The chorus is gloriously melodic and add in a "na na na" sing-along and you have a sure fire hit.
There are four absolute stormers here, and after "Criminal" comes "Simple Life". With the use of some electronic sampling and funky synth, the song has a 80s' feel, and with an emphatic chorus plus the use of gang vocals, this is the best song Framing Hanley have recorded since their inception.
"No Saving Me" is one of the heavier tracks, especially in the chorus where it eclipses the slower building verses with good effect.
The fourth highlight is "Science" which is the most experimental song on The Sum… With some more electronica, there is a slight industrial feel and it is hugely atmospheric.
There is good variation throughout, with the aforementioned electronic elements along with the traditional hard rock, and there are also some pop-punk moments in the form of "Crooked Smiles" and "Rollercoaster," with the latter featuring a male/female vocal duet with Lindsey Stamey from Oh No Fiasco.
All in all Framing Hanley have come back stronger after a rough few years, and there is no arguing that the band have matured musically since their last record. But let's not forget who the real winners are, and that's the fans. Every band needs a good fan base because without them, they would not exist and that could not be truer for Framing Hanley.
Without their dedicated fans, there would be no The Sum Of Who We Are, and that would be a great shame.
Genre: Hard Rock, Alternative Rock
Band:
Kenneth Nixon- Vocals
Ryan Belcher- Guitar
Brandon Wootten- Guitar
Jonathan Stoye- Bass
Chris Vest- Drums
Track Listing:
1. Criminal
2. Twisted Halos
3. Collide
4. Crooked Smiles
5. Simple Life
6. Rollercoaster
7. No Saving Me
8. Unbreakable
9. Science
10. Streetlights & Silhouettes
11. Crash & Burn
12. Forever Till The End
13. Castaway
Record Label: Imagen Records
Website: www.framinghanley.net
Hardrock Haven Rating: 7/10