Judas Priest | Redeemer of Souls
by Justin Gaines
– Senior Columnist/News Editor —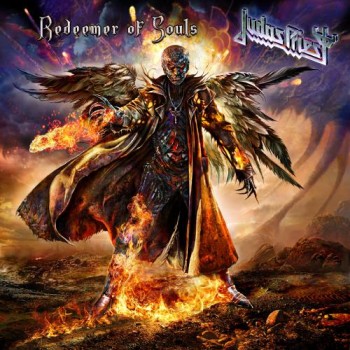 It's been six years since we last saw a new studio album from heavy metal icons Judas Priest, and that was the controversial 2008 release Nostradamus. In the years since then, the British legends have embarked on a massive kind-of/sort-of farewell tour, and most notably have replaced founding guitarist K.K. Downing with a relative unknown named Richie Faulkner. They finally have a new studio album for us though, their 17th overall, titled Redeemer of Souls.
With a title like that, you can be forgiven for expecting perhaps a return to greatness, or at least a return to the classic Judas Priest sound. Redeemer of Souls may not be the second coming of Painkiller, but it at least finds the band back on familiar territory, much like their 2005 comeback album Angel of Retribution. No ambitious multi-disc concept albums here (and for what it's worth, Nostradamus was a lot better than its critics would have you believe), just simple, straightforward heavy metal songs with catchy rhythms and choruses you can sing along with.
Just look at the song titles – "Halls of Valhalla," "Sword of Damocles," "March of the Damned," "Hell & Back" and "Battle Cry" – and you know exactly what the band was going for here. These are all written in the old school Judas Priest style, and are the album's best tracks. They're catchy on the first spin, and with each spin they really sink into your subconscious. As weird as it is to hear a Priest album without Downing, Faulkner and Tipton sound perfect together, delivering (the goods) killer riffs and solos.
So where does Redeemer of Souls fall short? Part of it is how restrained Rob Halford sounds. He's in his sixties now, so we can't expect him to sound like he did on Sad Wings of Destiny, but so many of these songs could have been better if he was able to use that trademark scream. His lower register is still right on the money though, and after all these years it's still one of the best in the business. The production is another issue. It's hard to describe exactly, but the guitars seem a bit muddy and where things are in the mix seems to vary from song to song. That may be the one defining thing that keeps this from being a really great Judas Priest album.
Even if it's not the triumphant return to form it could have been, Redeemer of Souls is still a solid, respectable entry from a band that could just as easily have rested on their past laurels and stuck to touring and live releases. Much like Black Sabbath's 2013 comeback album 13, Redeemer of Souls is enjoyable when you're spinning it, but when you're in the mood for some Judas Priest it's going to be one of the last albums you reach for on the shelf. Still, if you're a serious Judas Priest fan, you pretty much have to get a copy.
Edition Notes: There is a deluxe edition CD version of Redeemer of Souls that comes in a digipack and includes a second disc with five new bonus songs. The packaging actually looks cheaper than the basic version (one day the labels will figure out that collectors hate digipacks), but the bonus material makes it a worthwhile purchase. They're not all great songs ("Never Forget" ought to be called "Never Listen Again"), but how do you say no to five more brand new Judas Priest tunes?
Genre: Heavy Metal
Lineup:
Rob Halford (v)
Ian Hill (b)
Glenn Tipton (g)
Richie Faulkner (g)
Scott Travis (d)
Track Listing:
Disc 1
1. Dragonaut
2. Redeemer of Souls
3. Halls of Valhalla
4. Sword of Damocles
5. March of the Damned
6. Down in Flames
7. Hell & Back
8. Cold Blooded
9. Metalizer
10. Crossfire
11. Secrets of the Dead
12. Battle Cry
13. Beginning of the End
Disc 2
1. Snakebite
2. Tears of Blood
3. Creatures
4. Bring It On
5. Never Forget
Label: Epic Records
Website: www.judaspriest.com
Hardrock Haven Rating: 7.5/10