by Justin Gaines
– Senior Columnist/News Editor —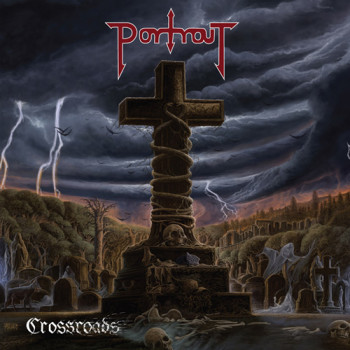 Swedish traditional heavy metal band Portrait is back with a new album, their third overall and second for Metal Blade, titled Crossroads. Portrait's previous album (2011's Crimen Laesae Majestatis Divinae) was a big breakthrough for the band, besides being one of the best examples of King Diamond/Mercyful Fate worship done right in recent years. With Crossroads, they continue with that approach.
Now that you know what you're going to get here – namely King Diamond worship and lots of it – it's just a matter of how good the Portrait guys are at it. Fortunately, they play this kind of music very well. Between the blistering twin lead guitar assault of Christian Lindell and David Olofsson and Per Lengstedt's piercing vocal delivery, they definitely channel that classic Andy LaRoque/Michael Denner on Abigail sound. So much so that when you factor in the production and even the band photo you may find yourself double checking to see if maybe Crossroads was a long lost 1987 release. Beyond the basics of high speed heavy metal with high-pitched vocals, Portrait also nails the atmospheric horror vibe in their lyrics and the overall tone of the album.
Crossroads doesn't appear to be a concept album, but it does maintain a unifying atmosphere throughout the album's eight tracks. Highlights include "We Were Not Alone," "Ageless Rites" and the epic closing song "Lily," which really shows the full range of Portrait's musicianship and songwriting skills. The whole album is strong though, and at just under 43 minutes never really has time to drag, and aside from the instrumental opener is essentially filler-free.
Assuming you don't mind the obvious King Diamond/Mercyful Fate worship – and again, Portrait does it extremely well – Crossroads is unlikely to disappoint many fans of darker traditional metal. If you enjoyed Crimen Laesae Majestatis Divinae, you will enjoy Crossroads as well. Fans of Attic, In Solitude, Satan's Host and Ghost especially should grab a copy of this one.
Genre: Heavy Metal
Lineup:
Anders Persson (d)
Christian Lindell (g)
Per Lengstedt (v)
David Olofsson (g)
Mikael Castervall (b)
Track Listing:
1. Liberation
2. At the Ghost Gate
3. We Were Not Alone
4. In Time
5. Black Easter
6. Ageless Rites
7. Our Roads Must Never Cross
8. Lily
Label: Metal Blade
Website: www.facebook.com/portraitsweden
Hardrock Haven Rating: 8.5/10