Scar For Life | Worlds Entwined
by Alexandra Mrozowska
– Columnist —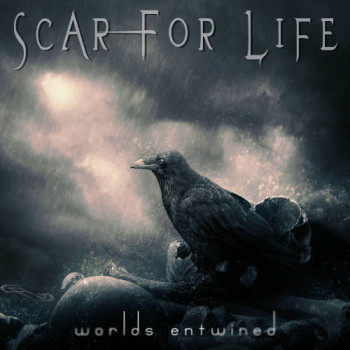 The departures of band members often end up shaking the foundations of the group, but can also result in some fruitful additions to the line-up further on. One of the bands apparently strengthened with the significant personal changes within the line-up is Lisbon-based rock/metal outfit Scar For Life that returns now with their fourth opus – Worlds Entwined. New on board being the singer Rob Mancini (of Hotwire and Crush) and the bassist Teen Asty, the group and its mastermind Alexandre Santos have also managed to gather some impressive personas in the studio, from the drum wizard Vinnie Appice (Black Sabbath, Dio) and the guitarist Neil Fraser (Ten, Rage Of Angels) to Lover Under Cover's Michael Carlsson and the acclaimed violin player Anne Victorino d'Almeida.
The result of their work is Worlds Entwined, the album that combines contemporary hard rock, the perfectly crafted melodies and distinct progressive influences in a way similar to modern-day Winger (of Karma and Better Days Comin' era). This tendency is explicit in dark and gloomy opener "Thirteen Revolution" or lumbering, heavy "Because I Can." Next are "Judgement Day," driven by a groovy guitar riff culminating in an aggressive, sharp guitar coda, and more melodic mid-tempo "Promised Land."
"Vendetta," on the other hand, stacks up pretty poppy and mellow against its predecessors on the album – at least until the equilibristic guitar solo morphing into a furious gallop. Further on, there are plenty of tracks where fast-paced machine gun riffs are put against melodic verses and choruses – a combination that is surprising perhaps, but interesting – such as "Disconnected," "The Patriot" or "Fire And Flame." "Carlos Wonder" has the band exploring the territories of heavier AOR/melodic hard rock with some power metal vibe towards the end of the track.
"My Dark Serenade" is a predictable slowdown moment, as it develops into a murky yet charming ballad with powerful, emotionally laden chorus. Also a ballad, but of different nature is a mellow acoustic piece "Wish You Well Tonight" and probably it's this particular track in which the band's artistry outshines their technical prowess. The final track is the eponymous "Worlds Entwined" full of doomy, furious instrumental interludes.
Enriched with the contributions of notable guests, Scar For Life's fourth album is also to be praised for its mix and mastering done by one of the leading Swedish producers and sound wizards, Martin Kronlund. Although often labeled "melodic rock," the record gravitates more towards contemporary hard rock or melodic metal and it's hard to avoid certain associations from modern-day Winger to much heavier stuff. It should appeal to every listener who's eager to embrace the sounds of the contemporary era in rock/metal rather than dust off the forgotten classic-rock-labeled, worn-out albums throughout the rest of their lives. For those it's highly recommended.
Genre: Hard Rock
Band:
Rob Mancini – vocals
Alexandre Santos – guitars
Teen Asty – bass
Joao – drums
Additional musicians:
Vinnie Appice – drums
Track List:
1. Thirteen Revolution
2. Because I can
3. Judgement Day
4. Promised Land
5. Vendetta
6. Disconected
7. The Patriot
8. My Dark Serenade
9. Carlos Wonder
10. Fire And Flame
11. Wish You Well Tonight
12. Worlds Entwined
Label: Escape Music
Website:
http://www.scarforlife.com
https://www.facebook.com/scarforlife
Hardrock Haven rating: 6.5/10