Sultan | Check & Mate (Deluxe Edition)
by Justin Gaines
– Senior Columnist/News Editor —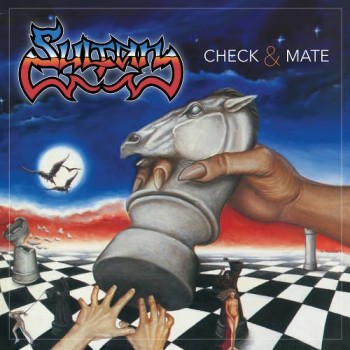 Originally released in 1990, Check & Mate was the debut (and only) full-length album from Swiss heavy metal band Sultan. Switzerland wasn't exactly a hotbed of heavy metal back in the late '80s, and aside from a pair of notable exceptions in Celtic Frost and Coroner, not many bands from that era are remembered today. Sultan is one of those overlooked bands, which is a real shame given just how much they had to offer.
Like a lot of bands towards the end of the decade, Sultan hit that sweet spot between the more traditional heavy metal sound of Dio and Iron Maiden and the emerging European power metal scene led by Helloween. The result was an album that covered the traditional metal bases and had precision, power and melody. Think Iron Maiden plus Treat plus Helloween plus Fifth Angel and you'll get a good rough sketch of the Sultan sound.
Check & Mate is totally dated, but totally killer at the same time. Sultan was so earnest and dramatic that even a basic love song like "Mary" ends up sounding powerful. A lot of that is due to Dragi Majstorovic's vocal delivery. He really had the perfect voice for European power metal at that time, and he gives added power and atmosphere to already killer metal anthems like "Darkness," "Falcon" and the laughably-titled (but completely awesome) "Night Knights." The blazing technical guitar work and captivating melodies also make these songs hit home.
As impressive as it is, Check & Mate obviously didn't break Sultan to the wider audience their music deserved, and the band went their separate ways not long after its release. It's a shame, but at least fans of classic metal can discover the band now since the album has been reissued.
Edition Notes: Divebomb's deluxe edition reissue puts this long out of print gem back in fans hands after many years, and of course it's more than just your basic reissue. The album has been brilliantly remastered, includes the rare 2-song Rebel Fire single from 1986 as bonus tracks, and features a booklet that's loaded with vintage photos and a new interview with founding drummer Fabian Ranzoni. It's a fantastic reissue of an already terrific album, and one that any serious fan and collector of '80s heavy metal, particularly the European variety, will want to own.
Genre: Heavy Metal, Power Metal
Lineup:
Andy Pasker (b)
Fabian Ranzoni (d) (k)
David Pariat (g)
Marc Bugnard (g)
Dragi Majstorovic (v)
Track Listing:
1. Falcon
2. Pictures of Heidi
3. For the Light
4. Whizzing
5. Mary
6. Darkness
7. Night Knights
8. Hard Nights, Heavy Pleasures
9. Jingle
10. Shout in the Fight
11. Rebel Clever
12. Power of Fire
Label: Divebomb Records
Hardrock Haven Rating: 9/10