Andreas Bergh of Deathstars
by Matt Karpe
– Senior Columnist —
Swedish 'Death Glam' band Deathstars have recently released their fourth studio album in the form of The Perfect Cult, a broodingly dark yet deliciously melodic record.
I caught up with enigmatic front-man Andreas "Whiplasher Bernadotte" Bergh to discuss The Perfect Cult, the Swedish music scene and his evident hatred of the internet.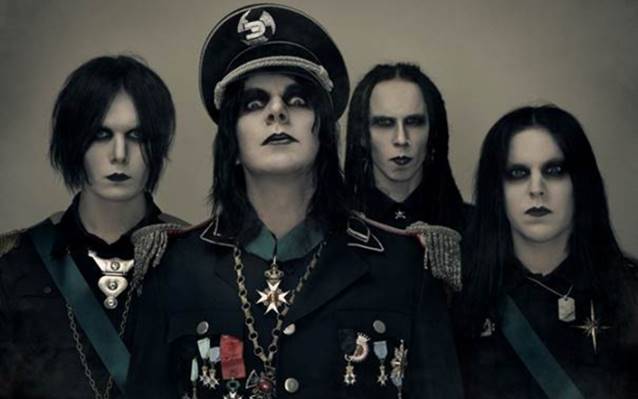 HRH: First of all, thank you for taking the time to talk to HRH, how are you doing today?
AB: Perfectly terrible, thanks for asking. Rough party with the band and Crucified Barbara at some tattoo convention pre-party at Garlic and Shots yesterday in Stockholm. I live in Italy nowadays so it's a lot of catching up when I'm here visiting. Now I just lie naked like a subtraction sign fantasizing about pink unicorns.
HRH: The Perfect Cult has been out a couple of months now. How pleased are you with the finished product?
AB: We are of corpse very pleased, otherwise we wouldn't release it. We've been very selective with the material on the album. I think maybe 85% of the stuff we've written isn't on there, so it's cooked down to pure dark and sombre death glam this time. It is a pretty introverted album, compared to Night Electric Night, and is a pretty distorted reflection of our lives the last five years. It's a private hell yet sensual audiosex.
HRH: It took over 5 years to release the follow-up to 2009's Night Electric Night. How come it took so long to get back recording?
AB: The touring has been spread out during a period of four years, to name one thing. Also, we've never been fast just for the sake of releasing albums and ride on some kind of success of the previous one. We're way too un-smart for that. We just do what we feel like, which the record label and all the other people we work with really hate. BUT it's most important to be true to ourselves. We were about to record this album three years ago in Los Angeles with famous producers, but decided it wasn't our thing at all. We wanted to do it ourselves in Europe in the end. We wanted a 100% Scandinavian product and wanted to have control over ourselves. The previous album was recorded in New York, and that city just killed us. We roamed the streets of Manhattan night and day and the music was just something we did when we didn't party. I'm afraid of New York since then in some aspects. Nightmare (lead guitarist) lives there so I guess he likes it a lot though.
HRH: After listening to the new album a few times, I think it has a more accessible feel compared to the rest of Deathstars back catalog. How did you approach the writing and recording process this time compared to previous efforts?
AB: Interesting that you say that because I think it's not as outgoing as Night Electric Night, but it's of course more melodic, yet way darker and slower. Anyway, there hasn't been any difference to how I and Night write the stuff, except being way more selective when it comes to the material. And we have focused on slower songs. We recorded drums and guitars in Gothenburg, Studio Bohus, vocals in Stockholm at GigStudios and all the other stuff at Black Syndicate in Stockholm. Mixing was as usual done by Stefan Glaumann.
HRH: After reading various online forums, there seems to be a hard-core group of fans that prefer the earlier records' sound, but there are also a lot of newer fans that have been drawn in by the sound of the new music. As music lovers can often be hard to impress, are you pleased with the general reaction to The Perfect Cult?
AB: I don't read stuff on the internet so I have no clue. I am a very analogue guy. I don't use Facebook. I hate emails etc. For me it's all about the people at the shows, that's the only thing that's real. The response has been great from what I know, besides I hope internet crashes and dies for fucking ever.
HRH: Do you have a favorite song on the new record, if so which one and why?
AB: Of course every song has its own devious charm, but if I have to mention one I would say "Noise Cuts".
HRH: Sweden is a hotbed for rock and metal talent. Obviously Deathstars has amassed a good fan base around the world, but have you felt any added pressure to keep recording and performing to high standards for your homeland audience?
AB: We've never tried to be a metal band. We have always wanted to do something else, but still keep the nerve of what we grew up with playing. Everyone is in a metal or rock band in Sweden, EVERY person. That's why I decided to move to Florence, Italy, because no one is in a band there. Anyway, we got fed up with that pretty early- after releasing a few metal albums- and decided to something else; combining nihilistic darkness with synth and pop structures, so we created Deathstars as a kind of reaction to what everyone else was doing. A guy playing metal in Sweden is just as common as a Christian in the U.S.
HRH: Are there any up and coming Swedish bands that you can tell us to keep an eye out for in the near future?
AB: I think Black Trip and Dead Soul are very good.
HRH: Who are your musical influences and heroes?
AB: MC5, Iggy Pop, KISS, David Bowie, Glenn Danzig, Sisters of Mercy, Velvet Underground, Dark Throne, Masters Hammer, King Diamond, Alice Cooper and New York Dolls, to name a few.
HRH: What does the rest of 2014 hold in store for Deathstars?
AB: We start the European leg of the tour in St. Petersburg September 20, and the touring will continue on all continents during 2014/2015. We will be everywhere, maybe even in your bedroom, if you play your cards right.
HRH: Thank you once again for talking to HRH, and good luck for the rest of 2014 and beyond.
AB: Spank you very much.
For more information on Deathstars, visit www.deathstars.net.
The Perfect Cult is available on iTunes and in all good record stores.