by Matt Karpe
– Senior Columnist —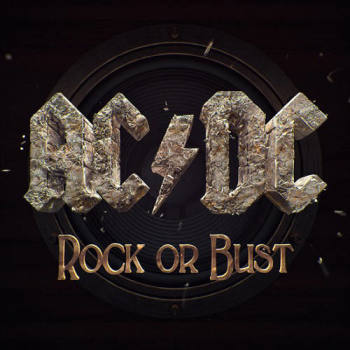 Where do you start with Rock or Bust?
The anticipation surrounding the release of AC/DC's 15th international studio album has been heightened by both tragedy and chaos. First, it was announced that the pulse of the rock legends; Malcolm Young, had been diagnosed with dementia. Being in such an advanced stage of the illness, it was obvious that he was in no fit state to continue playing in the band that he helped create.
It would have been easy for the remaining members to call it quits there and then, but after Malcolm's nephew Stevie was brought in to take over guitar duties, Rock or Bust suddenly became a reality again.
Then, to add to the soap opera-like drama, Phil Rudd, who had already completed his drumming duties for the record, was arrested on suspicion of paying to have two men murdered. It was a charge that was later reduced, but still this naughty boy faces a lengthy prison sentence if found guilty.
It sounds like a bad publicity stunt gone horribly wrong, and I'm sure AC/DC wish this was the case!
Now, finally, the music can rightly take center stage.
Rock or Bust, AC/DC's first album since 2011s' Black Ice was never going to break the mould. It was never going to hit the lofty heights of Back In Black or Highway To Hell. Simply here are eleven straight up rock n' roll songs by a band who have stood the test of time, and if this is to be their final furore, then they are definitely going out swinging.
The title track is classic AC/DC, like a step back in time to the glorious 80s'. A swaggering anthem full of Angus Young's tasty guitar hooks and Brian Johnson's raspy vocals, it's like the boys have never been away.
"Play Ball" continues the fast pace with a good chorus before "Rock The Blues Away" keeps the mood upbeat with a party atmosphere stomper.
"Dogs Of War" steals the show with another vintage show of musicianship and a simple yet massively addictive chorus.
Then the record slows down and rather meanders along. This doesn't mean the songs are bad- c'mon, this is AC/DC people!
The bluesy "Got Some Rock & Roll Thunder" fails to truly erupt, "Hard Times" is soft and weak and "Sweet Candy" isn't to irresistibly tasty.
"Baptism By Fire" threatens a short revival and the pace once again quickens as the guitars amp up, showing a decent relationship between lead and rhythm axe men Angus and Stevie.
With all this being said, maybe there was too much expectation, because after taking a step back and thinking about it, Rock or Bust is still a good AC/DC record.
Even without the music, Malcolm is a massive miss. Add his guitar playing talents to the table, then there is a gaping hole that really cannot be filled. On the positive side, there are some good tunes here, especially the excellent "Dogs Of War"- there is enough to behold and enjoy.
If it's a simple but effective rock n' roll record you are looking for, Rock or Bust delivers, and that is good enough because you know it has AC/DC's stamp on it.
Genre: Hard Rock, Rock
Band:
Brian Johnson- Vocals
Angus Young- Lead Guitar
Stevie Young- Rhythm Guitar
Cliff Williams- Bass
Phil Rudd- Drums
Track Listing:
1. Rock or Bust
2. Play Ball
3. Rock The Blues Away
4. Miss Adventure
5. Dogs Of War
6. Got Some Rock & Roll Thunder
7. Hard Times
8. Baptism By Fire
9. Rock The House
10. Sweet Candy
11. Emission Control
Record Label: Albert, Columbia
Website: www.acdc.com
Hardrock Haven Rating: 6.5/10