Davey Suicide | Worldwide Suicide
by Mark Allen
– Senior Columnist —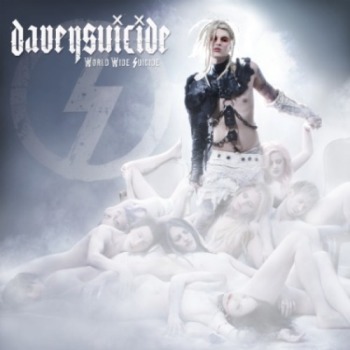 Davey Suicide slashes back onto the scene with his sophomore album and his musical creed is loudly defined as "if it ain't broke, don't fix it." So if you found yourself stirred by the industrial-tinged hard rock/metal sound that he showcased on his debut, Worldwide Suicide won't make you want to fashion a hangman's noose.
Judging solely by his moniker and image, you would lump Suicide in with the emo kiddos. But that would be wrong, because musically, he veers much closer to Rob Zombie. Well, Rob Zombie crossed with latter-day Shotgun Messiah. That's a description that should cause any modern day metal-head to salivate like a vampire in a blood bank.
Suicide aims to break through with this release and while only time will tell if that occurs, the potential is evident. The music is not quite as edgy as he would have us believe, but the rebellious angst and thorny aggression seem well-suited to appeal to the same "cool kids" hanging around Hot Topic discussing how Black Veil Brides speak to their disenfranchised generation.
Besides sporting influences from the likes of White Zombie, Marilyn Manson, and Nine Inch Nails, Davey Suicide's music is also infused with commercial rock elements. The lyrics may be raw and rough, but the songs come equipped with clean crunch and catchy hooks. He might protest the comparison, but if you dubbed Suicide the Nickelback of industrial metal, you would not be far off base. (For the record, that's praise, not damnation.) Industrial rock purveyors frequently focus on generating electronic noise at the expense of the ear-worm, but Davey nimbly avoids that mistake.
Lyrically, Davey pulls no punches. "The Devil Inside," for instance, talks about altar boys being raped by clergy. The song hits hard and brutal, a badass barn-burner brimming with dark, dangerous energy and venomous lyrics to match: "I pledge allegiance to myself / to never give a f*ck about you again." Suicide continues his vitriolic attack on the church with the relentless and pummeling "Nothing is Sacred," which tears into scripture-perverting priests and hypocritical teachers with this lyrical gem: "When killing them with kindness doesn't work / use a f*cking machete." Good advice right there. Even when Davey dials it back for some metal balladry on "Imperfect," the words remain torn and bleeding: "I want to see your scars / all the pain keeping you alive."
In the spoken word intro of the album, a pompous judge's voice intones, "Mr. Suicide, you are the epitome of degenerate rebellion." It's an accusation that Davey embraces. He rages against the system and gives an anarchic middle finger to authority. If burning the world down would make it a better place, than Davey Suicide would be perfectly willing to strike the first match and ignite the cleansing conflagration. And Worldwide Suicide would make a damn good soundtrack to blast from melting speakers while we all danced in the flames.
Genre: Hard Rock, Industrial Metal
Band:
Davey Suicide (vocals)
Needlz (keyboards)
Drayven Davidson (drums)
Brent Ashley (bass)
Mikey 13 (guitar)
Track Listing
1. Your Honor the Asshole
2. World Wide Suicide
3. Until We're Dead
4. The Hole is Where the Heart Is
5. The Devil Inside
6. Only Human
7. Underdosed
8. Nothing is Sacred
9. Imperfect
10. Dirty Rotten Filthy Rick
11. Kamikaze Culture Shock
Label: Standby Records
Webpage: www.daveysuicide.com
Hardrock Haven rating: 7.9/10