by Justin Gaines
– Senior Columnist/News Editor —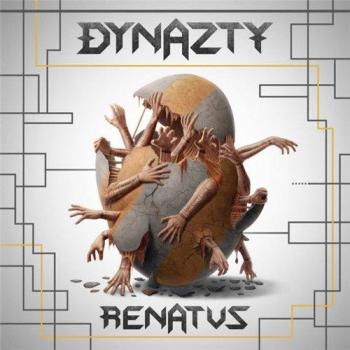 Now here's an album no one saw coming. Swedish band Dynazty already had three albums under their belts, all of which followed the basic sleaze/melodic rock approach of bands like Hardcore Superstar and Crashdiet. That's about all anyone expected of the band's fourth album (and first on the Spinefarm label), titled Renatus. Instead the band the band shifted from b-list party rockers to a full-on heavy metal sound, and did it surprisingly well.
With Renatus, we're witnessing the rebirth of Dynazty as a melodic, almost power metal band. The band is still serving up super-catchy melodies, but in a much heavier rhythmic setting. If Amaranthe had only one singer and dialed back the techno elements, they'd probably sound like this. There's still a connection to the European melodic rock sound (think Brother Firetribe and H.E.A.T.), but Dynazty holds their own against some of the year's better power metal albums here.
There are only ten songs on Renatus, but they're all very strong. There's no filler just for the sake of padding the disc. Dynazty gets their point – and their whole new identity – across in 44 completely irresistible minutes. Album opener "Cross the Line" gets things started on a high note, but the album's strongest tracks are saved for the end, where "Sunrise in Hell," "Salvation" and the insanely-catchy "A Divine Comedy" get you so pumped up that there's really no other option but to hit the play button again.
While some fans of Dynazty's earlier albums might be put off by the band's new approach, there's still a lot to love here, and this new sound is more likely to get the band heard by a wider audience. For newcomers who like their metal catchy and melodic, especially bands like Amaranthe, Allen-Lande, Pretty Maids and Masterplan, you're going to love Dynazty 2.0. Renatus is one of the most infectious releases of 2014. Give it 2-3 spins and it will be all but impossible to get these songs out of your head.
PS – Dynazty will make their live U.S. debut next September at the sold-out ProgPower USA festival, where they will be playing Renatus in its entirety.
Genre: Melodic Metal, Heavy Metal
Lineup:
Nils Molin (v)
Love Magnusson (g) (v)
Georg Harnsten Egg (d) (v)
Mikael Laver (g) (v)
Jonathan Olsson (b) (v)
Track Listing:
1. Cross the Line
2. Starlight
3. Dawn of Your Creation
4. The Northern End
5. Incarnation
6. Run Amok
7. Unholy Deterrent
8. Sunrise in Hell
9. Salvation
10. A Divine Comedy
Label: Spinefarm Records
Website: www.dynazty.com
Hardrock HHaven Rating: 8.5/10