Andy Young of Sonic Divide
by Alexandra Mrozowska
– Senior Columnist —
In the world ruled by the huge record companies and uneasy compromises, there's nothing more authentic than an independently released album that is not only a pleasurable to listen to, but also, a genuine insight into the band. One of such is Sonic Divide's indie self-titled debut – hailing from Adelaide, Australia, the six-piece band has come a long way since jamming together on some well-known tunes. Now a proper band with their original material released and enthusiastically reviewed all over the world, the group looks forward to their bright future ahead. Hence their keyboard player Andy Young talks with Hardrock Haven about the album and the band's foundation, but also, what the next months and years hold in store for them.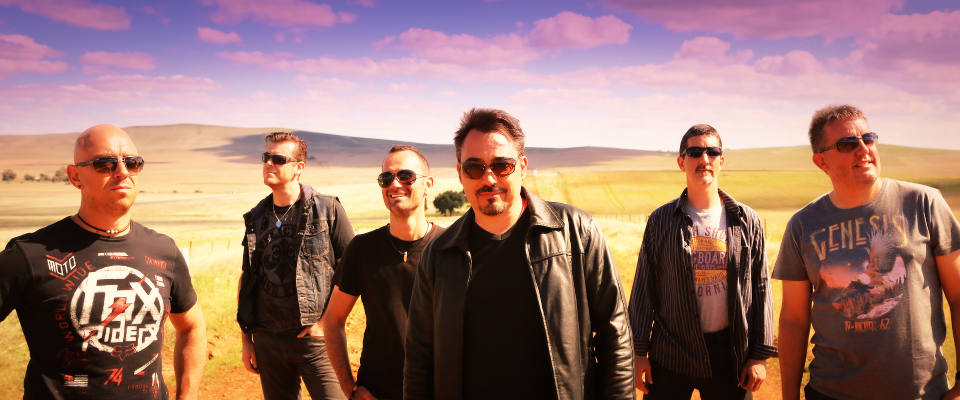 Hardrock Haven: For a start, could you please introduce yourself and tell us a brief story of how the band was founded?
Andy Young: For sure – I'm Andy Young, keyboardist for Sonic Divide. The band kicked off in around 2007 when Wayne (vocalist) saw Glenn (lead guitar) playing live in a venue and asked him what he was doing with himself musically at that time, and what he saw his musical future as looking like. Glenn and Wayne had known each other through the respective bands that they individually played with back in the early 90's. Glenn told Wayne that he had a few song ideas buzzing around in his head and Wayne suggested gathering together a bunch of local musos to simply jam together and see if they still had the passion to do music again after a number of years of other pursuits such as raising families etc. Glenn was keen and Wayne subsequently made contact with me at the time – we had played in a band together for a few years in the mid to late 90s. I signed up to play rhythm guitar initially, and part time keys as required. Contact was also made with Ian (bassist) to gauge his interest – he was keen and so the four of us formed the nucleus of the first incarnation of Sonic Divide – with a temporary drummer to help us out until we could find a permanent one! After going through a couple of other drummers, Steve (rhythm guitar) returned from living and working in the UK and was on the lookout for a new music project to sink his teeth into – he then joined us as our 'permanent' drummer. The project, which was originally designed to be simply a bunch of mates jamming on covers soon morphed into a writing project when Glenn brought an original tune to the table, and we soon discovered the passion to create original music as a collaborative effort between all the guys, with Glenn Wayne and Ian being the primary writers. We then decided to cut a demo and realised as I was laying down keyboard parts that perhaps all of our music could do with keyboards to fill out our sound a little more. So I switched from rhythm guitar to full time keyboards and Steve subsequently mentioned that he would be keen to step away from the kit and take up the now vacant rhythm guitar gig, which he did. That left us needing yet ANOTHER drummer, which was when Ev stepped up to the plate and blew us away! It has been the same line-up ever since.
Hardrock Haven: What do you think was a breakthrough moment for the band?
Andy Young: I really believe it was getting into the studio with Darren Mullan our producer/engineer, with him having heard our demo and believing that we just might have what it takes. We cut our debut album under Darren's expert guidance in 2013 and the finished product was far superior to anything we had ever dreamed of. The completed album started to fall into the hands of a few reviewers/promoters who gave us awesome feedback which really made us start to think that maybe this project did have some extra legs!
Hardrock Haven: Where does the band name come from and why it's given the title to your first album?
Andy Young: I wish I could say it has some deep significant meaning but that wouldn't be entirely truthful! We had a get together with all the guys over a couple of bottles of red one evening early in the tracking phase of the album and the name pretty much came out of that get together. We thought it sounded punchy and aligned with the kind of music we were writing. (I actually had a bit of a concept of the name in my head – 'sonic' (well, pretty obvious really!) and 'divide' as in a mountain range – meaning awesome music to scale the mountains of life with…) As we were planning on shortly releasing our first full length we thought having a self titled album was the best way to get our name out there.
Hardrock Haven: It's been a year since your debut album Sonic Divide has seen the light of day. Were these twelve months between the album's release and now pretty intense for the band? What you were up to during that time?
Andy Young: Trying to get our name and our music out there to be honest! Just prior to the album launch we had been selected as a finalist for a music comp here in Australia which was designed to showcase bands that had done the hard yards and not been substantially recognised. We played to a packed out venue with a bunch of other bands but were only able to perform one song. We chose 'I Wonder' because we thought it had the most broad commercial appeal of our songs at the time and also with consideration to the demographic of the national radio station sponsoring the comp. We did real well in the popular vote on the night but the two judges with the responsibility of choosing the winner overlooked us for another act.
Following this show (and the launch a couple of months later), I started contacting a number of industry people I knew to let them know we existed – I had hosted a number of radio shows here in Adelaide over a period of 17 years and had developed a bit of a network of like-minded people around the globe so it made sense to flick copies of our album to a number of them. This resulted in some awesome reviews and feedback which also spurred us on to think of what else we could do to get people to hear our music. Dawn Fraser-Nicholls from Firebrand Rock Radio in the UK stumbled upon our music early this year, labelling our album the "best debut album of 2013". This resulted in a substantial amount of airplay in the UK for which we will always be extremely indebted to Dawn and the Firebrand crew for. So it was mostly a time of trying to promote the band wherever we could in order to hopefully get into the ears of influential industry people who might like what we have to offer!
To continuing to read the interview click the link below: