Machine Head | Bloodstone and Diamonds
by Jonna Ambur
– Senior Photojournalist —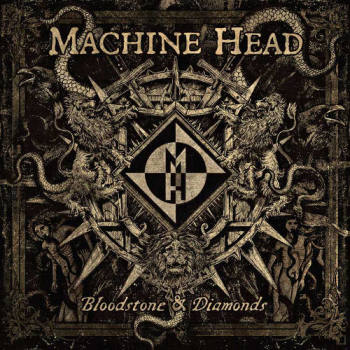 Oakland, Calif. band Machine Head recently released their eighth album titled Bloodstone and Diamonds. The first album to feature new bassist, Jared MacEachern, is already receiving rave reviews from fans, fellow musicians and the entire music community.
The band has surpassed their other albums and put together a piece of musical genius. String quartet arrangements featured in "Now We Die" and "Sail Into The Black;" an instrumental with spoken word from the audiobook Spontaneous Evolution in "Imaginal Cells;" raw metal encompassed throughout this 12-track album; every note is a stellar performance.
Flynn's raspy vocals belt out lyrics that speak to the state of the world and remain dark and heavy. The band as a whole has created over an hour of music for this album and each song hits you in the gut. The albums production is complimented with layers of vocals, multiple tracks of guitar drums, keyboard, all complex sounding but overall raw classic metal sound. "Beneath the Silt" and "Now We Die" are the first to get airplay; however, this album is expected to produce many more top notch singles.
Machine Head will be touring Europe through December, and then it's on to the States through March.
Genre: Groove Metal, Thrash Metal, Heavy Metal
Band:
Robb Flynn – lead vocals, guitar
Phil Demmel – guitar, backing vocals
Jared MacEachern – bass, backing vocals
Dave McClain – drums
Track List:
1. Now We Die
2. Killers & Kings
3. Ghosts Will Haunt My Bones
4. Night of Long Knives
5. Sail into the Black
6. Eyes of the Dead
7. Beneath the Silt
8. In Comes the Flood
9. Damage Inside
10. Game Over
11. Imaginal Cells
12. Take Me Through the Fire
Label: Nuclear Blast Records
Website: www.machinehead1.com – www.facebook.com/MachineHead
Hardrock Haven rating: 9/10