Age Sten Nilsen of Ammunition
by Alexandra Mrozowska
– Senior Columnist —
Once a spandex-clad frontman of the glam rock disciples Wig Wam, performing under the moniker of Glam and now a frontman of a super-group Ammunition – Age Sten Nilsen is undoubtedly one of the most extraordinary singers to ever emerge from the Norwegian rock scene. Although there's been dozens of topics one would love to discuss with Age, it's Ammunition – the band's foundation, star-studded line-up and the debut album Shanghaied – Hardrock Haven focused when enquiring the busy musician.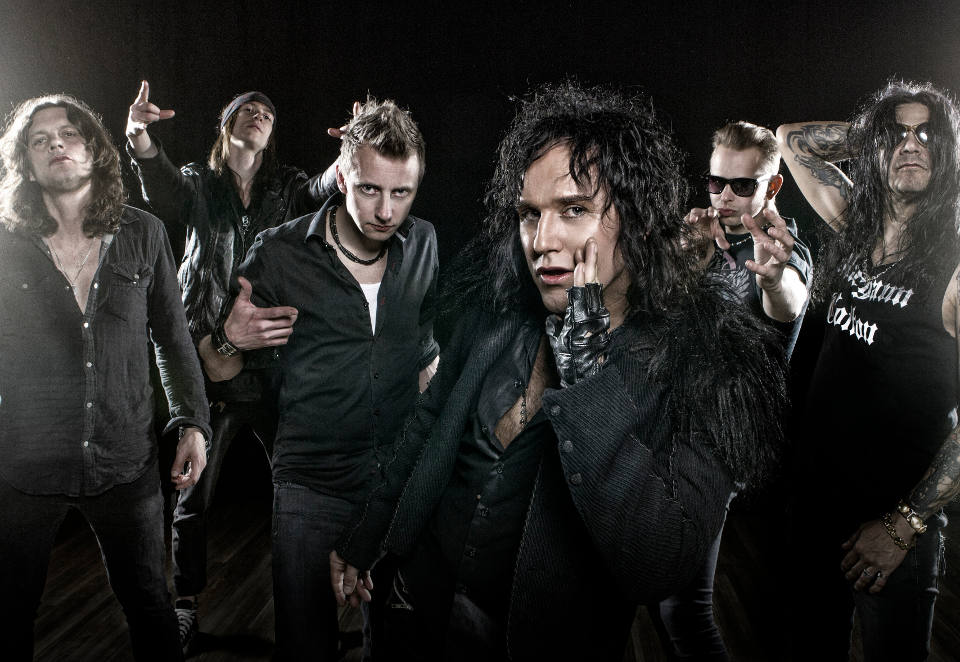 Hardrock Haven: Wig Wam disbanded not so long ago. Are you tired now of being asked about the band's end or comparisons drawn between your current efforts and Wig Wam's? Do you embrace your musical past, or perhaps try to break with it?
Age Sten Nilsen: I understand that people are curious about why Wig Wam broke up, but yeah… I'm a bit tired of bringing up the past. Especially since it keeps reminding me about negative things. I'd love to be able to look at the past with joy and pride. But there are so many negative issues that have come up in the wake of our break-up, that I just want to move forward and erase the past really.
Hardrock Haven: Wig Wam was very specific a band – a kind of role-play, with specific costumes and your onstage personas… kind of KISS-esque aesthetics. Were you tired with the formula when you decided to disband?
Age Sten Nilsen: No, I wasn't tired of it. The only thing I was tired of was compromises and the lack of positive input.
Hardrock Haven: Was Ammunition already in the works when Wig Wam decided to disband, or was it a next step that was taken?
Age Sten Nilsen: Not at all. I was cutting demos for what was supposed to be Wig Wam's studio album #5. But when I read an interview on the net with our bass player and the guitar player saying that the band had broken up already, I started thinking about making a solo album instead until Erik suggested we should form a new band together. And when he did, Ammunition became the next natural step. And when Wig Wam finally made the break-up official, we were halfway done with Shanghaied already.
Hardrock Haven: With the band name often preceded with your own, and dubbed Age Sten Nilsen's Ammunition, is the sound and style of Ammunition only your vision or a collaborative effort? Being a leader, are you more of a CEO, or a dictator – how do you think?
Age Sten Nilsen: At first Erik suggested "GLAMunition" for band name, more like a joke (laughs). But I thought our sound was more AMMUnition than GLAMunition. And so it was. Using my name was mostly to make sure my fans would recognize the band, you know. We will slowly develop into AMMUNITION. Our official website is www.AMMUNITION.no, not Åge Sten Nilsen's Ammunition dot this or that. And no, I don't like dictatorships – I prefer democracy. I rather look at myself as a motor, maybe an idea-maker. And the more initiative that comes from the rest of the band, the better. But the truth is, that a lot of musicians hate to do the planning part, the logistic part, the financial part, the promotion part, the planning part, the endless-meeting part, the spend-countless-hours-on-the-phone part and all the other boring parts as well. Well, I find it pretty amusing. And those parts are pretty important to keep a band going.
Hardrock Haven: All of you bring different inspirations and experience into the band. How do you think it influences the band's sound, and what do you think is the strength of this particular line-up?
Age Sten Nilsen: I think the different inspirations will be easier to hear on the next album, after we have been writing together as a band. On Shanghaied you'll hear my and Erik's influences, and what made this turn into a band in the first place.
Hardrock Haven: What were the circumstances of Ammunition's foundation? Weren't tight schedules of the particular musicians a problem?
Age Sten Nilsen: Shanghaied and the band itself were more or less built brick by brick. Firstly, most of the songs were written by Erik and me, and then member by member the guys were brought into the band. And we are building this band unit day by day, bringing in all the members' influences and creative abilities. Right now Jon and me are about to start working on riffs and songs for the next album. To this day he hasn't written many songs, but I know what he's capable of, and many times during sound checks I have asked him what riff he just played… and he has just nodded "Well, that's just something I came up with" (laughs). So I started recording them, and now the approach is – let's put them together and bring them to life. I also know Robban is extremely keen on writing, and Hal and Lasse are two creative souls too. The next album will definitely explode in creativity.
To continuing to read the interview click the link below:
1 2