by Justin Gaines
– Senior Columnist/News Editor —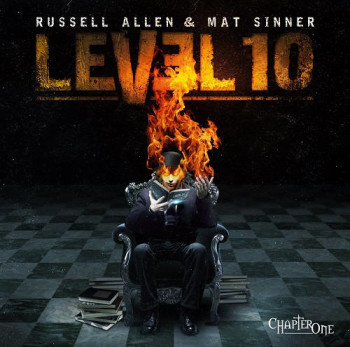 Now here's a super-group with a lineup that's sure to get people's attention. Level 10 is the latest project to emerge from the mad scientists at the Frontiers label. This time around they've assembled a who's who of the Melodic and Power Metal scenes. Level 10 features vocalist Russell Allen (Symphony X, Adrenaline Mob), bassist Mat Sinner (Primal Fear, Sinner), guitarist Roland Grapow (Masterplan, ex-Helloween), guitarist Alex Beyrodt (Silent Force, Primal Fear), drummer Randy Black (ex-Primal Fear) and keyboardist Alessandro Del Vecchio (way too many projects to name). As if that weren't enough, the album also boasts guest appearances from Magnus Karlsson, Carsten Schulz, Sander Gommans and Amanda Somerville. This is "top shelf" talent in every spot, so expectations are quite high for the band's debut, appropriately titled Chapter One.
In terms of overall style, Level 10 sounds exactly like you'd expect it to given the players involved. When Frontiers does full-on heavy metal, and especially when any of the Primal Fear guys are involved, it's going to hit that sweet spot between Melodic and Power Metal. Chapter One couldn't quite pass for a Primal Fear album, but it's not far removed from one either. It's somewhere between Primal Fear, Sinner and Allen-Lande.
Again, given the players involved, you know what you can expect from each position on the album. The guitar work is impeccable, merging heavy and melodic sides perfectly. The rhythms again show just how much chemistry Sinner and Black have together, and of course Russell Allen sounds like the vocal titan he is. We hear a lot of the more melodic side of his voice from the Allen-Lande collaborations, but there is also a good dose of "Angry Russell" that fans of his recent Symphony X albums will recognize. There isn't a single individual performance that you could find fault with here.
Do you feel a "but" coming?
On paper Chapter One should be just about the greatest Melodic/Power Metal album ever. In reality it's a really good album that at the end of the day isn't equal to the sum of its parts. As good as it is to have these stellar performers in one place, the songwriting – good as it is – perhaps isn't up to the task. Yes, Chapter One is a completely enjoyable album and one that grabs your interest throughout, but there are no instant classics here that you know you'll be listening to a decade later, like you do with Allen-Lande songs like "Another Battle" and "The Revenge" or Primal Fear's "Face the Emptiness" and "Fighting the Darkness." Again, this is a really strong album, and there's no way fans of melodic metal aren't going to bang heads to songs like "Blasphemy" and "Cry No More." Level 10 just doesn't live up to the admittedly high expectations a lineup like this brings.
It may not be the world-changing epic people are expecting, but if you're a fan of melodic heavy metal – particularly bands like Primal Fear, Sinner, Allen-Lande, Silent Force, Masterplan, Jorn and Pretty Maids – the Level 10 debut is mandatory listening. If you compare it to similar project albums released recently, it's solidly better than the last Allen-Lande but not quite as good as the Serious Black debut, and that's definitely good company to be keeping.
Genre: Melodic Metal, Heavy Metal
Band:
Russell Allen (v)
Mat Sinner (b) (v)
Roland Grapow (g)
Alex Beyrodt (g)
Randy Black (d)
Alessandro Del Vecchio (k)
Track Listing:
1. Cry No More
2. Soul of a Warrior
3. No Turning Back
4. One Way Street
5. Blasphemy
6. Last Man on Earth
7. Scream and Shout
8. Voice of the Wilderness
9. All Hope Is Gone
10. Demonized
11. The Soul is Eternal
12. Forevermore
Label: Frontiers Records
Website: http://frontiers.it/album/5236/
Hardrock Haven rating: 8/10