by Matt Karpe
– Senior Columnist —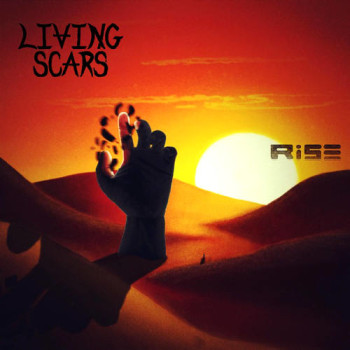 The American hard rock scene continues to go from strength to strength. Thanks in part to the radio airwaves, more and more bands are coming through, and they are being given the exposure that they desperately need.
You only need to check out Sirius Octane, whose weekly charts feature a who's who of rock and alt. metal royalty- Slipknot, Korn, Godsmack down to Three Days Grace, Nonpoint and RED, to name just a few.
Of course, the music you hear on these channels is well produced, giving that polished sound that can bring in new listeners, but every so often, you come across a band, or record, that doesn't have that big budget to make such an album.
Step forward Living Scars. You probably won't have heard them on the radio, unless there's a tiny station somewhere around Cedar Creek, Texas. You won't have seen them on the TV, as there aren't any promo videos available (yet). Sometimes just word of mouth, or in this case, finding by accident can reveal a refreshing delight you may not have thought possible, and that delight is Rise, the debut record from the Christian influenced hard rock trio.
Living Scars consists of Chandler and Parker Crook and Greg Hoffman, and at a combined age of only 52, this young band show immense talent for writing soaring melodies, at times vicious guitar hooks and bombastic drum parts, whilst producing some of the catchiest uplifting choruses you could ever want to hear.
"When It All Burns Down" starts with a harmonious intro before the first burst of rasping riffs and lively drumming takes over. Parker Crook – just a sixteen year old frontman – shows no sign of nerves as his soft vocals take center stage.
"Change" confirms that after only two songs, you are listening to a band who are the real deal. Well-constructed verses trade heaviness with melody, and another excellent chorus makes this a sure fire radio hit, if given the chance.
"Rise" features an enriching lyrical range that also features some crushing vocal screams from the bands' pal Adam Renteria, which adds to the emotion and the positive message that the song sends out.
"Make Me Whole" has a nice piano undertone throughout, and Parker's best vocal performance dominates the dirty guitar riffs. He may not have the strongest voice in rock today, but his passion and sentiment cannot be questioned.
The stunning "Never Said Goodbye" would be a huge hit had it been written by Christian rockers RED or We As Human, for example. A haunting intro gives you the feeling that something epic is coming our way, and as the thrashing yet addictive instrumental attacks the ears, you know you are hearing something special. With perfect switches of pace all the way through, starting with steady verses, the transformation to hard and heavy seems effortless.
"Not About" and "Pull Me Out" are more straightforward rock tracks in comparison to what has come before, and the final highlight comes in the form of "If We Ever Meet Again", a slow and brooding ballad, full of delicate sauntering vocals and atmospheric bass, the song builds up to one final crescendo of melodious noise, and this makes a fitting end to Rise.
Living Scars definitely have Christian rock elements, although not as heavy as some of the more popular acts out there, but they have something in their locker that makes Rise a stunning debut. Production-wise, it is rough around the edges. There is no super editing to make certain moments bigger or louder, it is a raw and honest release that lets the music speak for itself.
Living Scars deserve to be on the radio, they deserve a record deal- they deserve exposure, so get on iTunes, download the record, and listen to a band whose future starts now.
Genre: Hard Rock, Christian Rock
Band:
Parker Crook- Vocals
Chandler Crook- Drums
Greg Hoffman- Guitar
Track Listing:
1. When It All Burns Down
2. Change
3. Broken Mess
4. Rise (feat. Adam Renteria)
5. Make Me Whole
6. Never Said Goodbye
7. Nothing To Lose
8. Not About
9. Pull Me Out
10. If We Ever Meet Again
Record Label: Independent Release
Website: www.livingscarsmusic.com
Hardrock Haven Rating: 9/10