Chastain | The 7th of Never
by Justin Gaines
– Senior Columnist/News Editor —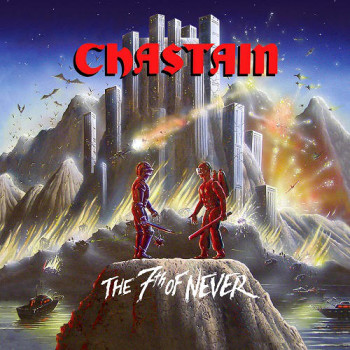 Originally released in 1987, The 7th of Never was the third studio album from Chastain, the band formed by guitar wizard David T. Chastain and featuring powerhouse female vocalist Leather Leone. This was also the first album Chastain released on his own Leviathan record label.
The 7th of Never is arguably the best of the early Chastain albums. Chastain and Leone paired well right from the start, but by the third album they really seemed to have the perfect chemistry. Chastain's jaw-dropping shredding and Leone's thundering vocals (reminiscent of David Wayne and Mike Howe) made for an album with plenty of impact. The fact that the songs were so well written is just as important, and is something that not a lot of the "shredders" of the time could pull off. There's way more than flashy solos here. "We Must Carry On" and "The Wicked Are Restless" in particular are just classic heavy metal anthems, and "It's Too Late For Yesterday" and "Take Me Back in Time" are just as powerful.
The 7th of Never is an essential Chastain album, and is perhaps the perfect example of the "shred guitar" sound of that era. It's definitely an album that fans of Racer X, Yngwie Malmsteen and Apocrypha will love, but beyond the guitar heroics, this is an album that fans of early Metal Church, Vicious Rumors and Savatage really ought to hear.
Edition Notes: The 7th of Never has been reissued a couple of times before, but much like they did with their reissue of For Those Who Dare a few years back, the folks at Divebomb really treated the album right. The album was newly remastered from the original album mixes, and sounds absolutely incredible. It also features a pair of instrumental versions as bonus tracks, and liner notes that are just loaded with lyrics, vintage photos and a new interview with Chastain and Leone. Even if you already own a copy of The 7th of Never, this makes for an worthwhile upgrade. It's limited to 1000 copies though, and won't be available digitally.
Genre: Heavy Metal
Band:
David T. Chastain (g)
Leather Leone (v)
Ken Mary (d)
Mike Skimmerhorn (b)
Track Listing:
1. We Must Carry On
2. Paradise
3. It's Too Late For Yesterday
4. 827
5. The Wicked Are Restless
6. The 7th of Never
7. Take Me Back in Time
8. Feel His Magic
9. Forevermore
10. It's Too Late For Yesterday (instrumental)
11. The 7th of Never (instrumental)
Label: Divebomb Records
Website: www.chastainmetal.com
Hardrock Haven Rating: 8.5/10