by Alexandra Mrozowska
– Senior Columnist —
For the fans of '80s melodic hard rock – the aficionados of German band Bonfire in particular – 2015 started with a big surprise. It's been only a few days into the new year when it was announced that Bonfire's lead singer Claus Lessmann does not intend to continue with the band, whose most recent endeavor was Branded released in 2011. However, the band's founding member and lead guitarist Hans Ziller wasn't eager to put the band on hiatus, even though the other band members Chris Limburg and Uwe Kohler also subsequently left Bonfire. The remaining two – Ziller and the drummer Harry Reischmann – soon regrouped with "a little help from their friends" who they recently performed with under the moniker of EZ Livin'. Bonfire is now Ziller, Reischmann, Ronnie Parkes (bass) and Frank Pané (guitar), the former Accept and Bangalore Choir singer David Reece taking on the vocal duties. Some fans being shocked by this volte-face turn, and some being nothing but excited upon such news.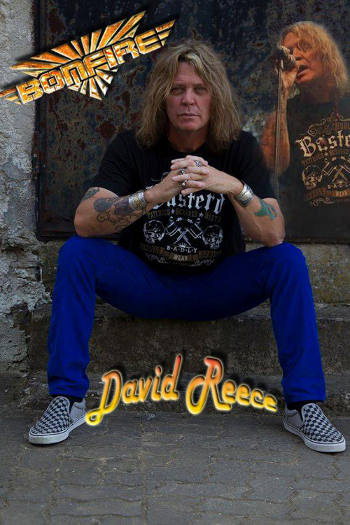 Hardrock Haven decided to strike at the heart of the matter and talk with David Reece about his viewpoint on shifting from EZ Livin' to Bonfire, the new album in the works and more!
Hardrock Haven: The announcement of you replacing Claus Lessmann in Bonfire was one of the most electrifying news of early 2015. With Chris Limburg and Uwe Kohler also leaving – what is the reason for the line-up changes in Bonfire camp?
David Reece: My understanding was that Claus decided to leave so Hans wanted to continue with Bonfire. I do know he asked Chris to continue, but Chris declined. Hans is Bonfire in my opinion and it's his life's work so he choose to continue.
Hardrock Haven: Some fans suggested you guys should rather continue under the EZ Livin' moniker. Was the alternative of calling it quits with Bonfire and pursuing your career with EZ Livin' taken into consideration?
David Reece: No, I actually think we were more Bonfire anyway! Of course we did EZ songs from Firestorm but we also played many Bonfire songs too which the fans accepted me singing. So, when Hans asked me to become the Bonfire singer – I gladly accepted.
Hardrock Haven: Were you surprised by Hans's asking you to replace Claus Lessmann? What was the decision of recording a new Bonfire album like – was it easy to make?
David Reece: I wasn't surprised really… I do know he considered a few others but since we're been writing and touring together to me it's a natural choice. So the decision was easy for me.
Hardrock Haven: What's prompted you to say 'yes' – was it for personal, financial or artistic reasons?
David Reece: I've been doing this for a long time. For me, I want to tour and with Hans… he's actually the only person who has kept his word in that regard when he says we're touring, we're touring! He understands the importance of playing live to promote your new album and stay in the public eye.
Hardrock Haven: Having already evoked some mixed feelings among Accept fans by joining the German band in 1988-1989, weren't you afraid of the history actually repeating itself? I know you've been reading through the discussions on social media – what was the reaction of Bonfire fans?
David Reece: Ronnie Dio put it simply… place your head in the lion's mouth and if he bites down, there goes your head! Of course some are not happy… but that's life – we tried to maintain the Bonfire sound but of course my vocals are bigger and more blues rock-based than Claus. So we shall see…
Hardrock Haven: In social media discussions related to your replacing Lessmann, you often argued you were a "hired hand" in Accept and Tango Down. From an artistic viewpoint, is it equally satisfying as having your own band and pursuing your own vision, as it was with Bangalore Choir?
David Reece: I did the hired gun thing to stay working, period. A voice needs to be used wide open to be totally real. Also I need to write and be creative. Being in a real band of course allows me to really open up! When I record a good vocal track I feel a sense of calm like nothing else – a sense of real accomplishment.
Hardrock Haven: Guessing by the social media updates, the new Bonfire album is in the works. Is the release date for the album already set?
David Reece: Yes, we're done and it's scheduled for April the 2 2015 release.
Hardrock Haven: You also worked with Alessandro Del Vecchio for the new album. Are you satisfied with the results of this collaboration?
David Reece: Absolutely! I did all the vocals at Ivorytears Studio (Ale's studio) working each song. We finished in less than an hour on each one. I'm happy because it's real. Alessandro also mixed and mastered the album – it sounds incredible.
Hardrock Haven: Was working on the new Bonfire album any different to you and the rest of the band collaborating as EZ Livin' before?
David Reece: No, not really… Hans had about twenty ideas to choose from. He's always got great ideas to work with so it was like before for me.
Hardrock Haven: With the new Bonfire album, did you pick up where their 2011 album Branded left off, or perhaps, referred more to EZ Livin's recent Firestorm music-wise?
David Reece: No. We focused on the Bonfire sound knowing if we do this we have to be Bonfire! EZ Livin' is a different sound altogether.
Hardrock Haven: While writing for the new album, did you have the Bonfire's style in mind or rather, your own influences that you brought to the table?
David Reece: As I said before, we kept Bonfire in mind but a lot of our influences are obvious I think on this album.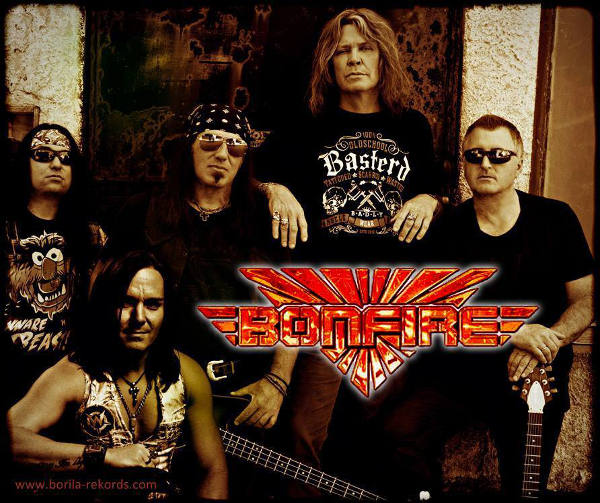 Hardrock Haven: What do you think you have brought into Bonfire? How will the band's music change?
David Reece: I'm obviously a more powerful singer than Claus so that's a difference. Also lyrically I try to write about different things as opposed to clichéd 'baby, baby' lyrics.
Hardrock Haven: Which group do you think will be interested more in the new Bonfire album – the band's longtime fans, or rather your own fans – those of Accept, Bangalore Choir, solo career etc? Or maybe both?
David Reece: All of them hopefully! We were aware of everyone and tried to maintain all the elements – I hear Bonfire and Bangalore Choir myself…
Hardrock Haven: How long do you think will the current line-up last? Do you see your tenure in the band as temporary, or a lasting one?
David Reece: I'm in for the long haul… God willing.
Hardrock Haven: During the gigs you played as EZ Livin', you've already had a chance to perform many classics of Bonfire's catalog – alongside songs by Bangalore Choir or Eat The Heat-era Accept. How do you feel in the band's older repertoire? Do you personally like these songs?
David Reece: Yes, I like them. We actually covered two Bonfire classics on this album as bonus tracks – just for the fans to hear me sing the old stuff.
Hardrock Haven: What was the audience's reaction towards the classics of your respective careers in the EZ Livin' setlist?
David Reece: Very very good.
Hardrock Haven: We've already mentioned Bangalore Choir a few times throughout this interview. With your tenure in Bonfire, what is your own band's status – is it on hiatus now?
David Reece: Bangalore Choir unfortunately is over. Too much drama trying to maintain a course with them… Sometimes it hurts me.
Hardrock Haven: Do you plan to hit the road with the regrouped Bonfire and if you do, are there any confirmed dates?
David Reece: Yes we begin in early May 2015 in Germany. Our schedule looks very good – I hope to do at least fifty shows!
Hardrock Haven: What else does the future hold in store for you in 2015? Any other projects?
David Reece: I'm always writing. I'd like to do another solo record soon.
Hardrock Haven: Looking back on 2014 from the artistic point of view, what do you think was the most satisfying experience you've had? Was it a good year?
David Reece: Touring Europe for me was amazing. We did many shows… also I did Melodic Rock Fest, Skullfest Wolfest and RocknSkull in America. It was a great year for me!
Hardrock Haven: Touring with EZ Livin' throughout 2014, you visited lots of German venues as well as performed before the Czech, Swiss or Spanish audiences. What are your memories from this European tour?
David Reece: My fondest memories are of the fans hugging me, thanking me etc. Some shows were light in attendance but overall it was really great. My voice was strong, I'm healthy and happy!
Hardrock Haven: Talking about concerts, your Facebook profile is full of photos taken with fans after the gigs – how important is it for you to keep in touch with the audience?
David Reece: It's what keeps me going… to be honest, I'm blessed to be able to do this. I take nothing for granted.
Hardrock Haven: Is there anything you'd like to add in the end?
David Reece: Just thank you… thank you all and I hope you enjoy the new record Glorious from Bonfire. I feel it's some of my best work to date. See you on tour!
Visit Bonfire online: https://www.facebook.com/BONFIREofficial