Frankie Poullain of The Darkness
by John Kindred
– Publisher —
Summer 2015 sees the return of The Darkness with their fourth album Last of Our Kind – due out June 1st.
Produced by guitarist Dan Hawkins, the album boasts new track, "Barbarian" (http://smarturl.it/barbarianvid), described by frontman Justin Hawkins as having "not one but two dramatic monologues, a guitar solo that has been declared 'irresponsible,' a riff that weakens lady-knees and a chorus that makes grown men shit directly into their pants. The lyrics describe the Viking invasion of East Anglia which culminated in the decapitation of Edmund the Martyr. So yeah, classic Darkness."
Hardrock Haven recently spoke with The Darkness bassist Frankie Poullain who talks about the bands valiant return, the new album, Last of Our Kind, and their new drummer Emily Dolan Davies.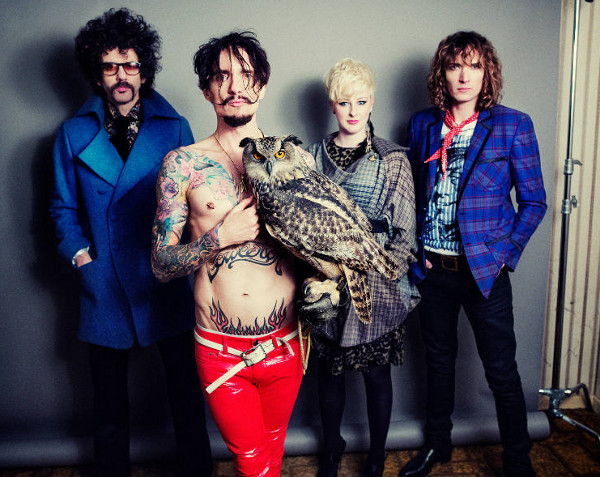 Hardrock Haven: I was happy to see the band come back together for 2012's Hot Cakes. I am fan of Permission to Land, not so much with To Hell and Back, but you guys nailed it on Hot Cakes. Kudos to you and your fellow bandmates, how did it feel to get the band back together at that point and release Hot Cakes?
Frankie Poullain: There was so much self pinching going on we were all covered in bruises! You can't see it happening from the inside, from these little human prisons we call the self. Looking back it was obvious we'd get back together as we are all good people who love each other, in the most manly way possible.
Hardrock Haven: I also had the opportunity to see The Darkness on that tour in Kansas City, Mo. USA … it was brilliant performance … a spectacle of a Rock 'n' Roll show, that truly delivered the goods, KISS-esque. But a lot of people can't get past Justin's falsetto delivery. Why do you think that is?
Frankie Poullain: To me it's a thing of magic and beauty. When it's sweet and spiced with a hint of vibrato it's a powerful weapon, but of course the setting is key – the song has to deserve it first. It's also utterly unapologetic which I think is important. However we are very much aware that the states has a macho culture, therefore we urge American listeners who feel threatened by the wanton femininity in our music to focus on Dan's testosterone drenched guitar tone.
Hardrock Haven: I have never believed that what you guys are doing is gimmick. I believe that you are musicians first and if people listened to the guitar work, arrangements and the melodies they would actually see it and hear it. You are not Steel Panther who truly are making a mockery of '80s Hair Metal. Do you think you are taken seriously as a band? As a group do you guys care?
Frankie Poullain: The question is: how serious can a person be? I think we are inviting people to remember that there has almost always existed a sense of the absurd in great Rock 'n' Roll music. But then again we are not actors. If we hadn't started this band in all likelihood we'd have ended up depressed. So we started the band. Therapy. Simple. You do what you have to do to be happy. And make other people happy. So yes, we do 'care'. Just.
Hardrock Haven: So the band is back with a new album, Last of our Kind, and new drummer Emily Dolan Davies. Why the change in drummers? Did Davies play on the new album?
Frankie Poullain: Yes Emily played on the new album and was involved in the latter writing stages and all the pre-production. She's a band member and we love her as a person and musician. Ed couldn't manage the situation unfortunately, it's sad but the show must go on.
Hardrock Haven: Being the foundation of the band did you and Davies lock in right away? Is the band energized with the addition of Davies?
Frankie Poullain: Yes you are correct, we are re – energised with Emily. Currently we are warming up with small venues across Ireland and I am loving her sense of the song, she always plays 'the song,not to mention the swing she has. The backing vocals are a delightful bonus.
Hardrock Haven: Let's talk about the new album, Last of our Kind, how long did it take to write and record? Do all band members participate in the writing process?
Frankie Poullain: The writing process spanned 3 years because 'Wheels Of The Machine' was written in a dressing room on the 'Let Them Eat Cakes' tour. Apart from that the album was written over a year or so. Yes we wrote together more this time especially on vocal melodies and hooks.
The Hawkins brothers and I wrote in Ibiza and Valentia Island on the west coast of Ireland, and then Emily joined us for the last songwriting trip in Norfolk England. The changing landscape and weather had a defining impact on the songs I think. They are tempestuous, passionate, bruised and seem to express defiance. It's an emotional album.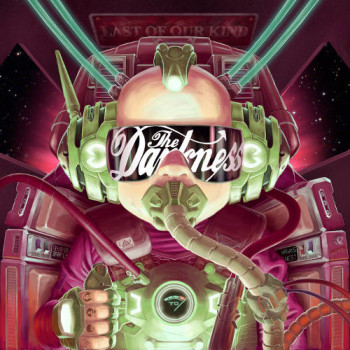 Hardrock Haven: How do you feel the new album fits in with the past discography?
Frankie Poullain: We don't think about fitting or blending in, we're rock musicians not interior designers. The past is death. The future is also death.
Hardrock Haven: Do you have any new songs that are personal favorites?
Frankie Poullain: I love 'Wheels Of The Machine' – Justin emotes so well, he is such a damn great 'emoter' and the moments when he does are too few and far between in my book. 'Open Fire' is throbbing and sexy, what's not to like?
Hardrock Haven: What can fans expect tour wise? Will you come back to North America, particularly the U.S.?
Frankie Poullain: Of course, in the fall. We cannot wait.
Hardrock Haven: What or who inspired you to pick up the bass? What bands are heavy influences on the The Darkness' sound?
Frankie Poullain: To pick up the bass? My ego and my competitive brothers and my introspective philosophical nature. Sprinkle on a smattering of Adam And The Ants and you got Frankie Poullain right there.
Hardrock Haven: Again thanks for taking time out to talk with me today. Anything you would like to add that I may not have asked?
Frankie Poullain: In the land of the toothless the snaggle toothed hobo is king.
Visit The Darkness online: www.thedarkness.co.uk