Thobbe Englund of Sabaton
by Alexandra Mrozowska
– Senior Columnist —
2014 in Sabaton's camp was a real trial of fire. After having introduced the new line-up to their audience with their live album Swedish Empire Live, they convinced the disbelievers with a full length studio effort Heroes. A year later, the band's current guitarist Thorbjörn Englund went solo with an instrumental album From The Wilderness.
Hardrock Haven managed to catch up with Thobbe to discuss the album and his current tenure in Sabaton as well as look both back and forward a little bit.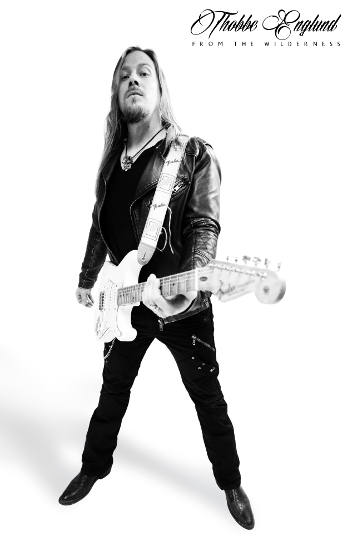 Hardrock Haven: Your second solo album From The Wilderness has just seen the light of day. Is there any difference between this record and its predecessor, 2006's Influences?
Thobbe: Hi Alexandra! Nice to hear from you! First of all, what many might have missed is the fact that Influences wasn't more of a solo album than the albums before that. Winterlong, my previous band which I released five albums with was actually my solo project as well, from the second album forward. But going back to your question. Influences was more of a mixture of material I had lying around. That album was a composition of many different styles, and stuff that I didn't find suitable for Winterlong. Material that had been evolving under a long time, and eventually I decided to get it out. From The Wilderness though is something different. This album was focusing on guitar playing from the beginning, and I had a clear vision of what I was going to do.
Hardrock Haven: What's inspired the music on the new album? Guessing from the song titles, From The Wilderness can be interpreted as a concept instrumental album of sorts – was there any general idea behind it?
Thobbe: I would say that besides from the obvious focus on guitar playing and shredding, I had a very bombastic and beautiful song that I put out on YouTube, on my channel, a long time ago which actually came to represent the album. I re-arranged it a bit, and re-produced the song, called "Vargens Öde," the last track on the album before the bonus track (on my You Tube channel simply called "Varg"). This song came to represent the concept of the album, and worked as inspiration when me and Chris we're working through ideas concerning the art work. Also, I come from the north of Sweden, a small village where the wilderness is right in your back yard, so this theme is something that felt very natural to work with. I love the nature.
Hardrock Haven: What are your personal highlights of the album?
Thobbe: Personally I like "A Lonely Hunter" and also "Surviving." The latter which kind of feels very genuine when it comes to my playing style. Lots of improvisation and stuff. The song "Varg," mentioned before, has a special place in my heart though.
Hardrock Haven: Instead of hiring someone from the outside, you've also produced and mixed the album. Do you prefer to work on your own, independently from other musicians, producers and sound engineers?
Thobbe: Both yes and no. When I am focusing on my own guitar playing, there has to be certain spirits in the air to let the music flow from my heart. That means I need, or at least prefer, to be alone and have peace and quiet. That is sometimes like opening up a door, letting the music build itself. I mean, sometimes magic happens and then you just wanna go with it, which happened a lot during the making of this album. I guess because it's been a long time since I put out an album there's lots of inspiration. But I love to work with others! It's totally depending on the purpose. When we're in the studio with Sabaton it's a completely different story. Since we are two guitar players, there is a 50% focus on each, guitar wise, and we're five guys in the band plus keyboards and producer, which actually gives everyone 1/7 of room in the mix, and as a guitar player you'd wanna harmonize well with the other guitar, which in turn makes you less free to improvise or do crazy stuff. That's where this album comes in.
Hardrock Haven: The cover artwork of From The Wilderness was designed by your Sabaton bandmate Chris Rörland. What's your interpretation of it?
Thobbe: We've been working close on the art work. I wake up with the guys in the band more often than with my girlfriend, sadly enough, so it's been easy to give feedback and have a close dialogue while on tour. I think this guy's a genius and did a wonderful job!
Hardrock Haven: In the bonus track "Fingerspitzengefühl," we hear you singing lead vocals – not for the first time throughout your career, as you sang also in Winterlong for example. Why have you decided to include a lyrical track on the instrumental album?
Thobbe: Well, to be honest I couldn't fit this song into the concept, for natural reasons, but I wanted it to be on the album. So I decided to make it a bonus. Just a song that I think is cool and metal!
Hardrock Haven: What do you think is the main difference in terms of expression between the human voice and the guitar?
Thobbe: You can't say or sing words with a guitar, but you can emulate a felling or a certain mood. The human voice can however give away too much, leaving too little to fantasy sometimes, by using the human linguistic communication… Depending on the composition, sometimes a guitar can be more emotional that words, if in the right hands. Listen to "Brothers In Arms" with Dire Straits for example. Now imagine the long intro being sung instead of played. Not as touching I would like to think.
Hardrock Haven: Many of your listeners point out to the fact of lyrical references to all-time rock classics in "Fingerspitzengefühl." Is it deliberate or not? What was the idea behind the song's lyrics?
Thobbe: Haha! Busted! No, but seriously I didn't aim at that at first. I just had the German word "Fingerspitzengefühl" in mind as a cool metal song title, Judas Priest-style, and then as I was starting to write the lyrics it all just fell in place. When I first realized it had "many references" I had already come to the second half of the second verse with "You're in the jungle and it's time to die," which actually was a reference on purpose, mainly based on a Sabaton inside joke, other than that it wrote itself because it was an easy but cool metal song. And I really just had to have it on the album just because of that. Metal, yeah! (laughs)
Hardrock Haven: Alongside your solo career, you're also a member of Sabaton. In what circumstances were you offered to join the band and was this decision a difficult one?
Thobbe: The decision to join Sabaton, which is actually over three years ago now, was the easiest decision I've ever made. The guys got in contact with me through my dear friend and former band mate Pär Hulkoff of Raubtier after their old line up broke up and Sabaton was looking for a guitarist. I took my guitar and a suitcase an flew down south to meet up with Pär and Joakim. We had a couple of beers and started talking about music and stuff like we'd known each other forever. Just a few weeks before the 2012 tour to promote Carolus Rex was going to kick off I joined the band and we hit the rehearsals and the road. I have to say that this offer came at the right time for me. We've done hundreds of shows since, all over the world, and as I'm writing this I'm sitting on JFK New York on my way back home after a five weeks U.S. run together with Nightwish.
Hardrock Haven: The first album to feature a new Sabaton line-up was last year's release Heroes. What do you think you – as well as other new members – brought into the band and in what way did it influence the album?
Thobbe: We've released Swedish Empire Live with the new line up before Heroes, both on CD and DVD, but this is our first studio album, that's correct. I think that we had a positive impact on the album, and knowing that it was the same five of us later going out on the road felt great. We all contributed with our influences, and the atmosphere in Peter Tägtgrens studio The Abyss was great! And for the first time, which I didn't know before, Joakim collaborated with another band member in writing the music. Me and Joakim wrote "Soldier Of Three Armies" and "Hearts Of Iron" together. Not only did our new blood contribute to that, but also playing wise. We all love to play our instruments, and the process was pure joy. Many laughs, and many ideas born in the moment.
Hardrock Haven: Were you involved in the songwriting process for Heroes? What does the songwriting process within a band looks like?
Thobbe: As I mentioned above me and Joakim wrote "Soldier Of Three Armies" and "Hearts Of Iron." I am honored that he found my ideas good enough to suit a Sabaton album. He is very selective in the process of writing, and I remember many ideas he showed us that we all loved and we're like: "Hey man! This is so great, let's put this on the album!" But after a day or two he would come back and say it wasn't up to par. So, I guess that answers the other question. It's a very selective process to write an album. You are, and I guess have to be, very self critical.
Hardrock Haven: Sabaton is not the only band you played with – there were also such groups as Raubtier, Star Queen, Winterlong to name just a few. Was your tenure in those a valuable experience?
Thobbe: Very much! Without those bands I wouldn't be where I am today. You of course constantly learn and evolve, but also getting in touch with the right people is something that is very very important.
Hardrock Haven: What is Sabaton up to at the moment?
Thobbe: We're now actually on our way home for ten days off. Then the festival summer kicks in and we're going to do a lot of big ones. Headline show at Wacken is one of those dreams that all of a sudden has come true. We're constantly on the road, and plans are we'll be touring until the year is over and then start to work on a new album. We're really looking forward going to Japan, which will be the first time for all of us in the band. This will take place at Loud Park, one of the bigger festivals over there. But we're also going to focus on our own festival Sabaton Open Air, and our own Sabaton Cruise.
Hardrock Haven: Do you plan any solo gigs in support of the album, or is Sabaton's schedule too busy to plan anything else?
Thobbe: Yes. Sabaton's schedule is way too busy to be able to squeeze in any of my own stuff. It would be great fun, I'm sure, but there simply isn't time.
Hardrock Haven: Is there anything you'd like to add in the end?
Thobbe: Come check us out, visit www.sabaton.net and my YouTube channel on https://www.youtube.com/user/Thobbeenglund and you'll find lots of other stuff I put out in the past. Thank you! Cheers!