Mike McClinton of McClinton
by Deb Rao
– Senior Columnist –
New Jersey rock band McClinton has landed an opening slot opening for Red beginning May 29 in Oklahoma. McClinton will be hitting the road in support of their latest CD Final Closure. The band has been garnering national radio attention with their latest single "Crumble." McClinton has a very modern sound that is a cross between Shinedown meets Three Days Grace. McClinton has paid their dues along their climb fame from the Jersey Shores opening for Winger, Stryper, and Dio Disciples. Step by step, the band has been garnering new fans along the way. Singer Mike McClinton talks to Hardrock Haven regarding the upcoming tour.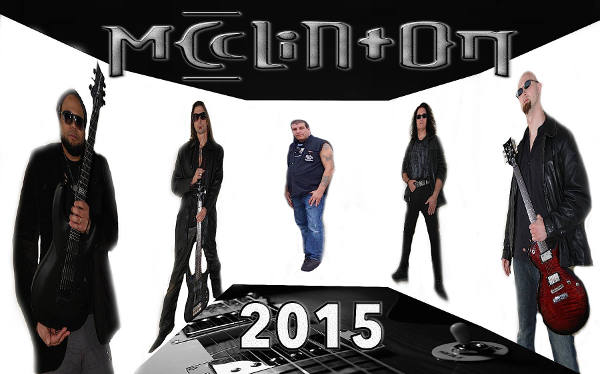 HRH: Mike, Thank you for checking in with Hardrock Haven. McClinton will be hitting the road on May 29 with Red. Are you excited?
Mike: We are very excited. We are finishing up a tour with Saving Abel now. Then we are jumping on board with Red and Adelitas Way. We can't wait to get on the road with them.
HRH: Tell us about the set list and how long the band will be performing.
Mike: We get a 30-minute set. We are going with mostly everything off of the new album Final Closure. It will start off with a cool song called "Kicked." Basically it was written about being kicked when you are down. People seem to take advantage of you when you are at your lowest point. So I wrote the song about that. We will be doing some songs off of our old album. We will be doing our latest single "Crumble."
HRH: Now "Crumble" is getting some great airplay I hear.
Mike: Yes, "Crumble" is getting really great airplay. It is being received very well. We are being received very well playing live. It is awesome.
HRH: Tell us about your sound. It will be the first time the fans will be hearing you perform in Vegas. I hear you sound a lot like Shinedown meets Three Day. Grace. Is that correct?
Mike: Yes, we sound like Shinedown meets Three Day Grace with a little bit of Pop Evil. I think we got a combination of a little bit of everybody. The thing about this album is all the lyrics can relate to something in life. Like Shinedown their lyrics are incredibly amazing. We try and stay where fans can understand the lyrics and understand where we are coming from.
HRH: Right, I love an album with great lyrics. Tell us about the writing process for Final Closure.
Mike: The writing process happened when I was in surgery in Florida and the band I was with quit on me. So I called Paul and said I want to write an album and I told him the story and he said let's do this. So I would send him some acoustical stuff and he would pretty much write the music around what I sent him lyrically. Yes, Paul and me work together well. We have been working together for the last four years now.
HRH: How did you come up with the title Final Closure?
Mike: Final Closure was pretty much putting a closure to the past and starting fresh. Trying to make something of this instead of just being a New Jersey band. I wanted to make a state you can achieve a goal if you work hard at it. Where dreams will come and go and nobody really cares. That is pretty much where final closure came up. I was putting a closing chapter to the past and looking forward to the future.
HRH: How is the music scene in Jersey these days?
Mike: Horrible, not good. (Laughter) No one really wants to come out and hear bands anymore in New Jersey. If they do, they sit at the bar and they drink. That is one thing I found even being out with Framing Hanley and Saving Abel; the fans react to what you are doing. They want to talk to you. The fans in Jersey are really different. The scene is not what it used to be. It is hard for an up and coming band that is trying to make it.
HRH: That is great you are coming out West then. We are excited to hear you perform. Also you will be Vamp'd July 3 with Art of Dying.
Mike: Yes. We are touring with Art of Dying after the Red/Adelitas Way tour.
HRH: You have opened for some great bands including Dio Disciples. Now was Ronnie James Dio one of your influences as a singer?
Mike: Yes, and Geoff Tate. Also some bands from my area that were signed. Like American Angel. But yes Dio Disciples was amazing to play with. We also played with Stryper and Ace Frehley. We did a show with Firehouse and Winger. But our music is more like Three Days Grace. That is the thing we wanted to get away from when we went out on tour. But the promoters in New Jersey are bringing bands in like Winger and Stryper. We are not that type of music. We are more of today's music. It was an honor to play with those guys. But we just wanted to go in a different direction because our music was different.
HRH: Were you influenced by the '80s at all?
Mike: I was very influenced by the '80s. The '80s were a staple in our career. I have a guitar player from Brazil. They thrived on that stuff. They were really influenced by the '80s music. My drummer is big Stryper fan, so it was an honor to play with those guys. It was a stepping-stone to where we are now.
HRH: As a new band what is your goal? What do you want to accomplish on this tour?
Mike: Our main goal is to be able to keep doing this. Just to be able to get the fans and promoters follow at what we are doing and have us back. Without the fans, we can't do this. Without the promoters, we can't do this. Without radio, we can't do this. Our goal is to try and keep as many of those people as happy as possible. We want to keep doing this over and over and over. Eventually, we would like to get on some bigger festivals. Those are our goals, we want to play with the bigger guys we are playing with now and hope to play with bigger bands like Godsmack and Breaking Benjamin. We are working our way up.
HRH: That is awesome. It is a good start. We will see you at the Brooklyn Bowl June 6 and possibly July 3 at Vamp'd.
Mike: Thank you for everything.
Visit the band online: www.facebook.com/mcclintonmusic