Shotgun Messiah | Shotgun Messiah
by Justin Gaines
– Senior Columnist —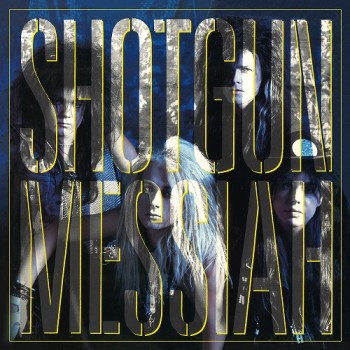 Swedish glam metal band Shotgun Messiah made their debut in 1989 with this self-titled release. The band, which was more or less Sweden's answer to the Hollywood hair metal scene, was originally known as Kingpin and featured vocalist Zinny Zan (formerly of Easy Action) alongside bassist Tim Skold, drummer Stixx and guitarist Harry Cody.
Shotgun Messiah showed the world that the Swedish rock scene wasn't all about the more polished melodic rock of Europe and Treat. They came in hard and sleazy, and did the Hollywood sound every bit as well as bands like Jetboy, Faster Pussycat and Pretty Boy Floyd. Their songs are utterly shallow and their lyrics are completely clichéd, but that's part of what makes this album so much fun. With sleaze anthems like "Nowhere Fast," "Don't Care 'Bout Nothin'" and "Shout it Out," this is an ideal party rock album.
The guitar playing is the real surprise on the Shotgun Messiah debut. Beyond the simple, catchy hooks, Harry Cody could really light up some solos. Listening to him cut loose on the instrumental "The Explorer" makes you wonder how this guy didn't end up in a power metal band. Zinny Zan's vocals are another key part of this album's sound, though not always in a good way, as his raw, screeching style tends to wear thin after a while. This ended up being Zan's only album with Shotgun Messiah. Tim Skold ended up taking over vocal duties for the band's 1991 follow-up Second Coming.
If you're a die-hard fan of the '80s Hard Rock/Glam Metal/Hair Metal sound, especially the sleazier bands like Vain, L.A. Guns, Jetboy and the like, the Shotgun Messiah debut is a must-have album. It's also an important chapter in the Swedish hard rock history, paving the way for bands like Hardcore Superstar and Crashdiet.
Edition Notes: After way too many years of being out of print (and fetching a hefty price tag from collectors) the Shotgun Messiah debut (as well as Second Coming) has finally been reissued by Divebomb Records. Their reissue features newly remastered audio and a booklet that's loaded with band history, lyrics and vintage photos and press material. There are no bonus tracks, but just having this long out of print album back in fans' hands – and sounding better than ever – is reason to celebrate. As usual, it's limited to 1000 copies and is not available digitally.
Genre: Hard Rock, Glam Metal
Lineup:
Tim Skold (b)
Stixx (d)
Harry Cody (g)
Zinny Zan (v)
Track Listing:
1. Bop City
2. Don't Care 'Bout Nothin'
3. Shout it Out
4. Squeezin' Teazin'
5. The Explorer
6. Nowhere Fast
7. Dirt Talk
8. I'm Your Love
9. Nervous
Label: Divebomb Records
Hardrock Haven Rating: 8/10