by Alexandra Mrozowska
– Senior Columnist —
Not even a year after their album Albion saw the light of day, gaining rave reviews all across the globe, the British Melodic Rock giants Ten are back with the new pirate-flavored release Isla De Muerta and – which is even more surprising – the follow-up to it, an EP entitled The Dragon And Saint George. In light of all the news, Ten's frontman Gary Hughes shared a few thoughts on the latest full-length, the group's present situation and future plans as well as the current state of the music industry exclusively for Hardrock Haven.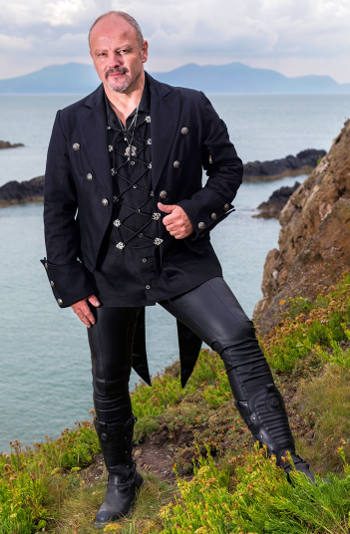 Hardrock Haven: Having released Albion in November 2014, now Ten is back with another album. What's your secret of keeping your ideas fresh and your creativity flowing at such a pace?
Gary Hughes: The truth, Alexandra, is that while developing a piece of music you know right then and there if it's worth keeping or not. My secret in a sense would be that if an idea is not worth developing it won't be developed at all, or the better parts of it will be kept on the side to be used somewhere else. Quality is very important to us, since otherwise it'd be both a disservice to our fans and consequently to ourselves if we suddenly started releasing sub-par music, or music uncharacteristic of what the fans have grown to expect from us. Having said that, while writing the tracks which shaped the Albion and Isla De Muerta albums, I did look to cater for our fans' desires and wishes – and not only my own (laughs) – who at times can be quite vocal about what they like and what they don't. We're just both thankful and proud that both our latest albums (and our latest EP) seem to have pleased our fans so much. It makes everything worthwhile really.
Hardrock Haven: Albion was hailed by many as the best Ten album so far. Do you think Isla De Muerta is up to the same standards, or perhaps even better? What about the reviews it gained so far?
Gary Hughes: Yes indeed, Alexandra and I have to say here that we're really happy about the reception of both the albums and of the new EP. We definitely felt that Albion was a strong offering and we certainly felt the same when we decided on the final track listing of Isla De Muerta too. The tracks that make Isla De Muerta by the way, were developed during the writing sessions of the Albion album and it was then when we decided that due to the abundance and the variety of material we would release two albums. It was also then that we decided that both albums would follow in quick succession and that no apologies would be made for the fact that both albums were developed from the same batch. We were confident that the material was strong enough to stand being divided and still make for two powerful but quite diverse albums.
Deciding which songs would go on which album was the hardest part though, so in the end we decided to make sure that we kept songs of the same 'ilk' away from each other. At the end of the day, I knew that I had kept enough in reserve to make Isla De Muerta a strong follow up, and with the new line-up settling in more and more the only pressure was to make sure that we did the material justice. And judging by the fan reaction and the reviews of course, we didn't do so bad, right?
Hardrock Haven: Absolutely! Onto the album's title – why Isla De Muerta? What's the reason for naming the album after the mythical island?
Gary Hughes: Isla De Muerta is a barbarization of an island known in Pirate tradition and legend as the Island of the dead. It was said that there was an island somewhere in the Caribbean where a mythical (cursed) treasure was hidden. We just like playing around with different concepts when it comes to our album titles/artwork, even though the only track that touches upon this concept is in fact the opening track "Buccaneers/Dead Men Tell No Tales."
Hardrock Haven: Similarly to Albion, the cover artwork for Isla De Muerta was designed by the Italian illustrator Gaetano Di Falco (Manowar, LA Guns, Hellion etc.) Why have you decided on working with him again?
Gary Hughes: We've decided to acquire the services of Gaetano Di Falco again for the simple reason that his covers are just awesome! As with Luis Royo, Chris Achilleos and Felipe Machado Franco in the past, his work exhumes this immense epic feeling which brings our album's concepts to life. If I am to be completely honest, we have been blessed with some great covers since the beginning of the band's existence. From Luis Royo and the covers of the Spellbound, Babylon and Stormwarning, to Chris Achilleos for Return To Evermore and the Once And Future King albums and Felipe Machado Franco, responsible for the cover of our Heresy And Creed, we've always connected our name to some epic covers, a fact for which I'm very proud of!
Hardrock Haven: What was the inspiration for the piratical/nautical themes on Isla De Muerta? Was the source of inspiration any different from usual?
Gary Hughes: I wouldn't say that the inspiration was any different Alexandra. Over the years I've probably become a bit more pedantic when it comes to detail but the process has been the same since I began writing. The new songs were written in the age old way as far as I am concerned. I really only write one way. Melody on chord comes first and lyrics much later. In this way I get a better feel for the song as a musical piece before I have to commit to a subject matter for the lyrics. The new line-up has worked brilliantly so far in enabling me to envisage melody and counter-melody for certain section. Dann Rosingana and Steve Grocott also work together to adapt some breath-taking dual guitar pieces between them. Bringing two guitar players with such differing styles was always going to bring more versatility to the band. I consider Dann (Rosingana) to be more like Dan Huff in style whereas Steve (Grocott) has a more Vai-orientated vibe. Both work well together too which always helps. Each knows their own, and each other's strengths. In this way both can be objective about suitability when a solo opportunity arises.The core of Ten has been the same for many years now. And that core of John (Halliwell), Steve (McKenna), Max (Yates) and Darrel (Treece-Birch) means that I have been able to experiment with guitars and guitarists knowing that the backdrop always remains water tight and solid.
Hardrock Haven: Music-wise, Isla De Muerta is rather a standard Ten album than a reprise of an adventure movie score. Weren't you tempted to record more tracks in vein of the opening "Buccaneers/Dead Men Tell No Tales?"
Gary Hughes: Not at this time Alexandra. When it comes to the track that you mentioned though, its concept is one that I always found very interesting. The Pirates Of The Carribean films apart, the actual history of that period of Maritime history is very colorful and very different to what people see on the big screen. I always like to weave a story into my songs and The Golden Age of Piracy makes fascinating reading. The Buccaneers in particular is a subject I have never really broached in any depth until now, and it was a pleasure to work and read up on this period of history.
Hardrock Haven: There's a handful of songs on the album – such as "Revolution" or "The Angel Of Darkness" that have a clearly modern vibe to them. Are there any contemporary, young bands that inspire your style and songwriting?
Gary Hughes: I can actually listen to just about everything really, from the classic Heavy Metal bands of the '80s to Classic Rock of the '70s and the more contemporary artists or even Classical music, but when it comes to our albums I always know how the final result must sound like so as not to sound out of place in a Ten album. I like pushing the stylistic boundaries though with the first opportunity, without ever deviating from what our fans expect to hear from us. Since you mentioned it though, "Revolution" especially is indeed a departure of sorts, due to its slightly 'industrial' feel with its drum loops and such. Lyric-wise the French Revolution is an excellent subject matter to explore and one we haven't touched upon since our "Twilight Chronicles" album in 2006 and the track "The Twilight Masquerade." I have tried to evoke imagery of the riots in the streets. Robespierre reaping the aristocracy for Madame guillotine. For a lyricist it's richly colorful and dramatic stuff with which to squeak a nib. Generally I like to make at least one track veer laterally on each album. Keeps us slightly unpredictable and adds some small essences and flavors to the armory.
Hardrock Haven: "Tell Me What To Do" was released as the first single off the album, illustrated with a lyric video. What's the reason for this choice?
Gary Hughes: It was actually the label who picked the single releases and I think they've done a brilliant job on all our lyric videos so far. We've so far released two from the "Isla De Muerta" album, "Tell Me What To Do" and "This Love" and more recently "The Dragon And Saint George" from our latest EP.
Hardrock Haven: Knowing you as a very thoughtful songwriter, I have to ask is there any particular concept you had in mind while writing songs for this album? Is there any story behind this album?
Gary Hughes: Thank you. I always feel that music has to be more thought provoking nowadays than just melody on chord. People like to be carried away and transported out of their daily lives. Music has the power to do this and I always try to make sure that my compositions allow the listener to create his or her own mental images. The title of the album is based on the mythical island of the dead, but apart from the opening track, this is as far as the concept of the album title goes. As I mentioned before, the tracks that make our two latest albums were the result of the original Albion sessions, where, not unlike our first two albums in 1996, I found myself with 26 songs, which we decided to split into two albums. In it one can find tracks that tell stories of love, war, Ancient Egypt, the patron saint of England and a lot more! I like to think that there is something for everyone on Isla De Muerta.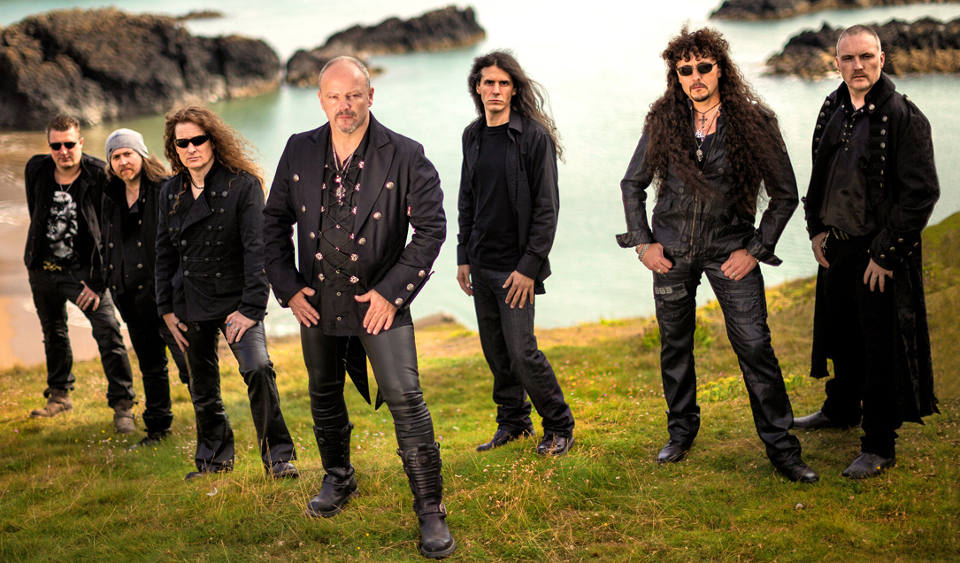 Hardrock Haven: Again it's you who handled the producer's task and as for the mix and mastering, you renewed a collaboration with Dennis Ward (of Pink Cream 69, Khymera etc.) You seem pretty consistent in your choices – why not going for someone new this time around?
Gary Hughes: The reason we decided to work with Dennis Ward again is because we knew (as he knew) exactly how we wanted the albums to sound like and again, it worked like a charm. I conferred a great deal with Dennis on Isla to make sure that I was providing him with everything he needed come the mix. Dennis has been on board mixing Ten now since Stormwarning. He knows how the band sounds and he mixes to his own parameters. He is my sounding board and is the consummate professional.
Hardrock Haven: What do you think are the advantages and the drawbacks of producing your own album?
Gary Hughes: The biggest advantage of course is that you have the opportunity to flesh out your ideas entirely in your own way. I've learned a lot while working with as highly esteemed producers as Mike Stone, Rafe McKenna or Tommy Newton during our first six albums, when our sound was shaping into what it is now. I'd say that the drawback would be the fact that sometimes it is possible to be too close or precious with the material the closer it gets to fruition. Dennis Ward has been my sounding board for our last four albums and I always value his input in the closing stages as he is the one with fresh ears to the project.
Hardrock Haven: Isla De Muerta as well as Albion was released via Rocktopia Records. Are you satisfied with the label and the renewed business co-operation with Bruce Mee, the label's co-owner who's also signed you with Now And Then Records more than twenty years ago?
Gary Hughes: Absolutely! With Rocktopia I feel like just as I did back in the early days with Now And Then Records. I am afforded total creative control and the budget for Ten this time makes all things possible really. I think this is the reason I have been so productive this time around. Once again, we found ourselves being the first ever release of yet another label and if they stick to their current ethos and mission statement I'm quite sure that Rocktopia Records will become a viable option for bands in Europe in the coming years.
Hardrock Haven: Now onto more general matters – what do you think about the recent resurgence of vinyl and do you think its popularity will help to revive the music industry and boost record sales?
Gary Hughes: In the era of excessive music piracy (no pun intended) and free streaming, we've come to the conclusion that the only way to work around the crisis is to offer a quality package. Thanks to Rocktopia, we've managed to release Albion on vinyl and on top of that, our new EP The Dragon And Saint George will also be available on 12'' format in early December. Having said that, we see our albums as complete pieces of work and not individual tracks readily available for download, so we hope our fans understand our decision.
Hardrock Haven: Would you like to see Isla De Muerta released on vinyl, as it was in the case of Albion?
Gary Hughes: Of course, but we perfectly understand that two vinyl releases back to back and only six months apart many not have been a very viable solution for an up and coming label. The guys more than made up for it with the very beautiful 12'' vinyl release in early December of our latest EP The Dragon And Saint George. We're very proud that we've managed to have two of our releases on vinyl, so we're definitely not taking it personally that Isla was not (laughs).
Hardrock Haven: Albion was not only released on vinyl, but also available in various limited editions. It was red vinyl format as well as the gatefold double LP, the latter with many additional treats (postcards, signed photos, stickers, a guitar pick etc.) Do you think it still makes sense to release such collector's bundles in the era of mp3 files and Spotify?
Gary Hughes: I think it does, since the reason a band is actually making music is not just for a personal fancy but for its fans too and as a music fan myself I always want to own as much as I can get from my favorite bands.
Hardrock Haven: Talking about mp3 files and streaming services, Isla De Muerta as well as Albion isn't available on any digital platforms. Why?
Gary Hughes: Because we could! (laughs) We've decided to keep both our latest releases on a strict physical format, because in our own eyes, an album is a complete piece of work worthy of all the attention it can get – in its entirety. Digital platforms also seem to work against the blood, sweat and tears that each album release includes, so, why not? We're not the first to speak against them and we'll certainly not be the last.
Hardrock Haven: Guessing from the set lists coming from your recent performances, you didn't play the new songs during the concerts in Greece. Why? Do you plan to include some now that Isla De Muerta is already out?
Gary Hughes: We actually played two tracks from the previous album but yes, we didn't include any tracks of the (yet unreleased at the time Isla De Muerta), since we always appreciate our fans taking part during our live performances and it would be unfair for them not knowing the tracks. Not to mention of course that we decided to make that night a special one for the fans who came, since we considered that live performance as a re-gathering of friends old and new to celebrate the band's 20th anniversary. That's why we presented so many tracks from the first couple of albums of ours, including "Glimmer Of Evil" which we've never played live – up until then that is! (laughs)
Hardrock Haven: While compiling the concert set list, how do you choose the songs – is it more like a cross-section of your career, a 'greatest hits' set or perhaps an introduction to Ten's recent albums? Why?
Gary Hughes: I think it's safe to say that after 20 years as a living entity and with twelve studio albums on our backs, the fans have grown to expect the usual staples on our set lists. I mean we couldn't go and play somewhere without including "After The Love Has Gone", "The Name Of The Rose" or "The Robe" or "Spellbound" for example. We would be lynched! (laughs) Still, it's always nice to bring new music on a live situation, since, while songwriting, the live performance is always on the back of my mind. Even more so today that with three guitarists, we can deliver the goods even better than ever. With the opportunity of the band's anniversary though we've decided that our live performances must be centered around our discography as a whole, since, it's a great opportunity for fans to remember and sing with us our "classic" tracks and for the new fans to get to know our music!
Hardrock Haven: Isla De Muerta having already seen the light of day, what are your current plans regarding the promotion of the album? Any particular festival or concert dates we should keep on radar?
Gary Hughes: We did play in Greece as you've mentioned before the release of the album and also headlined on Wildfire festival in Scotland, but we've made a conscious decision not book more gigs until the end of the year so as to get to work on a couple of projects that I've got in the pipeline. We would love to return to the road come 2016 though, so to any promoters or venue owners out there? Drop us a line.
Hardrock Haven: Do you think 2016 may be a year of another Ten album?
Gary Hughes: Seeing as we've released two studio albums six months apart and an EP in less than a year, I've decided to set my sights to a new concept album in the vein of "Once And Future King," on which I'm working on as we speak. I'm also writing and producing an unknown female singer's solo album, the first I'm doing since the trilogy of album's I've written and produced for Bob Catley in the early '90s/early '00s, which is going to be in the vein of bands like Heart and Vixen, which I hope to have completed in early 2016 with a tentative release date for later in the year. As it looks, 2016 is going to be a busy year indeed!
Hardrock Haven: Anything else you'd like to add in the end?
Gary Hughes: Thank you for your time and for the very interesting questions Alexandra! To all your readers and our fans … We salute you!
Visit Ten online: http://www.tenofficial.com/