by Justin Gaines
– Sr. Columnist —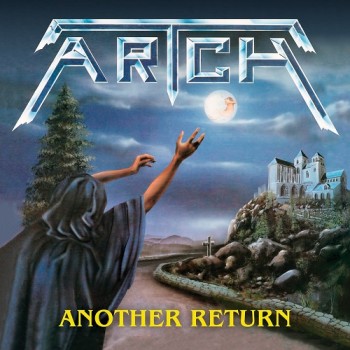 Originally released in 1988, Another Return was the debut album from Norwegian power metal band Artch. Obviously Norway's best known contribution to metal is their infamous Black Metal scene, but before the corpse paint and church burnings, bands like Artch and later Conception were taking the American power and progressive metal sounds and putting their own stamp on them.
American audiences may know Another Return best as Another Return to Church Hill, which was the title of the 1989 Metal Blade pressing for the U.S. market. Whatever title you know it by, Another Return is an underground classic. Artch refined the American Power Metal sound of bands like Crimson Glory, Queensryche, Fifth Angel and early Fates Warning, all of whom in turn had refined the original Heavy Metal sounds of Iron Maiden and Judas Priest, adding elements of the emerging thrash style to the mix. The result is an album of technical and speedy power metal, polished as only a European band could. Icelandic vocalist Eric Hawk (real name Eirikur Hauksson) is the band's secret weapon, possessing a great range and massive vocal power.
At just under 43 minutes, Another Return is a relatively short album, at least by today's standards, but it has the virtue of being filler-free. Aside from the brief instrumental intro, all of the nine songs on this album hold up extremely well, but if you're looking to sample a song or two to see what Artch is all about, "Living in the Past" or the title track ought to convince you.
Artch went on to release one additional album – 1991's For the Sake of Mankind – before disbanding for the better part of a decade. They never became a major name in the Power Metal scene, but they still left behind an impressive musical legacy. Another Return remains not just a cult classic, but a must have release for any serious fan of Crimson Glory, early Fates Warning and the '80s Power Metal scene in general.
Edition Notes: Divebomb's 2015 reissue of Another Return puts this classic album back in fans' hands after a long absence. It does not contain any bonus material, but it has been newly remastered and has an expanded booklet with a band essay, lyrics and vintage photos and press clippings. The remastering alone makes this a nice upgrade over the original version.
Genre: Power Metal, Heavy Metal
Lineup:
Eric Hawk (v)
Bernt Jansen (b)
Cat Andrew (g)
Gill Neil (g)
Jack Jamies (d)
Track Listing:
1. Converso Prelude
2. Another Return to Church Hill
3. Power to the Man
4. Loaded
5. Where I Go
6. Metal Life
7. The Promised Land
8. Shoot To Kill
9. Living in the Past
10. Reincarnation
Label: Divebomb Records
Website: www.artch.net
Hardrock Haven Rating: 9/10