by Justin Gaines
– Sr. Columnist —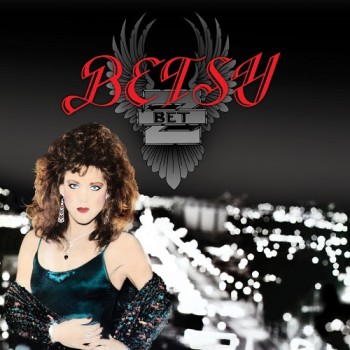 As the 1980s came to a close, Los Angeles-based Heavy Metal band Bitch thought it was time for a change. Bitch was one of the earliest bands signed to the Metal Blade label, but was struggling to reach the kind of wider audiences that the Hollywood "hair metal" bands were getting. So in 1988, the band put away their S&M paraphernalia, commercialized their sound and rebranded themselves as Betsy, after their iconic frontwoman Betsy Weiss.
While the Betsy lineup is identical to the Bitch lineup, they did get an assist from songwriters Janet Minto and Bruce Turgon (Shadow King), as well as producer Chris Minto. Working with the band, who continued to write much of their own material, they crafted an album that bridged the gap between Pat Benatar and Saraya. The Betsy album is very commercially accessible and fill of catchy hooks and radio-friendly love songs that still rocked quite hard. Fans of the Bitch albums already know how powerful Betsy's vocals are, but even they might be surprised to hear her in this kind of setting. She sounds like Pat Benatar's tougher, more rocking sister here, especially on the anthemic "You Want It You Got It" and "Cold Shot to the Heart." Heavier numbers "The Devil Made You Do It" and "Stand Up For Rock" remind you that this is a heavy metal band at heart.
Unfortunately the "new" band didn't fare much better than the old one did. Betsy wasn't commercial enough to really join the Benatar/Scandal/Heart ranks, and was probably too commercial for the Metal crowd. They soon reverted back to the Bitch name before taking a long hiatus from the Metal scene.
Obviously you can't simply ignore the Bitch connection, but the Betsy album holds up really well on its own merits. These are just really solid Hard Rock songs with great melodies and strong vocals. Fans of the harder rocking female-led bands like Doro, Saraya and yes Pat Benatar should be all over this one, as should fans of melodic hard rock bands like Keel, Kick Axe and Helix.
Edition Notes: After way too long out of print, the Divebomb label has given fans a deluxe reissue of the Betsy album. The reissue features newly remastered audio, two bonus tracks, and a booklet loaded with vintage photos, press clippings and a new interview with Betsy herself. It's a high quality reissue all around.
Genre: Melodic Rock, Hard Rock
Lineup:
Betsy Weiss (v)
Ron Cordy (b) (v)
Robby Settles (d) (v)
David Carruth (g) (v)
Track Listing:
1. You Want It You Got It
2. You'll Never Get Out (Of This Love Alive)
3. The Devil Made You Do It
4. Rock n' Roll Musician
5. Cold Shot to the Heart
6. Flesh and Blood
7. Turn You Inside Out
8. What Am I Gonna Do With You?
9. Stand Up For Rock
10. Sunset Strut
11. Get Out
12. Walls of Love
13. Sunset Strut (remix)
Label: Divebomb Records
Hardrock Haven Rating: 8/10