by Alexandra Mrozowska
– Sr. Columnist —
Alhtough his name is recognizable in the Swedish Melodic Rock scene for years, Nalle Pahlsson has released a solo album only recently. A bassist for bands such as Treat, Last Autumn's Dream, Vindictiv or Therion shows many different dimensions to his artistic persona this time around – a singer, songwriter, rhythm guitar player, keyboard player and a producer of his first offering Royal Mess. Hardrock Haven caught up with Nalle to find out why did it take him so long to go solo and also, to discuss all the details of his latest release.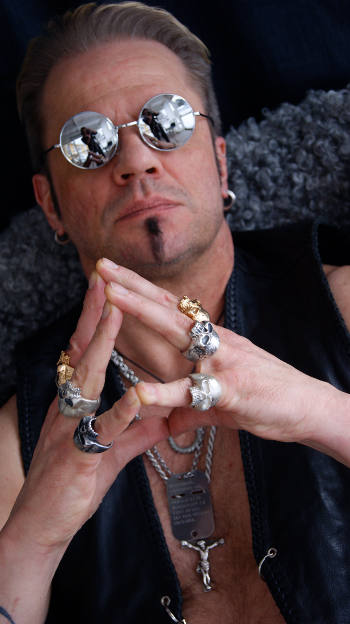 Hardrock Haven: You're a seasoned musician, your experience ranging from Treat and Last Autumn's Dream to Therion. Is your first solo album Royal Mess a reflection of all this experience? Or perhaps, a different journey and a chance to try something completely new?
Nalle Pahlsson: It's actually more a reflection of who I am. I grew up with Rock and Hard Rock music. It all started when I was about 5 or 6 years old with Jimi Hendrix and The Rolling Stones. Then there were Deep Purple, Led Zeppelin and Black Sabbath, and a bit later on – KISS, AC/DC etc., and then Foreigner, Journey and so on… I love all of these straight forward Rock bands with good songs, riffs and melodies! I have listened and still listen to other sorts of music as well, but this is the foundation of everything I am – from deepest within!
Hardrock Haven: A really impressive musical resume under your belt – why did it take you so long to release an album on your own?
Nalle Pahlsson: The reason is a mixture of many things. It just seemed like I never had the time, or maybe I didn't have the self-esteem to do it? Today it's much easier to record and make an album on your own. If the music business was still the same as it was back in the 80's and the 90's I would probably never have been able to do this. The record companies ruled everything and the people who worked there were more concerned about their positions, their salaries and the sales of what they "knew" or thought would sell. I salute today's music market! We now have a better and bigger artistic freedom.
Hardrock Haven: Is Royal Mess an effect of spontaneous creative process, or is it an idea you had in your mind for years and now made reality?
Nalle Pahlsson: Of course I've had this in mind many, many times throughout the years. But it wasn't until the beginning of 2011 that I decided to really get things going. I quit drinking after being a period alcoholic for about two years and a half. I decided to start a new life as 100 per cent sober man and use my time to do something properly and good instead of just wasting my time. When you're drunk, you get nothing done, and when you're having a hangover, you definitely don't get anything done. Today I feel better than ever!
Hardrock Haven: We're glad to hear it! Are you satisfied with the album and the feedback you've received on it so far?
Nalle Pahlsson: Oh yes indeed! I'm so happy reading all of those good reviews. A couple of times they were so good that they almost brought me to tears – it's just fantastic! So far I haven't seen anything bad written about the album. But of course you can't expect that every journalist will like it. They can write whatever they want, and I guess they do …
Hardrock Haven: From our previous e-mail correspondence I guess you read the reviews of your album quite carefully. Is the feedback you receive a kind of future guideline of dos and don'ts? Or perhaps you follow your own vision and not anyone else's suggestions?
Nalle Pahlsson: I guess the good reviews give me a bit more of a push forward in the direction I'm already in. It becomes some kind of boost to just go on and "do what you do". Probably I would have done it anyway, but this is some kind of proof that I'm really on the right track!
Hardrock Haven: For the album, you stepped out as a lead singer, songwriter, rhythm guitar player and keyboard player (and obviously, provide bass parts as well). Was it difficult to cover so many duties?
Nalle Pahlsson: No, this is actually the way I've always recorded demos ever since the early 1980's. It's just that today you use better equipment. Demo recording and "real recording" are actually quite the same nowadays. And the fact is that I'm as much guitar player as bass player. I've also been singing lead in some cover bands before and I've recorded loads of backing vocals on albums through the years. Also a lot of singing while on tour of course! I've always seen myself as "half bass player – half singer."
Hardrock Haven: You've also produced and arranged the album. However, it's Chris Laney who mixed it. What kind of influence do you think he exerted over Royal Mess?
Nalle Pahlsson: Chris is nine years younger than me and he's a big fan of a lot of bands from the 80's that I've never heard or even noticed. Maybe this is one of the reasons many people say that Royal Mess sounds very much '80's – I'm more into the 70's. But what we have in common are bands such as Def Leppard, KISS and AC/DC for example. The absolute main thing is, however, that we both have quite the same opinion and attitude to the whole thing when it comes to music. We just do it! It all becomes very easy and simple. There are no rules about "this or that" in any theoretical way or anything like that. The motto is "if it feels good – it's good". And best of all – he's one of my absolutely best friends! He's the best guy for mixing rock music, and that's it!
Hardrock Haven: The guest list on the album is quite impressive – to say the least! Which of the guest performances are your favorite(s)?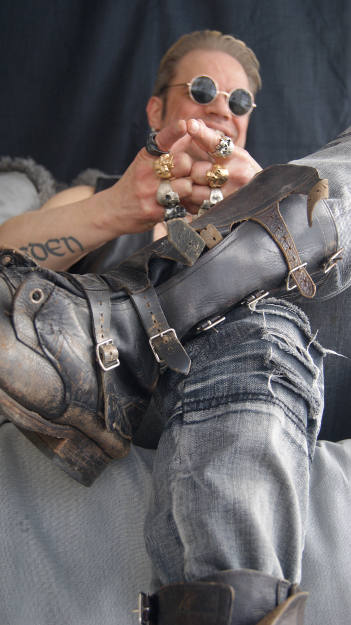 Nalle Pahlsson: I love them all! It's an honor for me to have them with me. All of them are friends and colleagues that I've played with or had a relation to through the years. Stefan Bergström from the band Skintrade for example is amazing. I really love that straightforward raw guitar playing! Kee Marcello is absolutely outstanding when it comes to everything about guitar playing. My old friend Micke Hujanen is a genius when it comes to melodic and Blues playing… too much and too many to mention! I'm so glad and happy they wanted to contribute to my album!
Hardrock Haven: Did you manage to gather at least some of the guest musicians in the studio, or was it technology that played a big part in passing on the recorded material?
Nalle Pahlsson: The drum tracks with Ian Haugland, Jamie Borger, Johan Kullberg and Danne McKentzie were recorded at Polar Studios and XTC-Studios, Stockholm which I participated in – the whole procedure. The drum track from Nicci Notini-Wallin was recorded by himself in his own studio and he sent me the files. As it often is today, most of the guest performances were recorded at the guests home studios. We just talked on the phone and I gave them some information and directions. The suggestion was at a 99 per cent like "Play (or sing) like yourself"! (laughs) I think Linnéa Vikström (Therion) and Henrik Bergqvist (The Poodles) were the only two that came by to my studio to record their parts.
Hardrock Haven: What are your favorite songs on Royal Mess and why?
Nalle Pahlsson: I think I have to vote for the first song "Aces High." I really love it. It gives me a feeling of that something very positive is in the air. A good vibe! And to me the lyrics of the song says "Believe in yourself – You're an Ace." I also love "See You In My Dreams" which is dedicated to my brother Benny who died in 1986. He was my idol and in some ways also "a second Daddy" for me as a kid.
Hardrock Haven: A bit of an oddity among the songs is a modern slow-ish piece "The Pieces Of My Heart." What's been an inspiration behind this song – was it any band of the contemporary era?
Nalle Pahlsson: When it comes to "The Pieces Of My Heart" … I really don't know …. I just write songs from a subject with a title and it "becomes what it becomes." I agree the verses are a bit odd or different, but I actually don't know where I got the inspiration from … I just wrote it.
Hardrock Haven: What are your personal music influences and do you think they are reflected on the album?
Nalle Pahlsson: Influences that you probably can hear on the Royal Mess album are KISS, Def Leppard and AC/DC … maybe with some AOR fragments here and there. In the reviews, some journalists have mentioned Steve Steven's Atomic Playboys. To me the whole album is just plain Hard and Melodic Rock. Nothing more, nothing less – "meat and potatoes," or "power and simplicity" I would say. One thing that is actually "missing" on this album is in fact my big influences from the 70's Progressive bands such as Genesis, Yes, U.K., Kansas, Rush etc. But I have future plans for that as well …
Hardrock Haven: My impression is that the majority of the songs, if not all, are very personal lyric-wise. "See You In My Dreams", for instance, is a song with a certain story behind it. Could you please reveal a bit more about it?
Nalle Pahlsson: The song is written to my brother Benny who died in 1986. He committed suicide. Of course something very tragic for my family… I was dreaming very often about him after he died. I met and talked to him several times in my dreams. I knew he was dead and he told me how he flew up to heaven and how he could see his house and everything from above. I asked him how it was up there, on the other side…? He said that it can't be explained "You will see and understand when you get there." Without Benny I would probably have never had a career as a musician. He was ten years older than me and had all the albums with all the cool bands. He had a guitar that I used very often (I still have it). He started to take me to watch concerts already when I was nine years old, 'cause he could notice that I loved rock music. He gave me my first electric guitar and in 1973, when I was ten, I got to watch Led Zeppelin in concert… wow! I have so much to thank him for… he would be proud of me today! I guess I have managed his legacy pretty well… The song was recorded several times by other bands and artists in the 80's, but for some reason it was never released. I guess the release of the song on my album is what you actually can call "full circle" – I'm glad it's finally released in the right version after almost 30 years!
Hardrock Haven: What are the stories behind other songs on the album as far as lyrics are concerned?
Nalle Pahlsson: A few of them are about my crazy and sick relations I've had with girls/women … I was an idiot spending a lot of money on a girl that only used me. I was blinded by love … well, both deaf and blind! You can read about it in the songs "Hell City" and "Gold Digger." I think people like to read about those things, so I will tell the full stories on my blog later on! Maybe the story says more about me than her…? I became the big looser – that's how it can be when you think with your heart instead of your brain!
Hardrock Haven: A tricky question as always in the case of star-studded projects: is there a chance of bringing Royal Mess to the live stage?
Nalle Pahlsson: We did a release gig here in Stockholm at the Rock club "Pub Anchor" on October the 10th. It was sort of a try-out – and it worked very well ! The members are me and the guys you can see in the booklet of the album: Stefan Bergström (Skintrade), Johan Kullberg (Therion), Chris Laney and Pontus Larsson (Vindictiv)… I've also got a request from quite a big festival next year. We'll see what will happen.
Hardrock Haven: What are you up to at the moment? Any further plans?
Nalle Pahlsson: These last two months I have been overloaded with gigs and recordings and it doesn't seem to end: new album with Last Autumn's Dream, touring Canada and the USA with a Swedish singer Martina Edoff, doing gigs in Europe with Therion, recording for Mats Levén, recording for the Italian project by Paolo Vallerga "Experiment NoQ" for a second release. And then, everything around Royal Mess: interviews and lots of things to do for the Japanese release on December the 16th. Right now I'm preparing for a Latin America Tour with Therion in November. December seems cool, but then, the whole of January 2016 we go on a European Tour with Therion…
Hardrock Haven: Any last words?
Nalle Pahlsson: This album is a personal victory for me – it feels really good! Thank you Alexandra!
Photo credits: Sigrid Ingela Blom