Imperia | Tears Of Silence
by Joe Mis
– Sr. Columnist —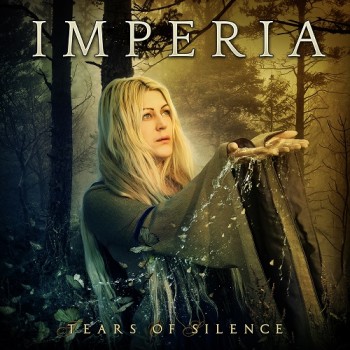 Tears Of Silence is the fourth release from the multinational European quartet know as Imperia. Crossing genre boudaries, Imperia's latest should prove a popular choice for fans of the Gothic, Operatic, and Orchestral Metal as well as mainstream metal. Fronted by popular Norwegian vocalist Helena Iren Michaelsen (Angel, ex-Trail Of Tears) and backed by a veteran team of musicians, Tears Of Silence is easily a contender for a top-10 spot on almost anyone's best Rock album of the year list.
For those not familiar with Imperia, they have a long history extending back to 2004 when they released their debut album entitled The Ancient Dance Of Qetesh. They followed up with Queen Of Light in 2007, and Secret Passion in 2011. They also released a side project as Angel called A Woman's Diary – Chapter I in 2006.
Warm keys and flowing acoustic guitars open "Silence Is My Friend,, but the band quickly rolls in many elements of Orchestral Metal while turning it up to 11. Helena displays a solid vocal range in both lead and backing modes, and the band handles the varied tempos and timing changes flawlessly. This opener is quintessential Imperia, fully demonstrating the band's talent, musical ambitions, and almost cinematic style. Acoustic instruments (bouzoukis in this case) are rolled into "Crossroads" giving the track a bit of a folk metal feel, while Helena flirts with the operatic side of her voice while hitting some impressive grunts and growls. "Broken" is an energetic, heavy Symphonic track with multi-layered vocals (including some death metal growls) and a rather manic drum line. Things slow down a bit on the epic "Away," a track with a wonderful musical flow generated by keys, bass, and drums – and a great guitar break leading to a long orchestral interlude.
"Friheten Vil Seire" is sung in Helena's native Norwegian. The title translates to "Freedom Will Conquer," but listening without focusing on the lyrics (especially if you don't understand Norwegian) allows one to fully appreciate the flow of the music and the integration of vocals and instruments. "My Screaming Heart" is an Orchestral Metal tune with an upbeat and complex rhythm line and a theatrical feel, while "Motherlove" is almost pure progressive metal packed with gritty vocals and squealing guitars. "The Vikingsong" opens with a definite touch of medieval times and then becomes more of an Operatic/Folk Metal piece complete with growled vocals, flutes and pipes, a hot guitar break, and viking battle sounds in the background. If there is one track that approaches "over-the-top," this is it. An epic, almost triumphant sound returns on "Spirit Chase (Keep Fighting)" – a vocal driven track that pushed the entire band to the limit.
Beautiful acoustic guitars and well done keys highlight the haunting power ballad "Innocent Child," while rich synths and keys make "Wings Of Hope" a smooth and uplifting Modern Metal piece with a pleasant orchestral outro. "We'll Be Free" starts as a radio-friendly commercial rocker with superb vocals and a toe-tap inducing rhythm, which then morphs into a rollicking operatic tune with strong guitars. "Broken Hearts" is a sad, tearjerker ballad built around piano and voice – quite different than anything else on the album.
Overall, Imperia's Tears Of Silence is an excellent album. Mixing elements of the Symphonic, Orchestral, and Progressive Metal into straight up Metal keeps the music accessible to fans of any of these genres, and fans of strong female voices will fall in love with Helena Iren Michaelsen's powerful delivery. Yrlund, Verstreken, and Wolz deliver technical perfection and play with enough passion to match. The engineering is solid and strong with a natural warmth that highlights Helena's vocals without diminishing the impact of the rest of the band. At times the music is simple, and bombastic at others – so there is music here that will please just about everyone.
Tears of Silence is highly recommended!
Genre: Gothic, Atmospheric Metal
Band:
Helena Iren Michaelsen (vocals)
Jan Örkki Yrlund (guitars)
Gerry Verstreken (bass)
Steve Wolz (drums)
Track Listing:
1. Silence Is My Friend
2. Crossroads
3. Broken (When The Silence Cries)
4. Away
5. Friheten Vil Seire
6. My Screaming Heart
7. Motherlove
8. The Vikingsong
9. Spirit Chase (Keep Fighting)
10. Innocent Child
11. Wings Of Hope
12. We'll Be Free (Bonus Track)
13. Broken Hearts (Bonus Track)
Label: Massacre Records
Website: http://imperiaband.com/
Hardrock Haven rating: 8.5/10