by Cameron Edney
– Guest Columnist —
In the late 80's a long blonde haired, starry eyed guitar player smashed onto the Heavy Metal scene full of ambition and truck loads of talent. It wouldn't take long for the Jersey born axe-man to become known as one of the finest guitar players in heavy music. Zakk Wylde shot to stardom playing alongside Heavy Metal madman Ozzy Osbourne and for more than ten years toured around the world and released some killer material including the great No Rest for the Wicked and No More Tears albums. Zakk stepped out early on to show he was just more than a guitarist for a Metal god and in 1991 he put together his first fronted project Pride and Glory which released one album before disbanding in 1994. Two years later Zakk released his first solo album Book of Shadows a killer collection of acoustic tracks that still to this day I regard as one of my all-time favorite albums.
While continuing to tour and record with Ozzy as well as making special guest appearances on countless albums Zakk put together Black Label Society which has become more than just a band since forming in 1998, it's now a worldwide brotherhood and heavy music fans just can't get enough of Black Label Society's no bullshit, in your face heavy rock! Last year Zakk Wylde's Black Label Society released their ninth studio album Catacombs of the Black Vatican, another vicious onslaught of heavy guitar driven riffs and melodic masterpieces such as 'Angel of Mercy' and 'I've Gone Away' and now the band are returning to Australia for their first headline shows since 2006.
I had the extreme pleasure of catching up with the ever so funny Zakk Wylde last week to talk about the bands return to Australia, we also spoke about Zakk's new company Audio Wylde, the long awaited follow up to the Book of Shadows album, laying down solo's in the studio and the headaches you face when making sure your lip-gloss matches your fishnet stockings … it's okay, read our chat below and all will be explained and with that i hand you over to the one and only Zakk Wylde!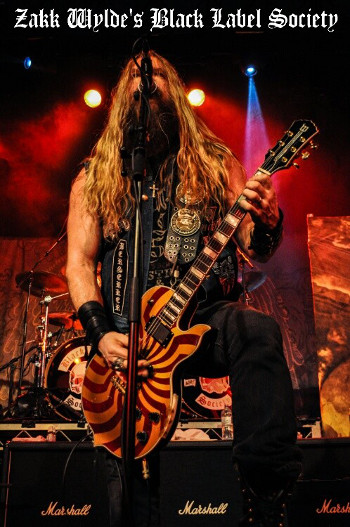 Cameron Edney: Hey Zakk, good afternoon, it's great to be chatting with you once again how ya doing?
Zakk Wylde: [In his best old lady voice] Why hello there! [Laughs] I'm doing well buddy!
Cameron Edney: [Laughs] oh boy we're going to have one of those chats aren't we [laughs]! Mate it's great to be speaking to you again today, it's been a couple of years since we last spoke and a lot has happened in the Black Label Society camp in that time… Let's talk firstly about the upcoming Australian tour. It's great to see you heading back to Australia this month for another run of shows. No doubt you're thrill to be returning?
Zakk Wylde: Yeah without a doubt man, I can't believe it's been ten years since our last headline shows down there and it's been a couple of years since we did the Soundwave festivals, we're definitely looking forward to it!
Cameron Edney: The band has undergone a couple of line-up changes since your last visit; both Chad and Nick are no longer in the band… Tell us what Jeff and Dario are bringing to the table and how the dynamics have changes in a live environment with new blood in the band?
Zakk Wylde: Dario's phenomenal man… considering that he's twenty six years old he has great technique, a real feel, plus he plays the keys, he sings and he cooks an amazing chicken piccata so he's crushing. Jefferies just as amazing! He can play great double bass, plays with a lot of speed, and obviously there's no need for the insane speed cause we're doing more of a laid back show but there's nothing that Jeff can't play! I love all the guys that I've always jammed with. Black Label Society is pretty much a fraternity and a brotherhood and all the guys are unique that jam, no one's qualifications outweigh the other. They all have to be able to play and no one can be a tool bag cause I'm the lead singer and I'm the only one who's allowed to be that.
Cameron Edney: [Laughs] The Australian tour kicks off on November 25 in Perth; tell us how the rehearsals have been going for this run?
Zakk Wylde: Right now my main concern is trying to get my nail polish, my lip gloss and my eye shadow to match my fishnets [laughs]
Cameron Edney: [Laughs] Zakk that sounds wonderful [laughs].
Zakk Wylde: I'm bringing the full black label men's lingerie line down… I'm just getting used to walking in these heels [laughs].
Cameron Edney: Well thinking about it, you really want to make sure you know how to walk in those things right… the last thing you want is to face plant on stage wearing heels and fishnets [laughs]
Zakk Wylde: Especially when we have these grizzly bears and I wrestle a twenty foot great white shark, you want to be able to manoeuvre!
Cameron Edney: [Laughs] Absolutely; I couldn't think of anything worst [laughs]. Mate you certainly have the best seat in the house to witness all the mayhem that takes place out in the crowd whilst performing as well as the occasional onstage mishaps that happen… what comes to mind when you think back about some of the more crazier things you've seen happening whilst onstage?
Zakk Wylde: Oh we just did this last run of 'Unblackened' shows and they're pretty much the mellow side of Black Label Society but… [laughs] there was more brawls breaking out doing the Unblackened run then we saw over any of the heavy shows that we've done. It was pretty hysterical man.
Cameron Edney: Oh that's pretty funny man, guys kicking' back filling up on booze needing an outlet for their aggression, they figure fuck it the guy next to me will do [laughs]
Zakk Wylde: Absolutely hysterical man, the piano would come out and next thing you know it would turn into complete mayhem out in the crowd!
Cameron Edney: I'm glad you bought up the 'Unblackened' tour, I love the DVD you guys put out surrounding the tour and wanted to know if you have any plans to bring that type of show down to Australia, a real stripped back, all acoustic BLS tour at some point in the future?
Zakk Wylde: Yeah without a doubt… me and Dario have this cruise going on that we're getting ready to do, and we just got back from South America, just me, Dario and a Piano. I always enjoy doing those shows as well. When we headline with Black Label Society we always find time to break it down and do some mellow stuff during the show.
Cameron Edney: Moving away from touring Zakk I want to talk to you about life in the studio… first off next year will mark the 20th anniversary of the release of one of my all-time favourite albums Book of Shadows, there has been a lot of talk for some time now on the follow up to this getting released… tell us how that's all going and where you're at with it at this point in time?
Zakk Wylde: The Book of Shadows album is taking a bit of time cause we're going in to record some more, then we're back out on the road, then record some more, then back out on the road. That's the first time we've done it like that; usually its one explosion of creativity and then it's done, we mix it then we tour. We ended up writing about forty songs, there's a bunch of stuff that will be used and spread out as Black Label Society. JD's out here right now mixing the album. Jeff came out and recorded another four songs and we will get a lot of mixing done before we leave for the road, come back and mix some more then the album will be done. Obviously we will end up touring behind it!
Cameron Edney: That's great news man; I'm really looking forward to hearing it! Congratulations also Zakk on Catacombs of the Black Vatican this is another killer album from you guys, when you look back over the time period writing and recording this one what comes to mind?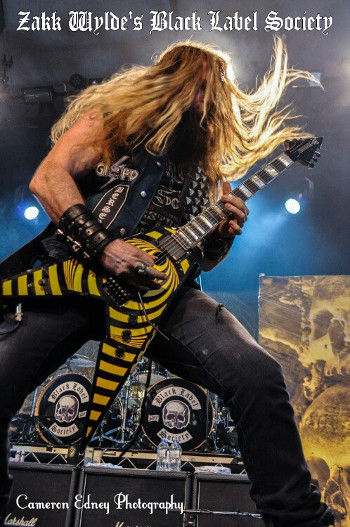 Zakk Wylde: The last one we did… we had it written in about three weeks, we went in and just knocked out the recording. I'd go sit in the truck and write, come up with some melodies and write some lyrics. In the beginning of Black Label Society we were doing an album every year and then touring on it. You would be on the road, home for two months, make a record and back out on the road again. Now the album comes out and we pretty much tour for three years I enjoy both but this way it gives the album a chance to have some life.
Cameron Edney: Zakk in the past we have covered a number of guitar related questions but I wanted to ask you about soloing and putting the solos together for the albums… As many of us know nowadays a lot of work goes into pre-production, when you hit the studio do you know what you want to do song by song with the solos or do you just work spontaneously to the music as you go?
Zakk Wylde: I can do it that way… The solo's go on after the vocals are done, it's really old school solo writing. Solo's have to have a beginning, middle and an end like 'Stairway to Heaven' or 'Hotel California', it's part of the song. If I'm going to sit down on somebody's record I'll either construct something there or beforehand but the solo's on the records … usually I'll have Adam burn me a Cd and I'll play it over and over, sit down with a practice amp and I'll work out a solo until i get something I'm happy with.
Cameron Edney: Mate over the years you have been fortunate to have released a number of signature guitars and accessories and earlier this year you unveiled your brand new company Audio Wylde which will have a new range of custom Amplifiers and Guitars, how will these differ from previous models you've had released?
Zakk Wylde: I've been truly blessed to be with all of the companies that I was with, they're all legendary companies. To help not only endorse the guitars, the amps, the pedals but to be able to help design them is just awesome. This is no different to me starting Black Label Society while I was playing with Ozzy, now it's just your own baby. I love it; I wouldn't change it for anything. To me it's just the next step and the next phase. At one time you're the player on a team, and then you coach the team before becoming the Team manager. The only next step for me and you is to be team owners. I couldn't be any happier with it to be honest with ya!
Cameron Edney: Before we wrap it up I wanted to talk to you about the fans… you have some incredibly dedicated fans man that go to insane lengths to show their love for the work you have created over the years. There are fans that get sheet music, lyrics and even portraits tattooed and no doubt you meet these fans from time to time around the world at the various meet & greets. What runs through your mind when you have fans come up to you telling you how your music has helped them get through difficult times and they show their dedication love and loyalty through body art, it must blow your mind man!
Zakk Wylde: Without a doubt, it really shows you the power of music and how awesome it is man! It's awesome… we don't have fans we have fams; we're one gigantic family, this band brings people together. A guy walks into a bar, sees another guy in a Black Label Society t-shirt and they start talking, next thing you know, it's six years later and he's the best man at the guys wedding… it's a beautiful thing man
Cameron Edney: Zakk, lastly in this industry you're always learning… no matter if it's out on the road, in the studio or the all important business side of things, what do you feel has been the most valuable lesson you've learned to date?
Zakk Wylde: I always tell kids if you're going to play music for the rest of your life, just make the band your job, you have to be all in! I have a million Black Label Society things i want to do; it's not just waking up in the morning and running some scales, practicing and writing. If you don't have a guitar in your hand and you aren't sitting at a piano, start coming up with artwork and your merchandise. There's always something going on. If you're a team owner, me and you are working on trades to make the team better and then after the trades we sign some guys then we talk about the stadium, how the stadium looks, then we talk about the concessions, the restaurants at the stadium… there's a million things going on outside of the game that is being played, it's all encompassing man!
Cameron Edney: Absolutely mate, there's always much more in the big picture! Well Zakk sadly we're out of time man but it's been fantastic to catch up with you. I can't wait to see you guys back in Sydney for these shows. Do you have any last words for the Australian fans or more directly the Sydney chapter?
Zakk Wylde: Tell the Sydney chapter of the almighty Black Label Society to stay strong and keep bleeding black brother!
Photos appear courtesy of Aimee Edney.
ZAKK WYLDE'S BLACK LABEL SOCIETY ARE TOURING AUSTRALIA THIS WEEK!
Limited Tickets are still available from the usual outlets.. get them before it's too late!