by Justin Gaines
– Sr. Columnist —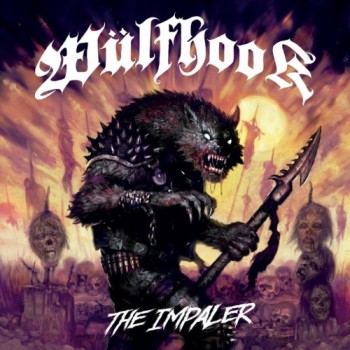 After a series of well-received demo releases, Detroit-based Heavy/Power Metal band Wulfhook finally unleashed their full-length debut album this year. It's titled The Impaler, and as the fierce metallic beast on the cover suggests, it's a monster of a metal album.
Wulfhook, like a lot of up and coming American bands, plays straight-up, old school, denim and leather heavy metal. The razor sharp riffs "Metal" Matt Martin lays down here are very similar to what you'd hear on a Twisted Tower Dire or Seven Witches album, and the headbanging rhythms channel the classic Judas Priest sound. It's vocalist Jeff "Sling" Schlinz who steals the show though. With his range and sheer power he sounds like an American Ralf Scheepers, giving the album an early Primal Fear vibe, which is definitely not a bad thing.
The Impaler is pure steel from start to finish. As soon as the misleadingly tranquil opening strain of the title track gives way and the riffs kick in, you know this is something special. "The Impaler," Bridge Burner" and "Devil's Harlot" are perfect examples of how a modern band can play an old school sound and do it without sounding like a parody. "Tormentor" is the album's "Painkiller," and is as good a pure heavy metal song as you're likely to hear all year. The album closes with a Metal-studded cover of Van Halen's classic "Atomic Punk," which is a fun way to wind things down.
Wulfhook is the perfect example of a just under the radar American band outshining the best of what the more established bands have to offer. There probably isn't a better pure heavy metal album this year than The Impaler. If you're a die-hard fan of bands like Judas Priest, Acccept, Primal Fear, Helstar and Twisted Tower Dire, it's time for you to join the Wulfpack!
Genre: Heavy Metal, Power Metal
Lineup:
Jeff Schlinz (v)
Matt Martin (g) (b)
Jeff Ditner (d)
Track Listing:
1. The Impaler
2. Brutal Nightmare
3. Through the Darkness
4. Bridge Burner
5. Samara's Well
6. Eternal
7. Sacrifice
8. Devil's Harlot
9. Tormentor
10. Atomic Punk
Label: Divebomb Records
Website: www.facebook.com/wulfhookband
Hardrock Haven Rating: 8.75/10