by Justin Gaines
– Sr. Columnist —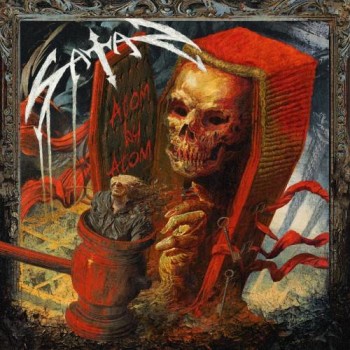 Arguably the best comeback story in Metal in recent years, New Wave of British Heavy Metal (NWOBHM) band Satan has been on fire lately. First they returned after a 25 year absence in 2013 with the excellent Life Sentence, then they followed it up with extensive touring in 2014 and the Trail of Fire live album. Now the band is back with a new studio album, their fourth overall, titled Atom By Atom.
Amazingly, Satan's lineup here is the exact lineup that gave us the 1983 NWOBHM classic Court in the Act. The band brings much of that same energy and atmosphere to Atom By Atom as well. Russ Tippins and Steve Ramsey's twin lead guitar work really defines the album, delivering equal measures of speed and heaviness. And if anything, Brian Ross's vocals are stronger and more dynamic than ever. His unique vocals add so much character to Atom By Atom, especially on the more narrative songs like "Ruination" and "The Devil's Infantry." Other highlights of this very impressive release are the driving, melodic title track and the epic closer "The Fall of Persephone," which steps well into Doom Metal territory.
There are also a pair of "finishing touches" that are worth mentioning, namely the excellent mixing job by Dario Mollo (of The Cage) and another evocative cover painting by Eliran Kantor, whose style suits Satan's music so well.
As strong as Life Sentence was (and it was a fantastic album), Atom By Atom is just as strong, if not stronger. This is a first class Heavy Metal album, and one of the best pure metal releases of 2015. In an era when so many older bands are content to go through the motions, it's great to see bands like Saxon, Angel Witch and Satan, who still give every new album 110%. And Satan's appeal isn't limited to the older bands' fanbase. Atom By Atom is just as likely to please fans of bands like Ram, Atlantean Kodex and Visigoth.
Genre: Heavy Metal
Lineup: Brian Ross (v)
Russ Tippins (g)
Steve Ramsey (g)
Graeme English (b)
Sean Taylor (d)
Track Listing:
1. Farewell Evolution
2. Fallen Saviour
3. Ruination
4. The Devil's Infantry
5. Atom By Atom
6. In Contempt
7. My Own God
8. Ahriman
9. Bound in Enmity
10. The Fall of Persephone
Label: Listenable
Website: www.satanmusic.com
Hardrock Haven Rating: 9/10