The Murder Of My Sweet | Echoes of the Aftermath
by Joe Mis
– Sr. Columnist —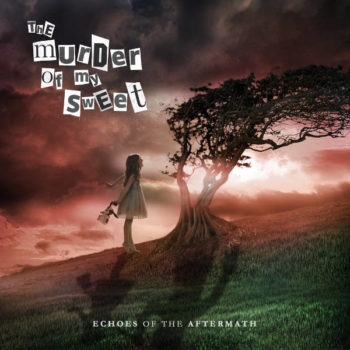 Echoes of The Aftermath marks the triumphant return of Swedish rockers The Murder of My Sweet to the European and world Metal stage. Quiet since 2015, the Symphonic, Gothic, Progressive quartet has proven that they have only gotten better over time, and have released a gem of an album that should have truly broad appeal.
On Echoes of the Aftermath, their fourth studio album, TMOMS has broadened and slightly softened their style, pushing some of the darker Gothic influences aside and focusing on more radio friendly yet still edgy melodies and riffs. Their current release can be best described as female fronted melodic metal with elements of Gothic metal, symphonic metal, and power metal blended with a touch of pop metal. No matter how you slice it, thanks to a stable and veteran lineup this is undoubtedly The Murder of My Sweet through and through.
Founded in 2006 by drummer and producer Daniel Flores and singer Angelica Rylin, The Murder of My Sweet puts out music inspired by modern culture, book, movies, and personal experience in a truly theatrical and cinematic style. Even the band's name is inspired by the 1944 film Murder, My Sweet. TMOMS has built a solid catalog of music over the years – debuting in 2010 with Divanity, followed by Bye Bye Lullaby (2012), and Beth Out of Hell (2015). This year's Echoes of the Aftermath is a worthy successor and will please fans both old and new, as it follows the formula that has always worked for the band: tight musicianship, heavy orchestration, and of course the wonderful voice of Angelica Rylin.
TMOMS is equally comfortable with the heavy, yet flowing "Sleeping Giant," the cinematic and orchestral "Cry Wolf," the more Progressive, Gothic-tinged "Personal Hell" (a track that proves that someone out there is still willing to lay down a great guitar solo!) – and they shine on the balladesque "Echoes of the Aftermath". Rylin is an exceptional singer, delivering with fire and passion. Christopher Vetter (guitar) puts out some excellent catchy riffs and sparking solos, while Patrik Janson (bass) and Daniel Flores (drums and keys) provide a solid backbone that drives many of the tracks. Their veteran status is obvious and clearly illustrated by the band's tight musical teamwork.
The high point of the album is without a doubt "Racing Heart" – a simpler, lighter track with a fine rhythm line and sing-along chorus. Everything works here, from the keyboard intro to the intense riffs to the varied drum tempos to the soaring vocals. The upbeat rocker "Ode To Everyone" is another standout track thanks to a spirited delivery, strong lyrics, and a spectacular guitar solo. Rylin gives an exceptionally fine performance on the energetic "In Risk Of Rain," but she truly blows the roof off on the mostly acoustic closing ballad "Inside, Outside". This tune also highlights the massive keyboard skills of Daniel Flores.
If there are any disappointments on this album they are few and far between. "Loud As A Whisper" is a decent track but feels a bit drawn out and plodding, and "Shining After Dark" is pure pop-metal and seems out of place.
Beautifully recorded and produced, the overall sound suits the band – near Power Metal crispness yet maintaining a sense of warmth. Nicely balanced between vocals and instruments, the mix does not favor a single performer but gives every member a chance to step to the front.
Overall, The Murder Of My Sweet's Echoes of the Aftermath is a very strong album. Although a bit lighter and less orchestral-symphonic than their previous releases, Echoes of the Aftermath has something to offer long-time supporters and new fans alike. Fans of symphonic or Gothic Metal will be at home, as will those who enjoy more mainstream rock or Female Fronted Rock.
Genre: Modern Melodic Metal
Band:
Angelica Rylin (vocals)
Christopher Vetter (guitar)
Patrik Janson (bass)
Daniel Flores (drums, keyboard, backing vocals)
Track Listing:
1. Sleeping Giant
2. Personal Hell
3. Racing Heart
4. Cry Wolf
5. Echoes of the Aftermath
6. Flatline
7. Loud as a Whisper
8. Shining After Dark
9. Ode to Everyone
10. Go On
11. In Risk of Rain
12. Inside, Outside
Label: Frontiers Records
Website: http://themurderofmysweet.com
Hardrock Haven rating:
(9.3 / 10)