Greta Van Fleet | Black Smoke Rising
by Steve Patrick
– Sr. Columnist —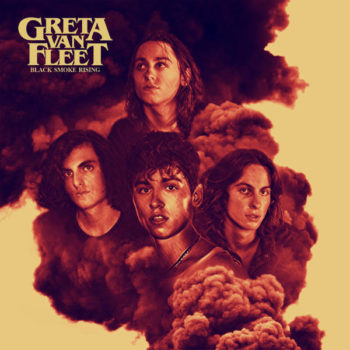 As the old adage goes, "Where there's smoke, there's fire." Michigan's own Greta Van Fleet is the embodiment of that saying. On its debut EP Black Smoke Rising, Greta Van Fleet prove that Rock is not only still alive but has been reborn in this young four-piece from Frankenmuth. The EP's lead single "Highway Tune" raised a lot of smoke recently in the music community and the buzz is growing now about Greta Van Fleet's fiery live performances.
The band's effortless chemistry must be linked to the group's genetic makeup: 3 brothers and their childhood friend. Twin brothers Josh (vocals) and Jake (guitars) Kiszka, younger brother Sam Kiszka (bass, keyboards), and drummer Danny Wagner weave each other's varied musical backgrounds into a melting pot of rock, metal, pop, blues and grunge.
Josh Kiszka has somehow managed to go back in time, meet a 20-year old Robert Plant, and steal his vocal chords. That being said, it is important to note that Greta Van Fleet is not a Zeppelin clone band. The voice may sound like Plant, but its application on these songs is fresh and entertaining. Jake Kiszka also channel's Jimmy Page's jangle-ly riffing at times, but it never sounds forced or stale. Sam Kiszka and Danny Wagner provide the solid-as-a-rock foundation off of which Josh and Jake take flight.
One of the most exciting things about this group is their collective youth and hunger. Half of Greta Van Fleet is still in high school and they are about to embark on a run of dates supporting English rockers The Struts. Making the music that they do, Greta Van Fleet are the underdogs that fans of real rock music will love to root for and support. Picking up the band's excellent debut EP is the perfect way to do just that.
Genre: Rock
Band:
Josh Kiszka – vocals
Jake Kiszka – guitars
Sam Kiszka – bass/keyboards
Danny Wagner – drums
Label: Lava Records
Website: www.gretavanfleet.com
Check out the newly released music video for "Highway Tune" here:

Hardrock Haven rating:
(9 / 10)