Shoshana Feinstein Former Backing Vocalist for Ritchie Blackmore's Rainbow
by Christopher Willow
— Journalist —
Exclusive interview with Ritchie Blackmore's Rainbow very first background vocalist Shoshana Feinstein. Feinstein, a former girlfriend of Blackmore, offers fans her never published memories of the early seventies when Ritchie made his segue from Deep Purple to the formation of his Rainbow with Ronnie James Dio.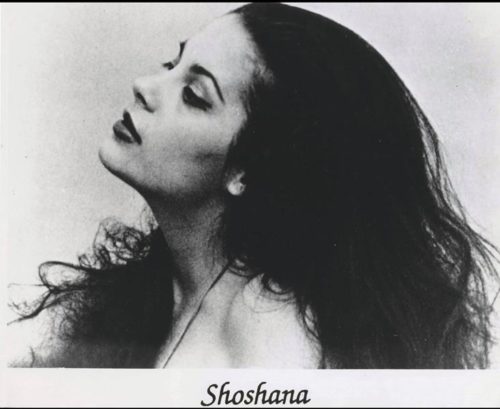 Christopher: Hi, Judith. It is Christopher Willow a publicist speaking.
Shoshana Feinstein: Hi, Christopher, it is good to talk with you about a part of my life that I have not revisited in a very long time
Christopher: How are you today? I have heard you had a Nor Easter snow blizzard some time ago. After so many years of our friendship, we are here to do a unique interview. Could you tell me, please where you are now?
Shoshana Feinstein: I am doing great thank you; living on a farm with my animals composing more music as well as recording. This winter we did not get any as we call them up here just a few winter storms where the snow accumulation was about twelve inches. I manage in the winter well, maybe because I am half-Russian? My friends call me "The Snow Queen."
I live in the Northern part of the Rhode Island State, here in the USA in the woods. When I look out in the back of my home and what I see are trees and beautiful stone formations caused by the glacial ridge that settled in the northeastern part of America I call my place Avalon which is an allegorical name for Heaven or Paradise (King Arthur's final resting place). This is my tiny piece of heaven here. The winters can be very cold and when it snows, we can get up to 3ft (1 m) of snow. The North Wind howls up my back twenty and the snow swirls like fairy dust at times creating a mythical environ. Spring is verdant, I am surrounded by ash, oak and birch trees. My yard is filled with crocuses, tulips daffodils, and poppies. I am very much a country girl, which is why I could not reside for long in any city that I have lived in.
Christopher: What are your roots? I know you loved your father very much.
Shoshana Feinstein: My Mother was born on July 17, 1923 to an Italo-American Family by the name of Iacovone, that was changed to Jackvony. My Father Saul Samuel Feinstein was born on July 16, 1923 – interesting enough! His parents came to America from Odessa, Ukraine, at the beginning of the 1900s. Odessa was a city thriving with artists and musicians, mostly Jews. My grandfather name was Benjamin and my grandmother Anne was from Minsk, Belarus. My Father was the wisest and kindest man I have ever known. He grew up the son of a tailor and lived in a three tenement building in Woonsocket Rhode Island, USA. He succeeds with his own business selling life insurance. My Father was a member of the 460th Bomb Group Fifteenth Air Force division during WW II from 1944 – 1945. He flew missions over Spinazzola, Italy. I have his medals of honor for rescuing a fellow downed airmen and his purple heart for bravery. Many of my Fathers cousins were musicians, my father played the violin and later the trumpet. He was my best friend and advocate; he never told me that I could not do what I was born to do; sing. He never told me that I needed to settle down and get married. He encouraged my gifts as a musician until the end of his life.
My parents met in high school when they were 14. It is interesting how the two families from different countries and heritages joined together. When my mother married my father in 1948, she converted to Judaism.
Christopher: Did anybody from your family become an artist or a singer?
Shoshana Feinstein: I am a direct descendant on my Mother's Italian side of Dante Gabriel Rosetti the pre-Raphaelite painter and Christina Rosetti the poet-ess. Most of my aunts, uncles, and cousins are musicians, painters, composers, and sculptors. I am proud of my rich heritage and the culture that my family comes from as well as the education that was instilled in me.
Christopher: When and where did your adventure with singing and music begin? What was the name of your first band? What was your favorite group?
Shoshana Feinstein: I knew from the age of two that I wanted to be and would be a singer. I recall watching Kate Smith singing "As the Moon Goes Over the Mountain," on our black and white television set and declaring to my beloved father, "Daddy I want to sing just like her! Apart from being crazy about horses and not the least bit interested in dolls, I was always singing and performing for anyone who would grant me an audience. Apparently, after the 4th grade Christmas concert, I was told by my friend's parents in the audience, they could hear me above everyone else. My first instrument that my Dad introduced me to was the coronet. He had played trumpet in college as well as in the army band. I practiced and practiced my armature with the mouthpiece until my lips hurt. Made it to the first trumpet in the elementary school band. Ha.
When I was twelve years old, I saw my first opera on television, Carmen, with Marilyn Horne. I was mesmerized. This was an "ah-ha" moment for me. I wanted to be Carmen! Once I was fifteen I began formal vocal training in my town with a strict teacher who started me off with college level vocalizes. Back in 1966 opera was not popular at all, nor was classical music, but I learned Debussy, Ravel, Schubert and Mozart pieces at first. Performing classical music at the time did not interest me so I gravitated to fronting bands. My musical influences were Motown, Dusty Springfield, Aretha Franklin, San Francisco rock and the British Invasion bands.
One of my first bands a very good band was called "UNCAS" named after the last of the Mohicans. We played Jefferson Airplane, the Doors, Grand Funk, Cold Blood, Moody Blues, Yes, The Beatles. Everything from the era of the 60s and early 70s. The drummer and I loved Deep Purple and would attend many concerts one of which (the Bronx) is where I met Ritchie. I especially admired Jon Lord's playing. I had studied classical piano since age nine and I knew that Jon Lord was classically trained, which is what drew me to Deep Purple, to begin with. I loved the sound and energy of Deep Purple.
My favorite band in those times and still is The Moody Blues. Justin Hayward the guitarist has had a tremendous influence on my compositions.