Exit Eden | Rhapsodies In Black
by Joe Mis
– Sr. Columnist —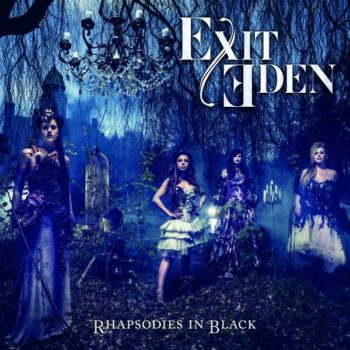 Here's an interesting recipe: take 4 powerhouse female vocalists, a talented (but sadly uncredited) studio band, and a mix of songs from pop to rock – then cut them loose. The ultimate result is Exit Eden, and they are debuting an 11 track release of cover tunes by artists ranging from Madonna to Bryan Adams to Rihanna to Backstreet Boys entitled Rhapsodies in Black. While this seems like it might be the recipe for disaster, these are not imitation cover tunes – they have been twisted, turned inside-out, and played with a decidedly Gothic/Symphonic Metal style. In fact, most take a serious amount of listening to actually identify the song if you don't know the lyrics – most start as "Hmm, this SOUNDS familiar but…"
The four voices that make up Exit Eden should be familiar to fans of Female-fronted Metal or Symphonic Metal, and each brings an impressive CV to the group. They are Amanda Somerville, Clémentine Delauney, Marina La Torraca and Anna Brunner – each from a different country, and each with a distinct style. Their unique interpretation of these Rock and Pop "classics" make this more than a mere cover album. A bit orchestral, a bit symphonic, a bit power – almost every Metal genre is rolled into these twisted tales. The band has taken these musical pieces and made them their own rather than trying to do the hackneyed "sound alike" cover. Rihanna's "Unfaithful", for example, makes a superb symphonic metal track.
American Amanda Somerville will probably be the most familiar name to the casual rock listener. She has experience as both a solo artist and as part of well-known rock acts such as Avantasia, Epica, and Kamelot. She also fronted her own Metal projects Trillium and Kiske-Somerville (sharing the spotlight with Helloween's legendary vocalist Michael Kiske). Parisian Clémentine Delauney has been rocking for more than 15 years. She is currently the lead singer of the Symphonic Metal band Visions Of Atlantis and has performed with Kai Hansen on his debut release, and metal acts Serenity and Melted Space. Brazilian Marina La Torraca has been with a number of metal acts including Avantasia and currently fronts her own band Phantom Elite. German singer Anna Brunner is the relative newcomer, but has been singing for many years and has honed her voice very well.
"Incomplete" allows each vocalist a time to shine, and it is quite easy to pick up their different styles, tones, and deliveries. Shontelle's "Impossible" translates very well into a metal piece built around the superb lead and backing vocals, while Madonna's "Frozen"(with some vocal contributions from Epica's Simone Simons) makes a fine operatic orchestral track. The standout track is undoubtedly Bryan Adams' "Heaven." Their reinterpretation ranges from soft acoustic guitar and violin to heavy power chords, and their vocals during the chorus are amazingly powerful. The band makes Katy Perry's "Firework" into an upbeat hard rocker – and is probably closest in tone and feel to the original, while their "Skyfall" gives Adele's original a run for the money.
There is little not to like about Exit Eden's Rhapsodies in Black. It is engineered to bring out the best of the amazing vocal talents of Somerville, Brunner, Delauney, and La Torraca. Their supporting band is solid from end to end, holding everything together without distracting the listener. The only downer is simply the fact that these are ALL cover tunes – a group with this much talent should have at least put ONE original piece on the release no matter how much they reinterpreted the classics. We all know how little respect cover bands get in today's day and age no matter how talented they are, or how original their recreations…
There is no doubt that the singers of Exit Eden are incredible vocalists and amazingly dynamic performers. Their interpretations and re-envisionings of classic pop tunes are clever and creative – however, they truly need to add some original material to any future endeavors so they can be seen as a great band rather than a great (and gimmicky) cover band. It seems easier (and more acceptable) for an established act to take a break and put out a cover album for fun than it is for a new act that opens with a cover album (no matter how good) to break out of that "oh, they're just a cover band" stereotype.
Exit Eden's Rhapsodies in Black is highly recommended for fans of Female-fronted Metal or Symphonic Metal.
Genre: Symphonic Metal
Band: Amanda Somerville, Clémentine Delauney, Marina La Torraca, and Anna Brunner
Guest Performers: Simone Simons (vocals on "Frozen"& "Skyfall"), Rick Altzi (vocals on "Total Eclipse of the Heart")
Track Listing:
1. A Question Of Time (Depeche Mode cover)
2. Unfaithful (Rihanna cover)
3. Incomplete (Backstreet Boys cover)
4. Impossible (Shontelle cover)
5. Frozen (Madonna cover)
6. Heaven (Bryan Adams cover)
7. Firework (Katy Perry Cover)
8. Skyfall (Adele cover)
9. Total Eclipse of The Heart (Bonnie Tyler cover)
10. Paparazzi (Lady Gaga cover)
11. Fade To Grey (Visage cover)
Label: Napalm Records
Website: www.exit-eden.com
Hardrock Haven rating:
(7.5 / 10)