Moonlight Desires | Just the Hits 1981-1985
by Derric Miller
– Managing Editor —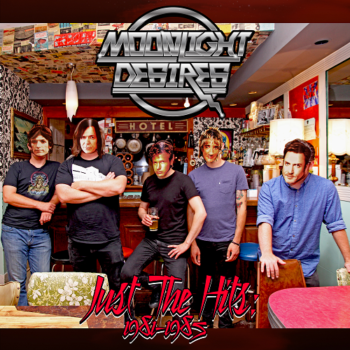 This kind of album needed to be released today. Like literally, whatever day you read this … THAT day. If you are paying even the slightest bit of attention to the world today, everything kind of sucks. You know what doesn't suck? Moonlight Desires covering some of the biggest hits of the '80s and not just covering them, but infusing them with some steroid, testosterone-driven riffs, solos, vocals, pummeling drums and oh yeah … fun.
Hailing from Canada (because of course), the band features past/present members from bands like Chore, Threat Signal, The Inflation Kills and DAVIDS, while frontman/guitarist Trevor Ziebarth (aka Ricky Butcher from the cartoon Sons of Butcher) sings with surprising versatility yet never, ever forgets that Tenacious D expects, no demands of them to bring the Rock.
"A Criminal Mind" from Lawrence Gowan is the first cover, and if you remember the dramatic video from the hit, it makes this song even funnier. The original is so damn earnest, and Moonlight Desires strips away all the pageantry and proves that a good song is a good song, no matter how you dress it up. Yes, the original is awesome, but the cover is dirtier in a "pick up this half-smoked alley cigarette and light it up" way.
Knowing Canada is part of the equation, you kind of had to guess that "Sunglasses at Night" was going to be part of this hit parade, and it should be. Corey Hart's version is timeless, but bringing it into the now with sharper riffs, a lot more brightness and less brooding makes things as cool as buying a vintage car your grandfather lost his virginity in. (That's cool, right?)
It's hard to pick a "best" on a covers album, but if it's not the Corey Hart cover, then it's Duran Duran's "Hungry Like the Wolf." Since you already know the words (if you are a human person), this is one of those songs (and albums) you can just hit "play" and just start rockin' out to. This get uber-heavy on this track where a guitar solo would be, and the breakdown kills.
It's almost ridiculous how much sense all of these covers make. Simply Red's "I'll Keep Holding On" holds up when turned to 11, and the vocals are the best on the album. The Steve Winwood song "Valerie" gets turned into a bit of a "Summer of '69" style anthem and OH YEAH WHERE'S BRYAN ADAMS YOU GUYS?
They made a video for "Something About You," the Level 42 hit. Again, Trevor can SING. He's got an oddly effortless melodic delivery but he's not trying, it's just intrinsic in his vocal delivery. Yeah, it gets a bit yell-y here, but there's notes, and he hits them. Amen.
Music can be a lot of different things, but there's no importance of being earnest, ever. Like the Straight to Video franchise in the UK, in that case taking movie hits and covering/updating them sonically, Moonlight Desires nails it. They are party anthems, it's all one big rock n' roll show, and if there's anything better than that, it should be listening to Moonlight Desires too.
Genre: Metal, Hard Rock
Band:
Trevor Ziebarth – Vocals, Guitar
Jay Ziebarth – Bass, Vocals
Marco Bressette – Lead Guitar
Nicholas K. Daleo – Lead Guitar
Chris Bell – Drums
Tracklisting:
1. A Criminal Mind (3:43)
2. Sunglasses At Night (2:56)
3. Out of Touch (3:17)
4. Hungry Like The Wolf (2:59)
5. Young Turks (3:51)
6. Bettie Davis Eyes (3:01)
7. Holding Back The Years (3:31)
8. Valerie (3:15)
9. Promises Promises (3:03)
10. Something About You (2:50)
11. The Power of Love (4:38)
Label: Infamous Butcher Records
Web: http://www.facebook.com/moonlightdesires
Hardrock Haven rating:
(8.1 / 10)