Sons of Apollo | Psychotic Symphony
by Franco Cerchiari
– Sr. Columnist —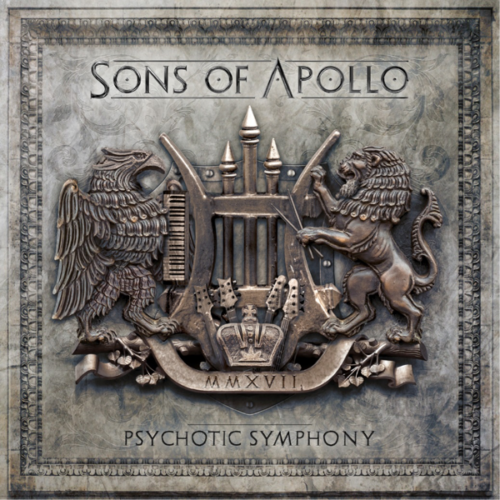 The term "supergroup" gets tossed around a lot within the music industry, but here on Sons of Apollo's Psychotic Symphony, the term "supergroup" in every sense of the word fits the band to an absolute T. On vocals Jeff Scott Soto (Journey, Eyes, Talisman, Axel Rudi Pell,); on guitar, Ron "Bumblefoot" Thal (Guns N' Roses, Lita Ford, Art of Anarchy,); on bass Billy Sheehan (Winery Dogs, Mr. Big, UFO, David Lee Roth,); on keyboards, Derek Sherinian (Dream Theater, Kiss, Alice Cooper, Black Country Communion,); and on drums Mike Portnoy (Flying Colors, Dream Theater, Winery Dogs, Adrenaline Mob, Avenged Sevenfold.)
But let's start by talking about the band itself. When you have the music world's best come together, the result is an absolute Godsend, and on this, the individual talent of all five come together in one incredible showing. Throughout this release, each member of Sons of Apollo is allowed more than ample time to show what they've got. It almost seemed as if this is an album to show the world just how enormously gifted each of these band members really are, and what bringing together such a talented pool can accomplish.
So now let's talk about the songs. The music is extremely structured, planned with methodological exactness, with shifting chord progressions, and irregular drumming. Overall it is loud and intense, extreme and passionate as hell. Released on the Inside Out label, Sons of Apollo is part Progressive Metal, part Symphonic, part Doom, part Melodic Rock, part Hard Rock, part Classic Rock, and upon the opening track coming within earshot, an instant reach for the volume knob was made and it only went uphill from there. Here the best parts of Redemption, Pagan's Mind, Threshold, and Pyramaze, with even the Classic Rock and Progressive keyboards of Uriah Heep tossed in for good measure all come together.
Think of just how great the members of Sons of Apollo are, as you hear the unbelievable guitar, keyboards, drums, bass and vocals of the CD highlight, the simply killer opening track, can't turn up it loud enough "God of the Sun." Here is a track that shines in every way possible. Keyboard and guitar solos are extensive; with huge vocals that carry this song straight into the stratosphere. A bit of Myrath or Orphaned Land can be heard on "God of the Sun" as this song has a Middle Eastern flair, but still, it is heavy with melody and finesse.
Listen as well to the guitars of "Coming Home," the heavy – Redemption heavy – "Signs of the Time," and the to-die-for keyboards of "Labyrinth," and "Lost in Oblivion." The short instrumental "Figaro's Whore" is a pure symphony made up entirely of majestic, regal, creepy, and spacey keyboards, and "Divine Addiction" could be heard on any Uriah Heep album.
Closing Psychotic Symphony is the downtrodden, gloomy almost Black Sabbath vibe of the instrumental "Opus Maximus," a song where the bass guitar of Billy Sheehan comes alive.
When hearing people like Soto, Thal, Sheehan, Sherinian, and Portnoy by themselves, it is a "wow" factor, but when hearing them as an ensemble it becomes a "holy shit" factor. Because of the talents of the band members alone, and how amazing these songs sound when coming from people who are deserving of the "wow" factor, a 9/10 is entirely fair. Of course worthless American radio will ignore this release and once again fail to do just what it is that radio is supposed to do (support bands and play their music) but for fans who want to hear just what a group of people like those who make up Sons of Apollo can produce, you need to hear this.
Genre: Progressive Metal, Symphonic Metal, Melodic Rock, Hard Rock
Band Members:
Jeff Scott Soto – vocals
Ron "Bumblefoot" Thal – guitars
Billy Sheehan – bass
Derek Sherinian – keyboards
Mike Portnoy – drums
Track Listing:
1. God of the Sun
2. Coming Home
3. Signs of the Time
4. Labyrinth
5. Alive
6. Lost in Oblivion
7. Figaro's Whore
8. Divine Addiction
9. Opus Maximus
Label: Inside Out Records
Website: http://www.sonsofapollo.com/
Hardrock Haven rating:
(9 / 10)