Margarita Monet of Edge of Paradise
by John Kindred
— Publisher —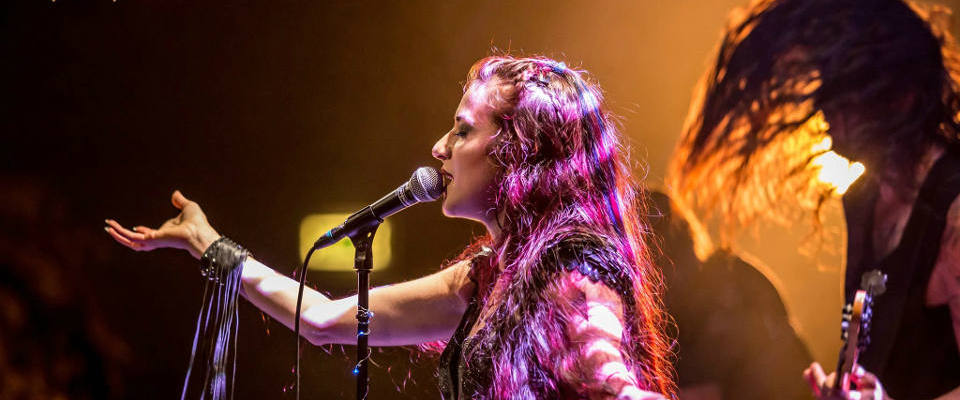 As Edge of Paradise closes out 2017 and prepares its Metal assault for 2018, vocalist Margarita Monet takes a minute to reflect on the band's current accomplishments to date and also looks ahead to the future.
Hardrock Haven: Happy New Year!
Margarita Monet: Thank you! Happy New Year to you, Hardrock Haven and all the fans and friends out there!
Hardrock Haven: So before we talk about 2018, let's revisit changes with the band from 2017. One of those changes is becoming a quartet by adding another guitarist. Why the change and what can you tell us about this new addition? What is his name, history and what does he bring to the band?
Margarita Monet: 2017 was a great year for us, we've actually been thinking for a while about adding a member. Especially with new music on Alive, we really needed an additional guitarist to thicken up the sound, cover the rhythms, and the layers that the songs have on the recordings. We want to sound like the CD live, amplified by the energy of a live show! It's hard to find a second guitarist that plays great but won't want to solo all the time. For us, it's all about the songs, and playing what the song requires, whether it's a heavy riff, shredding solo or something very simple. So we welcomed David Ruiz aboard! David is from Los Angeles, he's had his own band and been playing in bands for years, he was a friend of our bass player, Nick. When we were finally ready to make that step, we knew he was the right fit right away when he came and played with us at rehearsal. He thickens up our sound, adds depth and more energy to our live show. He also has some cool ideas when it comes to writing songs! Plus, we all get along great and now, it's hard to imagine the lineup without him! So now we have double Daves on the axes.
Hardrock Haven: You recently toured Europe. Did you go there as a five-piece? What countries did you visit? How was the band and music received?
Margarita Monet: Yes, this was one of the milestones for us in 2017, we finally made our European debut at Femme Festival in Eindhoven, the Netherlands alongside Delain. We went there as a five-piece, and even though it was only one show, it was great to play in front of such an amazing crowd! We received a very warm welcome from everyone, the fans, the organizers, the bands, we can't wait to get back there! We were a bit nervous as the festival featured Female-fronted European bands, that mostly have a distinct Symphonic sound that is so big in Europe right now. We were the only American band there, our songs have some of that Symphonic sound, but the new stuff is much more Industrial Rock. However, the reception was great, we made so many new fans and are very grateful to have played Femme show as our debut in Europe! What was also cool is that over the years we've gained some loyal fans overseas, and a lot of them traveled to see us, some from the U.S. came along as well, so it was a big party! We made a video from our adventures in Holland, you can check it out here:
Hardrock Haven: You have been working a lot with the legendary Michael Wagener. What has his experiences taught you about recording and singing?
Margarita Monet: We recorded our previous album Immortal Waltz with Michael Wagener that he produced as well, he also mixed "Mystery" a song from our latest CD ALIVE. Michael is part of the family for us, he is very inspiring to work with. It's all about the music with Michael, as a vocalist he guided me to capture the feeling and emotion of every word to bring the song to life. Michael is the king of guitar sound, him and Dave recorded some mean guitars! But I also had so much fun recording keyboards with him, we were playing around with new sounds as well as recording the old school organ through a Leslie. His studio is like Disneyland for musicians. We grew a lot as a band, he put us on the path towards finding our sound!
Hardrock Haven: How was last year's EP Alive received by fans and critics?
Margarita Monet: Alive was received greatly by fans and critics in all parts of the world, it was another step up for us from Immortal Waltz. Produced by Chuck Johnson, mixed by Jay Ruston, Michael Wagener, and Mike Plotnikoff. This was a big evolution for us, we matured as a band, as songwriters and musicians and were very proud of the outcome/reception of the CD! This led us to some milestones in 2017, for the first me we got on the Billboard charts, reached #58 Rock album, top 40 on iTunes Rock and Metal albums and reached #1 best selling album on Amazon Rock and Metal albums. We were also in the running for a Grammy nomination! For 2018 we have our sights set high, right now we are recording our next full-length album with Mike Plotnikoff and Chuck Johnson due in 2018, we already have some of the songs recorded, it's by far our best music, and I can tell you, this is going to make a splash!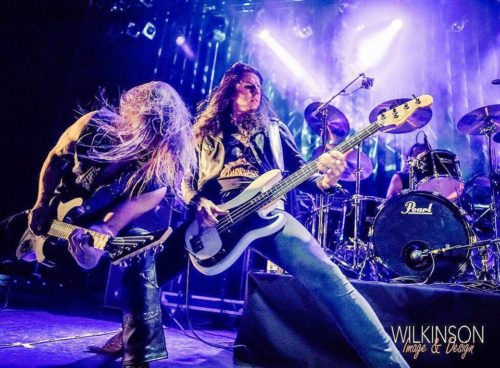 Hardrock Haven: Six years in, how has the band, and yourself, grown or evolved musically and personally?
Margarita Monet: It's hard to believe it's been over 6 years already! And I want to thank Hardrock Haven for being a supporter of the band for a while now! When we look back at where we started, we looked and sounded like a different band, but we are very proud of the evolution and growth of our sound, our live show and just what we created. I can't even begin to tell you how much work it takes, and how hard it can be sometimes, but to see people becoming a part of our world and seeing how much significance our music can be to some, that's the most rewarding and inspiring feeling that keeps us moving forward. As people we've grown tremendously too, traveling and meeting people from all parts of the world, overcoming obstacle really matures you, and I can't tell you how much of those we had to overcome! But just speaking for my self, doing this, gives me a sort of purpose in life, knowing that I can touch people with my music, and hopefully have a positive impact on them, whether it's big or small!
Hardrock Haven: Why create a book documenting the bands anniversary?
Margarita Monet: So first, I just wanted to make that for myself for the future, just to remember all the adventures we've had. But then, as I started to go back and put everything together that I've documented over the years, I realized how far we've come, and how many people became a part of our world, making all of this possible for us. It took me forever to design and chronologically put this book together, but it was a lot of fun going back and digging up all the memories! When I posted about the book was available, I didn't expect the number of people that wanted to get it, I had to go back and put in additional orders several times. I can't express how grateful we are to all our fans and friends, we are really looking forward to reaching new heights as a band, and celebrating many more anniversaries!
You can check out the video of the book here:
This month is our 6 year anniversary! And to celebrate it, we put together this book documenting our journey! In this book you will find out the history of the band, fun facts, behind the scenes stories, lyrics, photos and bunch of cool stuff! We want to thank all of you for making it possible, we can't do what we do without you guys! All the books are numbered and will be personalized! You can order yours here http://www.edgeofparadiseband.com/EopBook.php Margarita Monet Dave Bates David Ruiz John Chominsky Nick Ericson

Posted by Edge Of Paradise on Wednesday, November 1, 2017
Hardrock Haven: So as the band moves forward, you have now released music on ILS/Universal, and are working with Mike Plotnikoff on your next record. How did you hook up with him? Will this be another EP or complete album? What can fans expect from new the band as far as new music?
Margarita Monet: We knew Mike Plotnikoff's work but were introduced to him through our friend Terrence Watkin, we did some recording with him at his studio, Perks Place. We had a deadline for Alive and needed to mix two more songs. Mike expressed interest in the band and loved the songs. He was a great fit for the new music, as the themes in Alive are futuristic but also very human if you know what I mean. And Mike's mixes are very modern, but at the same me have so much color, personality, and detail in them, he really brought the songs to life. We are working with him right now on a full-length album. The first song is done, it's called "Face Of Fear," I'm revealing the title as we already perform this song live, but I can tell you, that this is definitely next level music for us, and I think this album will be a major defining release for us!
Hardrock Haven: Do you have a title and release date for the new CD?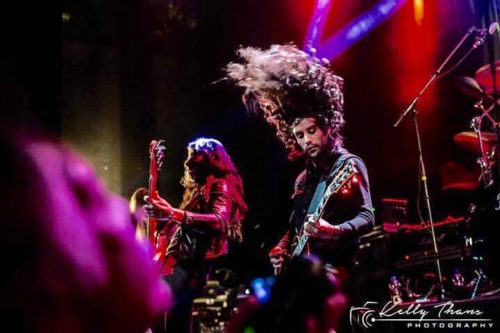 Margarita Monet: I have a title in mind, but it might change as we write more songs, there is a definite theme for this album. It's about facing and recognizing the inner demons and fears that one may be baling with, that's preventing them from thriving. Weather these manifest from inside, be caused by outside circumstances or both. And also looking at some issues that the world is facing that's affecting us all. There is more I want to say, and I look forward to talking about the songs and our message as we get closer! We aim to release the album in the fall of 2018.
Hardrock Haven: Looking forward, Edge of Paradise will be at NAMM and performing at the Metal Allegiance show. How excited are you, what can fans expect, will any new music to be performed live? Are you representing any vendors while there?
Margarita Monet: We are very excited to be sharing the stage with the guys from Metal Allegiance and some other great bands. Namm is a fun me as we get to see our friends from all over, and see all the cool stuff the music brands are coming out with! We will be performing songs from Alive, as well as Face Of Fear, one of the songs from the upcoming album. We are representing 3d Rockstarts, they are a brand that prints life-size 3d vinyl cutouts of your favorite rockstars. We are also representing Nashville Knights, it's LFL's women's football team. We are also representing Kemper, Telefunken, and TTM Guitars!
Hardrock Haven: What other plans are in store for Edge of Paradise in 2018? Tour?
Margarita Monet: Releasing a full-length album, touring the U.S. and Europe and we are also working on some music for a feature film. In 2017 we started working with new management, John Pegrass from Arts Event Management. This has been great for us, and we have a lot of exciting stuff on the horizon. We will be announcing touring plans for the U.S. and Europe this winter!
Hardrock Haven: Thanks for taking the time to catch me up on the every change status of the band. Is there anything you want to talk about that I didn't mention?
Margarita Monet: Thank you, it was my pleasure, thank you for your support! I just want to thank our fans and supporters for being a part of our world, and if you're just finding out about the band, I want to welcome you to our music and we are looking forward to seeing you at our shows! Hope everyone has a fantastic 2018, it's been a great kick-start to the year with all of you!
Hardrock Haven: Thanks for your me. I look forward to new music and maybe you will finally make a stop in my neck of woods, Kansas City, sometime in the future.
Margarita Monet: Thank you for having me, I know it would be great to finally meet you! I'm sure we'll make it over there sometime soon, I'll definitely keep you posted, looking forward!
Official Website:
http://www.edgeofparadiseband.com/