Candlelight Red | The Wreckage
by Justin Gaines
Staff Writer —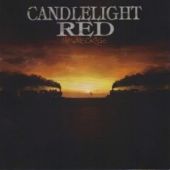 The Wreckage is the latest offering from up-and-coming modern rock band Candlelight Red. The band, which hails from central Pennsylvania, has enjoyed a measure of success lately. They've toured with bands like Egypt Central and Rev Theory, opened for KISS, and their single "Closer" has enjoyed radio airplay, which is increasingly hard for new bands to achieve.
Candlelight Red's sound sits squarely in that post-nu metal, modern rock type with bands like Hinder, Disturbed and especially Linkin Park, but they put their own stamp on things. The Wreckage is an album with plenty of heaviness balanced by a good sense of melody, and while it's never as obnoxious as the average Nickelback album, it's not so sullen or serious that you can't have a good time rocking out to it.
The main thing going for it is the guitar work of Jeremy Edge, who serves up the right mix of crunching heaviness and catchy hooks, and while the whole clean/scream vocal style has been done to death, Ryan Hoke does it better than most. Factor in the rhythm section of Josh Hetrick and Jamie Morral to keep the pace and the end result is pretty hard to resist. The single "Closer" is the obvious standout on The Wreckage, but the whole album is pretty solid. The title track and "Bend and Break" would do well on modern rock radio, and the band's very aggressive spin on Roxette's "She's Got the Look" is a fun way to close the album.
If you're not a fan of this kind of modern rock, Candlelight Red probably isn't going to change your mind, even though they do this kind of thing better than most. If you are a fan of this kind of music, then The Wreckage will probably become your new favorite album.
Genre: Rock
Band:
Ryan Hoke (v)
Jeremy Edge (g)
Josh Hetrick (d)
Jamie Morral (b) (v)
Track Listing:
1. Intro
2. The Dirt
3. Closer
4. Gone Forever
5. The Wreckage
6. Bend and Break
7. Scream
8. Medicated
9. In Your Hands
10. She's Got the Look
Label: Imagen
Website: www.candlelightred.com
Hardrock Haven rating: 7.5/10