Draekon | Prelude to Tragedy
by Justin Gaines
Staff Writer —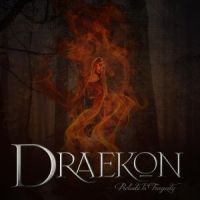 Prelude to Tragedy is the debut EP from Indiana-based progressive/power metal band Draekon. Indiana is hardly the first place you think of when it comes to progressive and power metal bands, let alone one this good, but they have produced a real gem in this band. Draekon may be new on the scene, but they have a sound and energy that can put several veteran bands to shame.
There's an interesting mix of sounds on Prelude to Tragedy. Above all, this is a progressive metal album, owing a great deal to the classic Fates Warning sound. It has a strong power metal vibe though, bringing to mind the darker tones and epic nature of bands like Evergrey, Kamelot and Symphony X. This helps keep the technicality – and there's a fair amount of that – in check and provides an emotional resonance that helps connect the listener with the songs. Draekon delivers a nice mix of heaviness and melody, atmosphere and progression. The guitar work is impressive, as are the rhythms (there's some really killer drumming here), and the keyboards help create an atmosphere that really matches the lyrical focus of the songs. The vocals are a key element as well. Chad Barnes has a very strong, very distinct, and very emotive voice that's just perfect for this kind of music.
With just five songs, Prelude to Tragedy only gives us a brief taste of what Draekon has to offer, but those five songs are more than enough to showcase a band with a lot of potential. If you're a fan of bands that walk the line between progressive and power metal, especially bands like Evergrey, Kamelot, Redemption, Suspyre and Symphony X, and are looking for something new, Draekon is a band that's well worth checking out.
Genre: Progressive Metal, Power Metal
Band:
Erik Sturgell (b)
Stanford Stivers (d)
Joshua Simpson (g)
Alec Biccum (k)
Chad Barnes (v)
Track Listing:
1. The Value of All
2. Darkness Falls
3. The Division
4. Wails of Anguish
5. Where Silence Stills the Soul
Label: None
Website: www.reverbnation.com/draekon
Hardrock Haven rating: 8.75/10