by Nikiforos Skoumas
Staff Writer —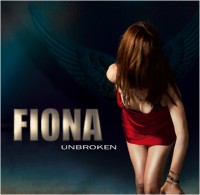 Though troubled the music industry may be, it has been well documented throughout the past decade that just about any musical comeback is possible. On this occasion the AOR community is very happy to welcome back '80s melodic rock heroine Fiona Flanagan.
Though most would be quick to reference Lita Ford or Robin Beck as the premier front women in '80s arena rock, Fiona put out four AOR studio albums from 1984 to 1992 and promoted the careers of such artists as Kip Winger, Reb Beach and Bobby Messano.
When interviewed by 'Classic Rock AOR' magazine, the singer was quick to point out that she did not come back to scene, she was actually brought back. When one is cornered by the House of Lords mastermind James Christian, Robin Beck and Swedish guitar hero Tommy Denander then that individual will succumb to making a first rate adult oriented rock album and Unbroken is it.
James Christian produced the album and co-wrote the music with Tommy while Robin performs vocal harmonies and duets with Fiona on the classic sounding power-ballad "This Heart." Lady Flanagan, for her part, writes the majority of the lyrics and brings to the picture former guitarist Bobby Messano who complements the album with his own guitar parts.
So we are looking at pretty much the same team that put together Robin's latest studio album The Great Escape; and though a great album that was, Unbroken proves an even more diverse AOR offering. You will find anything from up-tempo songs to ballads to groovy tunes and extra melodic rockers. In all fairness "Badge of Love," "Broken" and the opener "Love Along the Way" are as good as anything Fiona put out in her prime. There is, of course, the modern rocker "I've Released You" which seems out of place in the overall track list but that's just an exception.
Needless to say, Fiona retains an exceptional vocal and physical shape and seems to be enjoying her comeback while pushing the boundaries of her trademark sound and style. If you enjoyed the latest albums by Robin Beck and Issa you should definitely try Fiona's comeback album.
James, Robin and Tommy, keep it up! Please bring back Lee Aaron, Staffanie Borges and Lisa Dominique!
Genre: Melodic Rock, AOR
Line up:
Fiona Flanagan -lead vocals
Robin Beck -Backing vocals
Tommy Denander – Guitar
Bobby Messano -Guitar
James Christian -Bass
Jeff Batter – Keyboards
James Jamal -Drums
Track list:
01. Loved Along The Way
02. Broken
03. I've Released You
04. Shadows Of The Night
05. Badge Of Love
06. Wild One
07. This Heart (Duet with Robin Beck)
08. Get Yer Kix
09. Salt On My Wings
10. I Love You But Shut Up
11. Everything You Are
Website: www.fionarock.com
Hardrock Haven rating: 8/10