Greg Puciato of The Dillinger Escape Plan
by Cameron Edney
Guest Staff Writer —
In February American Metallers The Dillinger Escape Plan will once again return to Australia to take part in the Soundwave Festival's. No stranger to touring Australia and our summer Festivals, Dillinger Escape Plan will certainly be one of the bands on this upcoming bill that are not to be missed. With a reputation around the world as one of the most energetic live bands around Dillinger Escape Plan will leave no fan disappointed when they take to the stage. In 2010 the band released their forth studio album 'Option Paralysis' and last year released two covers, Nirvana's Territorial Pissings' and Public enemy's 'Fight the Power' which featured Chuck D.
The band are currently working on a follow up to the 2010 smash but are not saying to much at this point about the new material. I recently had the pleasure of speaking with the bands outspoken and outrageous vocalist Greg Puciato who is not only known for his brilliant work in The Dillinger Escape Plan but also for his amazing guest vocal roles with Soulfly, Devin Townsend and Every Time I Die.
We spoke about the band's upcoming return to Australia, Songwriting and Greg reflects on his Dillinger audition ten years on…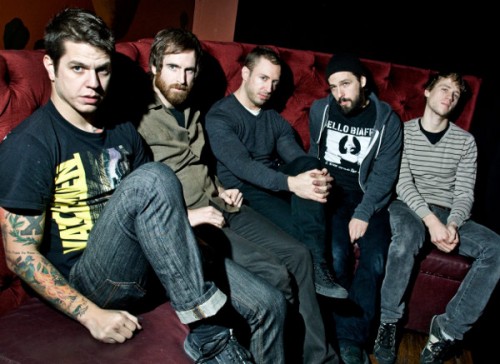 Hardrock Haven: Hey Greg, thanks for taking the time out to answer these questions for our readers! Let's talk firstly about your upcoming return to Australia, what do you enjoy most about touring our part of the world?
Greg Puciato: You don't take things as frantically seriously as we do in the United States; and you have a newer and hipper culture than Europe. You have all of the commercial aspects of the US, but with the emphasis on art and community that Europe has. I've always told people that if I was an alien and came to earth, and didn't have any prior connection to a particular country, I'd probably choose to live there. You have beautiful culture, women, and energy….and you guys appreciate music.
Hardrock Haven: You're certainly no stranger to playing here in Australia, what come to mind when you look back on previous tours?
Greg Puciato: Soundwave 2009 was unreal. It was our first tour with our current drummer, and it was the tour that we really bonded with the NIN camp and Trent, after being friendly and mutual admirers for a while. Offstage, we had a lot of friends on that tour, and we pretty much partied nonstop when we weren't playing. I ended up dating a girl for a year that I got to know a bit on that tour, and that relationship ended up being somewhat pivotal, so yeah it was a pretty memorable one for me.
Hardrock Haven: This year's festival line-up is once again amazing, what bands are you looking forward to checking out most this time around?
Greg Puciato: Oddly enough I feel like I've seen most of the bands playing…but there are so many friends and bands we really admire and have played with already. Meshuggah, Mastodon, Devin Townsend, Underoath, System Of A Down, Slipknot….all bands that we've toured with or played with at some point and all friends. I'm honestly really looking forward to seeing Limp Bizkit, only because I seriously can't believe that people give a shit. That creature got banished back into the bro-cave it came from a long time ago, has it really been long enough that it's got some sort of "nostalgic" charm now? I just think it'll be funny now that Fred is older and fatter and even more harmless than before, to see him do it more for the "cookies" than the "nookie". I hope catering has a lot of food, cause him and Manson are gonna need some pretty substantial portions.
Hardrock Haven: [Laughs] Greg, one of the best things about playing festivals is that you have the opportunity to entertain an audience that may otherwise have never seen you live. For the punters who are interested in checking out Dillinger live, how would you best describe the show?
Greg Puciato: I'd tell 'em that they're not allowed to watch because we fucking suck and that we are definitely NOT allowed to work our way into their subconscious and eventually become their favourite band. Reverse psychology [laughs]!
Hardrock Haven: [Laughs] it could work… Having seen you perform I know that you put on one of the finest most energetic live displays going! What can we expect from the band during these upcoming shows, do you have anything special planned for the Aussie fans?
Greg Puciato: I mean we never plan anything; we just make sure that we're a finely tuned wrecking machine. We love playing and love playing down there. We don't come there every day, so we always make sure that we're at the top of our game when we do. I'll play every show and every Side-wave right now in the same day! Right now!
Hardrock Haven: Personally are you a fan of playing the large Festival type shows or would you much rather play a smaller more intimate club show, they both certainly have their advantages!
Greg Puciato: I dig both. It's not so much about advantages as it is keeping you on your toes. I like the immediacy and instant chaos of a small room, and then as you play bigger places….medium sized room, big rooms, festival fields, arenas…the challenge becomes how do we turn those bigger places into the same vibe as the smaller ones? It's a great feeling to be able to incite a feeling of danger and chaos in people that are 200 meters away from you. In a small room, the whole room is a spectacle, in a giant place we are the spectacle, and that adds an interesting allure.
Hardrock Haven: There's no doubt you're an amazing vocalist after all these years what have you found has been the best way to keep your voice in great shape on the road?
Greg Puciato: This is gonna sound insane, but I really don't do anything. I don't warm up. I don't do vocal exercises. If I feel like I'm a little damaged, chew a bunch of gum, drink really high amounts of water, and try to sleep more than usual, and I'm back to normal. I've been really fortunate to have pretty resilient vocal cords.
Hardrock Haven: How about when it comes to dealing with other members on the road… as we know at times it can become quite frustrating sharing a bus/hotel room for weeks, sometimes moths at a time. How have you found is the best way to deal with each other on the road especially when it comes to those harder / not so pleasant times?
Greg Puciato: We're really good at giving each other the right amount of space. We don't fuck with one another deliberately like we used to. We're not little kids on our first tour, or even our hundredth at this point. We've fucked with each other's space enough. We know where the boundaries are and what each of us needs to be at our best. I stay up until about 8 am, and everyone else is out by three, and I do that not just because my energy level forces me to, but because I enjoy having those five or six hours where everyone else is asleep, to just re-center myself and process whatever things are going through my head.
Hardrock Haven: Greg you joined Dillinger back in 2001 before joining what were your impressions of the band; were you a big fan of their work, know very little about them?
Greg Puciato: 'Calculating [Infinity]' came out in 1999; I had seen them play twice. It was absolute insanity, so of course I was a fan! Why would I try out for a band that I didn't like?
Hardrock Haven: Good point… What do you recall from the Audition process and those first few rehearsals with the band?
Greg Puciato: The audition process…it's been ten years now so I've been thinking of this a lot lately. I remember sending Ben a cassette tape….seriously…I didn't have a computer to burn a CD on…and he called me up one Thursday and said "hey can you come up here tomorrow?" I went up, we went through five songs; I went back a week later and went through five more. They left the room for about an hour, and actually went to go eat without me knowing [laughs], just to make me wait. They came back in a really good mood and just said yeah you're the guy, we play a show in a few weeks, let's start getting ready. After that it was pretty much a blur of constant touring and writing until we stopped to take a year off in 2006. It's hard to imagine not knowing one another, because Ben and Liam and I are such a force at this point, so intertwined with one another creatively and in life really…I mean a decade of our lives has been learning how to create and live with one another…that even if we want to kill one another at times or things get a little contentious we're undoubtedly forever locked because of what we've done together. Ben and I have really gone through some shit as far as writing and learning how to deal with one another, performing and being injured…it's tough to even imagine that those initial two meetings would have sparked what has become a ten year nonstop creative/performing relationship that is almost constantly explosive.
Hardrock Haven: Of course from that 1st audition you haven't looked back, you've been touring around the world, making great albums and have made guest appearances on some fantastic albums also. What do you feel have been your greatest achievements to date?
Greg Puciato: That we're still here and still feel so passionate, even more so I think, about creating music and performing it with one another. We've weathered a lot of shit as a band, we started so young, and we're still pretty young so we started REALLY young. We had to grow up together; which is nearly impossible to do, and we took what was, at that time, something that seemed impossible to ever make a living doing, and we've turned it into our career….and our passion for it keeps growing instead of dying out.
Hardrock Haven: Greg I also wanted to speak to you about life in the studio, writing and recording… last year you released 'Option Paralysis', now that you've had so much time to dissect the album, looking back over the entire writing and recording process is there anything you would have changed?
Greg Puciato: Absolutely nothing! That album was as pure and as in the moment for us as a band and for me personally as I could have asked for at the time. It's for me the most artistically pure thing we've done, and for me as a singer/lyricist it's easily the album that was a pure artistic moment for me, in the way that there was little to no line between the writing and recording of the album, and where my personal life was at the time. It's a snapshot. The timing of needing to write that album coincided perfectly with a very insane and chaotic time in my life, and I was really fortunate in hindsight for that timing to have aligned. It would be a completely different and less compelling album lyrically if I were to write it a year before or later.
Hardrock Haven: This was album #4 for the band, as time goes on do you find it easier or more difficult to come up with new material?
Greg Puciato: It's easier because we're learning to not over-think the creative process. We're confident in our abilities in terms of execution, so we just move out of the way and try to let what's in there come out.
Hardrock Haven: During the past year you have recorded some cover tunes, throughout the bands career you've done some great covers including tracks from Black Flag, Billy Idol and Guns 'n' Roses; is there a song in particular that you have always wanted to cover but for one reason or another it just hasn't happened yet?
Greg Puciato: I'm actually a huge fan of covers when we're doing them, and then I hate them when we're done with them [laughs] because I like the originals so much more. It's an attempt to honour something you like or that resonates with you at the moment, but then you inevitably always fail to do it justice. There's just something about an original…it's so rare that someone does a cover that ends up having more magic to it than the original…and we've certainly never come close. I'd like to do a Bad Brains mash-up, I'm sure fans would like to hear us cover a Faith No More song which we'd probably oblige and do just for kicks, I dunno….I'm more a fan of using your influences in something original rather than spending time trying to cover people. Covers are always better live than recorded, its fun and people can't sit and scrutinize it to death.
Hardrock Haven: Greg, there's no doubt that as time goes on you learn more and more about all aspects of the industry from touring to recording and the all important business side as well. What do you feel has been the single most important lesson you've learnt to date?
Greg Puciato: Don't ever do anything that goes against your gut instinct…whether it be a song writing choice or a tour or a business decision, because you will always wish you could change it, and you can't.
Hardrock Haven: We're almost out of time so before we wrap it up besides the upcoming Australian shows what other plans do you currently have in place?
Greg Puciato: We're going to Singapore and some other places right after Australia, we've got a few other touring things here and there but we're keeping it very light. We're focusing on writing a new album, I've got an album with Max Cavalera and Dave Elitch(ex-Mars Volta) that we're currently writing as well, Ben's got Giraffe Tongue with Brent Hinds from Mastodon that he's working on, and I've got some solo stuff that I'm trying to get together. We stay busy. We just can't sit still. 2012 is gonna be a very busy and exciting year for us.
Hardrock Haven: Awesome news mate, Greg thanks again for your time today it's been fantastic, do you have any last words for our readers?
Greg Puciato: Thanks to everyone who took the time to read this, who gives a shit about our band and what we or I have to say, It's appreciated.