In Defense of the New: An Interview with Oath of Insanity
by Alex Barbieri
Staff Writer —
In the Disney/Pixar film Ratatouille, food critic Anton Ego said, "There are times when a critic truly risks something, and that is in the discovery and defense of the new. The world is often unkind to new talent, new creations. The new needs friends."
Right on, Anton. Oath of Insanity is a new thrash metal band that is truly deserving of friends and fans. Their debut EP, titled Oath of Insanity, is a blast of metallic fresh air. Their songs are ferocious and exciting—reminiscent of early '80s thrash metal—but fresh and new at the same time. And all the members are under the age of 21.
Why are they so into old school thrash? And how the hell did they get so talented, so young? In this exclusive Hardrock Haven interview, guitarist Joey Concepcion and drummer Joey DiBiase, explain.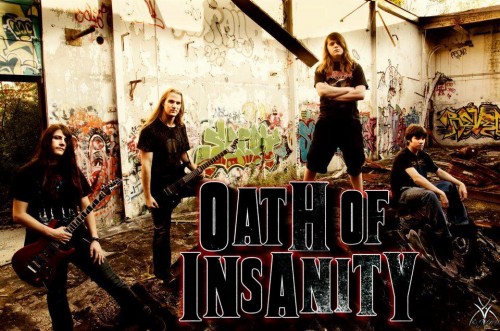 HRH: Joey Concepcion and Joey DiBiase, thank you both for taking some time to talk to Hardrock Haven. The first thing I want to say is, you guys f-in' rock.
Joey Concepcion: Thank you, Alex. It's good to talk again.
HRH: First question: Who are the members of Oath of Insanity, what instrument do they play and how old is each member?
Joey Concepcion: I play guitar, and I'm 21. Andrew O'Connor also plays guitar and he is 19. Dan McVerry is on bass and lead vocals, and he's 17. And Joey DiBiase, sitting here with me, is on drums and he's 16.
HRH: How long has the band been together, and how long did it take to write and record your debut EP?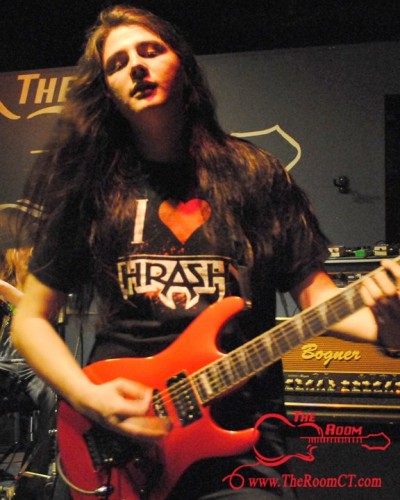 Joey Concepcion: The band first formed on April 30 of 2009, playing thrash covers and writing a few originals. I didn't join the band until October, 2010. When I joined, we got rid of all prior originals and wrote all new ones, with the exception of the Exodus cover that is the last and 5th track on the EP. When we sat down to write and record the debut EP, it took us around five or six months to finish it in its entirety.
Joey DiBiase: We worked really hard to incorporate good quality, old school and new school thrash elements into the mix.
HRH: Where did you record the EP, and with whom?
Joey Concepcion: We looked a while for the right place to record. When we finally chose where we wanted to record it, we picked Dexter's Lab Recording in Milford CT, our hometown. Nick Bellmore (drummer of Toxic Holocaust, Jasta and Kingdom of Sorrow) engineered and mixed our five-track debut release.
Joey DiBiase: Nick really did a great job. We were lucky to find someone that understood our style of music. Seeing that he is the drummer of thrash band Toxic Holocaust, he really liked our sound, and could tell we had great roots!
HRH: On Oath of Insanity's debut album, there is a strong early '80s thrash sound and influence. I hear a great mashup of Dokken and Metallica in the songs. Did you guys grow up with metalhead parents, or discover this music on your own? Is '80s metal popular with a lot of people your age, or you just don't care what other people think?
Joey Concepcion: In Milford, CT, our hometown, most people are not into heavy metal at all. But, luckily we found each other. Dan McVerry and Joey DiBiase are the two founding members of the project. I met Joey DiBiase while at a Ritchie Kotzen show at Toad's Place in New Haven with our other guitarist Andrew O'Connor.
Joey DiBiase: I was rather lucky to grow up with a metalhead dad. My father, Joe DiBiase, was the original bass player in progressive metal band, Fates Warning. He got me into Sabbath and other classics at a very young age. The first thrash band he introduced me to was Exodus. He showed me the Bonded by Blood album, and I fell in love with it instantly.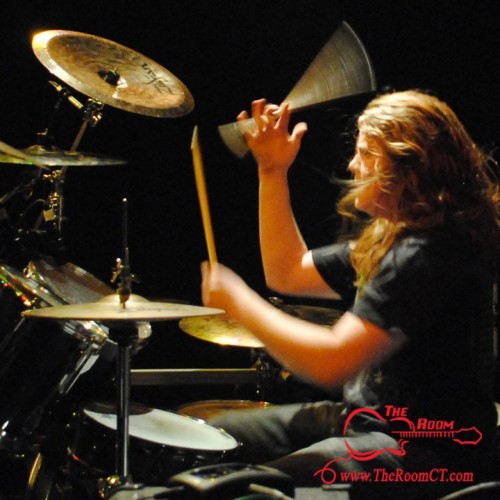 Exodus are still my favorite thrash band of all time, and I would love to eventually open for them! It's funny that you said Dokken. We really don't take our influences from bands like that. We are more influenced by older bands like Testament, Slayer, Metallica, Megadeth and Overkill. Even from some newer bands like Warbringer, Lazarus A.D, and Havok. Those are definitely some of our favorites!
HRH: Where can people buy or download the Oath of Insanity EP?
JC: As of now, people can listen to our songs on our Facebook, the link should be listed below. We eventually want to put all of the EP on itunes, that will happen in the near future so keep an eye out!
Joey DiBiase: We will also be posting the songs on our youtube, that link is also below. You can also buy the CD's we are selling at any of our shows!
HRH: What are Oath of Insanity's plans for 2012? Any shows lined up?
Joey Concepcion: We have been working really hard on finding a label to sign a record deal with. We hope that in 2012, we will be on a label!
Joey DiBiase: We have a few shows coming up. As of now, we are at Cherry Street Station in Wallingford, CT on January, 14, and at the El 'N Gee Club in New London, CT on January 15. February 25, we're at Dewey's Pub in Seymour, CT. You can check all of our upcoming shows on our Facebook page.
HRH: Is there anything you want to say to your fans, and the Hardrock Haven readers around the world?
Joey Concepcion: We need all the support we can get from our fans and listeners. It would be awesome if you guys reading this can show some support for some good old school metal! Leave us a like on Facebook and come to our shows if possible! We're going to make some more appearances out of state in New York and Massachusetts soon!
HRH: Joey Concepcion and Joey DiBiase, thank you so much for sharing your time and talent. All the best to you and Oath of Insanity in 2012! Hardrock Haven readers, especially those of you into thrash, check out Oath of Insanity!
Watch and listen to Oath of Insanity on Youtube:
http://www.youtube.com/oathofinsanity
Like Oath of Insanity on Facebook:
http://www.facebook.com/OathofInsanity