Tacoma Narrows Bridge Disaster | Exegesis
by Joe Mis
Staff Writer —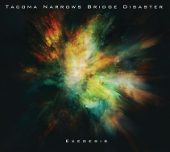 Despite being named after one of the more memorable tragedies in American history, the Tacoma Narrows Bridge Disaster is actually a five-piece "atmospheric art metal" act hailing from London, England. Blending influences of old school rock, heavy metal, and stoner rock with modern progressive elements, TNBD has managed to create a rather unique, mostly instrumental sound. Their second album, entitled Exegesis, will be released on 2-February-2012.
Formed back in 2008, TNBD released their first CD – the all instrumental Collapse – in 2009. The band's self-described goal is to become an act "that creates epic soundtracks for terrible events", and in many ways they seem to have succeeded. Their music is intense and moody, heavy and somber. Long instrumental passages and riffs are the backbone of their style, with vocals a secondary thing. Technical and complex, Exegesis (for the curious among you, "exegesis" is defined as "critical explanation or interpretation of a text or portion of a text") manages to maintain a warm feel thanks to some homespun engineering that gives the release a bit of stoner sludge and a thick, juicy sound. Big riffs and walls of noise are traded off against soft and elegant passages and leaping guitar solos, further cementing TNBD's uniqueness.
The band's current lineup is a solid one, consisting of guitarists Drew Vernon and Adam Paul, bassist Tom Granica, drummer Alex Rainbow, and vocalist / keyboardist Dylan Foulcher. All are fine musicians, and they work well together as a team. Since the music is mostly instrumental and has a god deal of the sludgy stoner sound, Granica's bass and Rainbow's drums are really the driving force in most of TNBD's tracks. Both Vernon and Paul are fine rhythm guitarists and some of their riffs are extremely complex and challenging. Foulcher, despite being the lead vocalist is an equal member of the group, contributing more with his keys than with his voice. He does have a deep, clear voice that is well suited to the mood of the music. This band plays together like a truly veteran outfit, handling the many varied tempo changes and complex rhythms flawlessly.
Musical highlights include: the choppy and intricate rhythm lines of "Fractal World," the totally guitar driven opener; the building musical intensity of the epic "Exegesis" from a soft guitar piece to a massive wall of sound – a technically brilliant track with top-notch performances from all; the big booming bass line and soaring melodies of "Calligraphy;" and finally Foulcher's gritty vocal performance and Rainbow's manic drumming on "Black Iron Prison."
There are few negatives here, none of them at all related to performance or talent. The only real downer is the constant heavy and oppressive tone of the music. Despite a good deal of melody, there is not much cheerfulness or lightness to be heard – the same sober feeling permeates the album from start to finish. It would be nice to hear a bit of brightness somewhere on the release, or a true high energy rocker.
Not really metal, not fully ambient, and not fully atmospheric, Exegesis is a unique but somber musical journey into the darker reaches of history. While its mostly instrumental nature may keep Tacoma Narrows Bridge Disaster from becoming a household name (as a band anyway), this five-piece is a talented, technically proficient group well worth watching. Their music is as unforgettable as the films of their namesake event.
Genre: Atmospheric Art Metal
Band:
Drew Vernon (guitars)
Adam Paul (guitars)
Tom Granica (bass)
Alex Rainbow (drums)
Dylan Foulcher (vocals, keyboards)
Track Listing:
1. Fractal World
2. Exegesis
3. Calligraphy
4. Valis
5. Black Iron Prison
6. Going Out Like Lights On A Switchboard
7. Sungazer
8. Wake
Label: DIY
Website: www.bridgedisaster.co.uk
Hardrock Haven rating: 8.5/10